Political newcomer Carlos James, the Unity Labour Party's candidate for North Leeward on Sunday described himself as "the firestorm of Labour" and attempted to portray the incumbent, the main opposition New Democratic Party's Roland "Patel" Matthews as a lazy constituency representative.
James, a lawyer, said that Matthews, a former teacher, refused to write down the names of persons affected by the floods and landslides of Christmas 2013.
"He said that was not his job. He even refused to visit some parts of his own village," James said of the Petit Bordel resident who defeated the ULP's Jerrol Thompson in 2010 to become MP
"That is more than laziness, comrade sister," James said in response to a comment from a woman the crowd.
"It is a clear indication of his neglect of his duties here as the Member of Parliament for the constituency of North Leeward.
"That is just one example, but it is an example that is strong enough for you to fire him. And I want you, whenever the bell is rung, to go out and make a statement: Patel Matthews, you are fired. One term for Patel," James said.
Prime Minister Ralph Gonsalves has already told voters that they will be allowed to elect a new government by year-end, even though the general election is constitutionally due in March 2016.
"Even the supporters of the NDP will agree that Patel Matthews is a docile man, is a man who don't talk to people and is a man who don't love people and is a man, if you go to him, will push up his face first before he greet you with a smile," James said.
He said that on the other hand, he (James) can roll up his shirtsleeves and move forward with the development of North Leeward.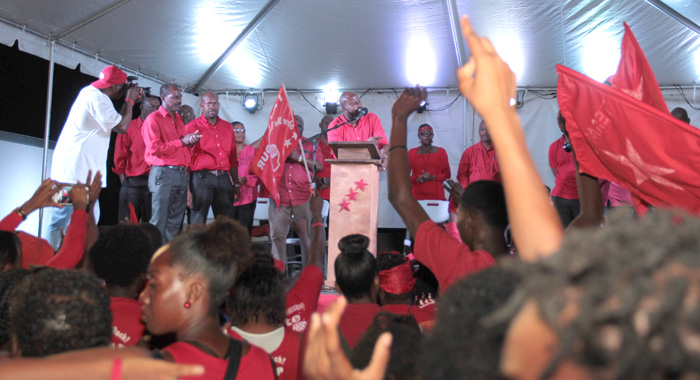 James said politics and leadership are serious and call for serious people who understand issues and have love in their hearts.
"Not to isolate yourself from the people and feel that you more than them because they voted for you and now you sit down on your shop steps and feel that they going vote for you again? Tell them he lie!"
He said that any party that forms government over the next 10 years has to follow a blueprint crafted by the social development planners of the ULP.
He praised the party's social programmes, including increased spending on Public Assistance (social welfare) and the Lives to Live Programme, that has seen the government constructing indoor bathrooms for indigent Vincentians.
James said he will continue with the ULP's policy of land distribution and will also focus on agriculture, including rehabilitation of the banana industry.
He said he told fishers in Chateaubelair that the NDP is blaming the government because the fisheries complex in the town is not operational.
James said he told them that it doesn't make sense for someone from the Fisheries Department in Kingstown to go to Chateaubelair and manage the complex.
He suggested that the fishers form a cooperative and take $1 from each pound of fish to go toward the management of the complex.
"But comrades, I want you to understand that collectively, we can work together here in North Leeward to ensure that the development processes of this administration trickle down here to benefit you, the people of North Leeward," he said.
James said that in September 2015, he is sending one child from every village to college under the Access to College Education (ACE) programme.
Related:
Under the programme, which James launched last year, students had their tuition covered from as much as 50 to 100 per cent in some cases, while some students benefitted from a travel bursary through the Office of the Prime Minister.
Last year, questions were raised about the programme since it is being run by an election candidate but partly funded by the Office of the Prime Minister.
James spoke of a Chateaubelair Town Rehabilitation Project.
"I want to lift Chateaubelair and I want to see Chateaubelair become a featured town, a town whereby we can move services and bring them here to North Leeward."
The rehabilitation project will include the extension of the Chateaubelair port of entry and improving the hospital to increase its efficiency and to make it a smart hospital, James said.
"I want to see a lot more initiatives here in North Leeward. And with the international airport coming on stream, and with the Peter's Hope-Mt Wynne project, you will see more jobs coming to North Leeward, over 300 or so — from a basic worker to employee who is at a degree and management level," James told party supporters.
"I want to see you employed. I want to see young people empowered, I want to see young people fly. I want to see young people like myself develop and get the opportunities that the people in Kingstown and the business community believe that the people of North Leeward should not get," he said.
James said the ULP means business, adding that some people are saying they didn't get a sheet of galvanise so they are not voting.
"Let me tell you something: if an NDP government forms office tomorrow, you will not even get a cent," he said.
"This is my solemn pledge to you, that I mean business. Leadership at a constituency level is important, just as leadership at a national level. And if Eustace say ask Ralph, Patel going say ask James. And I love you … go home to your families and tell them that Carlos James is here for North Leeward, the firestorm of Labour … and I am ready to take North Leeward forward," he said.