Nine young women will compete in the National Secondary Schools' Miss Heritage Pageant on Oct. 31 at the Victoria Park.
The show, which is sponsored by Scotiabank in association with Ju­C, is hosted the St. Vincent Girls High School and will be held under the theme "Our Colloquial Legacy: Parlay Palang in Vincy Twang".
Organisers say this theme seeks to pay homage to some Vincentian sayings from yester years.
Each delegate during the preliminary competition selected a saying. This saying does not necessarily mean her presentation on the night of the show has to surround such but that she should educate herself on the saying and the meaning behind such.
The delegates and their sayings are:
Jakida Ollivierre (Bequia Community High School) ­ "Goat head can't go pon wedding table".
Gabricia Yorke (Bishop's College Kingstown) ­ "Fowl who nah hear shew, go hear boop".
Ulrica Gaymes (Central Leeward Secondary School) ­ "Wey horse reach, donkey go reach".
Azinza Browne (Dr. J.P. Eustace Memorial Secondary School ­ "Run from the Jumbie and butt up on the coffin".
Terrece John (Intermediate High School) ­ "See with yo eyes but keep yo tongue between yo teeth".
Julia Lewis (St. Clair Dacon Secondary Secondary School) ­ "Nah every skin teeth is a laugh".
Rondine Brown (St. Joseph's Convent Kingstown) ­ "Wey yuh catch yo cold, go blow yo nose".
Jo­Ann Andrews (St. Joseph's Convent Marriaqua) ­ "Scornful dog go eat dutty pudding".
Keneshia Llewellyn (St. Vincent Girls High School) ­ "Don't heng yo hat wey yo hand can't reach".
The pageant has seven categories, four of which are judged on the night of the show and which determine the winner.
These categories are Ambassadorial Speech, Talent, Cultural Wear, and Interview.
Special awards will be given for Best Promotional Video, Most Community Spirited, Amity, Special Attendance Award, and Viewers Choice Award.
The pageant will be hosted by National Heritage Organisation, a group of volunteers who dedicate their time and energies into producing events that promote and preserve the Heritage and Culture of Saint Vincent and the Grenadines.
The organisation was developed through the Miss GHS Heritage Pageant, which was started in 2003 as an internal school's pageant aimed at educating the Girls' High School student population about the country's history through a fun and exciting forum.
See contestants' photos & bios below:
Jakida Ollivierre — Bequia Community High School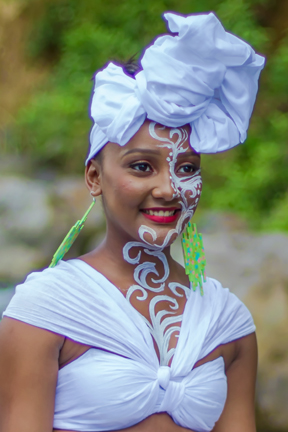 I am 15-year-old Jakida Ollivierre, I was born on the 23rd November, 1999 at the Milton Cato Memorial hospital. At the age of three I attended the Evangelical Pre-school and later graduated at age five. I spent my primary years at the Bequia Anglican Primary school. I started my secondary education at the Bequia SDA secondary but later transferred to my current school the Bequia Community High School.
Throughout my school years I have received 13 certificates and 2 trophies for my academic performance and for representing my school in extra-curricular activities. Some of these activities include choral speech competitions in primary school and the Secondary school Tourism congress for which I placed third. Apart from academic accolades I also have certificates from participations in annual dance competitions and White Plains Soccer Club.
Outside of school I am an active person, I like communicating with my friends, reading novels, listening to music, taking part in adventures and sporting activities and most of all playing the steel pan. I also love to dance and have been doing so for the past four years in a group both for fun and competitively. However, now I dance mainly in church. I also like to travel.
One day I hope to fulfil my dream of becoming a cardiovascular surgeon. I went through a great tragedy when my father was injured and that helped push my interest in that area.
I am also active in some organisations that have helped shaped me into the person I am today. These organisations include the SVG Cadet force and the SVG Girl Guides Association these past four years.
I think that I am attractive, ambitious, brilliant, caring, disciplined, helpful and sophisticated young lady. I try to guide my life by Abraham Lincoln's quote, "whatever you are, be a good one."
Gabricia Ettansha Kendica Yorke — Bishops' College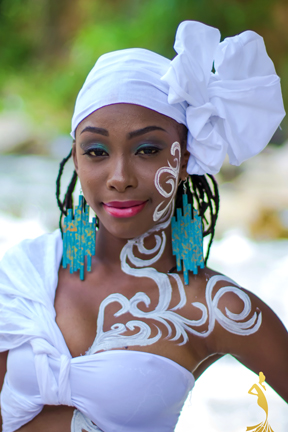 Gabricia Ettansha Kendica Yorke was born on January 19th 2001, to Miss Susette Yorke of Old Montrose. Gabricia started her educational journey at the age of two, at the Faith Temple Pre School from 2003 to 2005. She then went on to the Kingstown Government School from 2005 to 2012 and was a Brownie at the school. She also captured the inaugural Miss K.G.S Independence Princess Pageant 2010.
Upon completion of her primary education, Gabricia gained a place at Bishop's College Kingstown where she is currently a Form 4 science student. She enjoys dancing, modelling, reading, meeting people from diverse backgrounds and pageantry. Gabricia was once a member of the Image Modeling Agency Juniors. She is currently an active member of the Old Montrose Police Youth Club, La Gracia Dance Company, Meji Modeling Agency and the #9 Girl Guides Company.
Gabricia was a contestant in the Miss B.C.K Talent Extravaganza 2014 and she is also the Secondary School's Bible Quiz winner for the month of February 2015.
Gabricia dreams of becoming a doctor specializing in the field of Forensic Science.
Ulrica Sunel Gaymes — Central Leeward Secondary School
My name is Ulrica Sunel Gaymes, I am sixteen years old and permanently reside at Peter's Hope. As a fourth form student of the Barroullie Secondary School, I am proud to say that I love to participate in school activities.
However, there are some things I enjoy doing like dancing, modelling, listening to music, reading, eating healthy, socializing and most of all singing my heart out for Jesus. My future aspiration is to become one of the world renowned singers like Celine Dion.
I am currently the reigning Miss Vitamalt BSS and Miss Heritage BSS.   I am excited to be part of Miss Heritage 2015.
Azinza Browne — Dr JP Eustace Memorial Secondary School
I am 15-year-old Azinza Browne from the unique community of Redemption Sharpes. I am an affectionate, ambitious and confident individual and a firm believer in God. This belief has propelled me over the years and inspired me to strive for excellence in all that I do. Currently, I am a fifth form student at the Dr. J. P. Eustace Memorial Secondary School. I place a high value on education. Motivated by my love for learning and excelling, I strive to become an outstanding and successful woman in society. My ultimate goal is to become a qualified teacher and a professional dancer.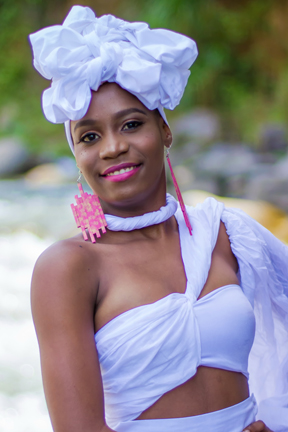 I am a youth whom God has blessed with various talents. One such talent is dancing. I have had the opportunity to display my talent by performing for various audiences. I have represented the dance group "Youth with A Purpose" at the National Gospel Fest. I also had the opportunity to participate in the Dr J.P. Eustace Miss Heritage in which I placed second. My passion for performing led to a deep interest in pageantry. As a child, I dreamt about one day participating in pageants. I see Pageantry as offering me an avenue to display my talent with other wonderfully artistic young ladies. This experience has granted and will continue to grant me moments to learn how to communicate more effectively on and off the stage. Taking part in pageants affords me the opportunity to achieve excellence and develop my self-worth. I recognize that being a public figure allows me to be a great positive influence on the lives of other young ladies. I embrace this opportunity willingly.
When I make time for recreation, I enjoy reading, playing netball, using social media and most importantly spending time with my friends and loved ones. Over the years, I have looked up to my older sister as a role model. I admire her since she has never allowed failures and setbacks to stop her from achieving her goals.
Terrece John — Intermediate High School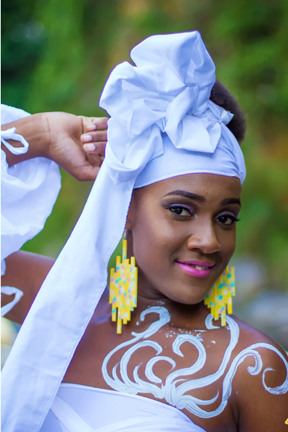 I was born on December 28, 1999 to proud parents Terrence and Lydia John of Redemption Sharpes. Sadly, my dad passed away and my mom found herself, a single parent. As the youngest child I did not understand death but I could sense my mother's tumultuous private pain as she grieved for her husband, my father. Yet she sacrificially devoted herself to raising my siblings and me to the best of her ability.
While my mom was still going through the healing process of my dad's passing, I was diagnosed with a spinal disease scoliosis. My "Super Woman" mom; my rock, stretched herself even further and had me undergo surgery in Virginia, USA. Though this surgery left me with a scar in my back, my spirit is not daunted. My mom, the greatest influence in my life, has taught me how to be strong. I continue to believe in my abilities and to aim high.
Currently, I am a student of the Intermediate High School. I am at the top of my class for I endeavor to strive for excellence. I have a buoyant personality and enjoy dancing, laughing, giving good advice and bringing a smile to the face.
I aspire to be a nurse for I believe that I embody the privileged qualities of such a noble profession. I believe that my propensity for mercy, kindness, patience and empathy will be an asset in this calling. Further, my high level of respect for human kind; my innate helpfulness and my drive to make others comfortable, would no doubt set me apart. I consider myself a young lady with promising problem-solving skills and one who communicates effectively.
I am confident that the aforementioned qualities would not only aid me in my immediate profession as a nurse but more significantly, afford me the opportunity to touch the lives of a wider cross section of the Vincentian community. I am humbled to be allowed the honor to serve my country; to serve YOU!
I am Terrece John!
Julia Lewis — St. Clair Dacon Secondary School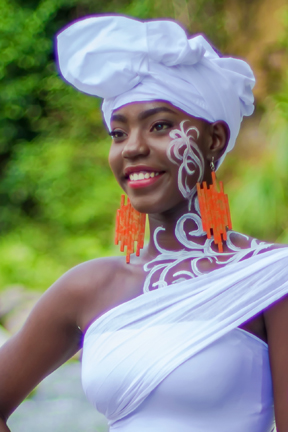 I am 15-year-old Julia Lewis, born on the 9th of June 1999. I live at Carapan with my mother Yvette Mayers and father Alford Lewis. I am the youngest of five children. I have always had the love and support of my family. They have taught me good values and they encourage me to develop and be a better person every day.
I attended the C.W.P Primary School where I spent 7 years. I am currently a Form 5 Business student of the St Clair Dacon Secondary School. I hope to pursue studies in law at the St Vincent and Grenadines Community College and later at the University of the West Indies. I wish to study in this field because of my desire to see justice serve.
On regular school days between class breaks I spend time with my friends socializing or interacting with teachers. I consider myself to be a person who is fun loving, driven, sincere and humble. My bubbly personality is why I have so many friends and acquaintances. I love meeting new people. It has been said by my friends that I laugh too much, but after all laughter is the best medicine.
I also enjoy music and the company of my family. When I am at home I help out with my 9-month-old nephew and I help my mother with the house chores.
I epitomize a girl who is affectionate and kindhearted. I am always willing to help the needy. In fact, I plan to start a charity in the future. I believe this would make me better able to enrich the lives of those in need.
Rondine Kamilah Brown — St. Joseph's Convent, Kingstown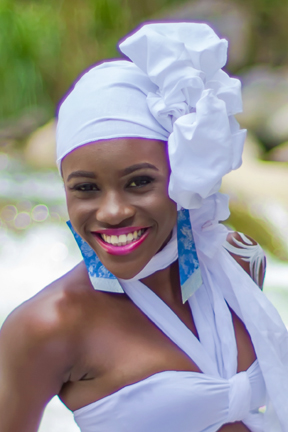 Rondine Kamilah Brown was born to Ronald James and Auldine Kayola Brown on the 23rd of January year 2000. She is the only child of that union and lives with both parents in the quiet neighborhood of Level Gardens.
Rondine commenced her education at the Happy Days Pre-school. In the year 2004, she embarked on her primary education at the Petersvale Primary. During her stint there she developed a keen interest in beauty pageants and fashion designing. At the age of 9, she entered the school's beauty pageant and placed 1st runner up to the crown, winning the best talent and wearing her very first design as her evening wear. It was then her artistic skills in drawing and dancing were highlighted as her design came to life on stage and her graceful dance moves ignited the patrons.
That same year Rondine was transferred to the Kingstown Preparatory School, it was 2 months later she lost her Dad to cancer on the 6th November 2009.  She had a very strong bond with him. When he was diagnosed, he thought it was best to instill resilience, good moral values, survival skills and confidence in preparation for his departure from this life.
It is with the Christian foundation she gained from following The Lord in water baptism at the age of 7, love and support of her mother, other family members, and school counselling, that she is able to exhibit a strong personality of tolerance and determination.
In 2011, she was successful in the Common Entrance Examination and was enrolled at the St Joseph's Convent Kingstown.
At age 11, Rondine Brown showcased her first line of clothing, dubbed "swag" in collaboration with the Meji Modeling Agency under the theme "Fashion is my Passion".
Rondine is not only artistic and theatrical; she is athletic and possesses strong leadership skills. She represented her school in the National Dance Festival, where she won the most versatile dancer award in the competition and best hip hop solo in her age category.  Her many medals attained through representing her house and school in athletic sporting events gained her the position of Vice Sports captain. Her leadership skills were harnessed and recognized through the leadership training she received from her involvement in Girls Guides where she is a patrol leader; through her peer counseling training where she is a counsellor in training, being on the Public Relations team of her school's young leaders group and being selected as a probationary prefect.
Rondine Kamilah Brown enjoys dancing, drawing, fashion and being creative on the computer. Her career objective is to become a multimedia artist and animator.
Jo-Ann Reshorna Kenisha Andrews — St. Joseph's Convent, Marriaqua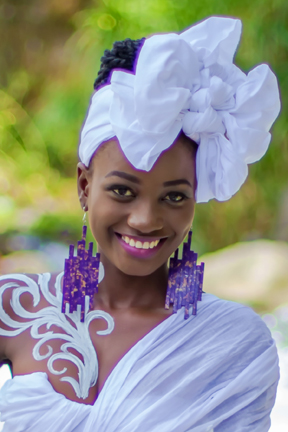 My name is Jo-Ann Reshorna Kenisha Andrews. I was born three weeks overdue on 5th August, 1998. I now reside in the humble village of Spring, having lived in several places prior. I am the baby of a family of four siblings. We are a close knit family but I am especially close to my elder sister Tecla who was the person that named me. Our family spends a lot of time with each other going to picnics or village outings. I enjoy mostly those nights when the moon is full and we play games outside.
My first love is dancing.   Though I have never received any formal coaching I dance whenever I get the opportunity at school in competitions and at church with our youth group. It really gives me much joy.
While my life has been influenced by many persons, I have many fond memories of my days in primary school with my teacher Ms. John who was the person most easy to talk to. She was loving and caring and usually brought me specials treats at break time. Currently I am a fifth form student of the St. Joseph's Convent, Marriaqua. At school, I find math to be my most challenging subject.
I spend some of my free time watching television and chatting with my best friend. For summer vacations I usually attend the annual Police Camp where I engage in outdoor activities like hiking. Though the programme is strict and rigorous, I do learn a lot and have much fun while doing so.
Keneshia Llewellyn — St. Vincent Girls' High School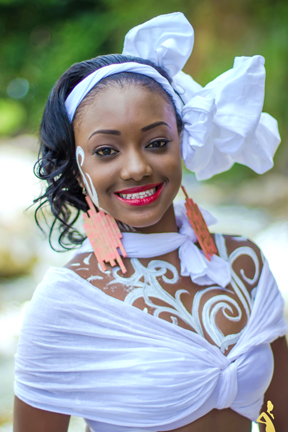 Keneshia Llewellyn is the 15-year-old daughter of Leroy and Patalyn Llewellyn who welcomed her into the world on October 6, 1999. She currently resides with her family at Sion Hill.
Keneshia's educational journey began at the St. Mary's Roman Catholic school where she graduated with the awards of best all round student and most outstanding personality. She is currently a 5th form Business student at the St. Vincent Girls' High School where she is also enrolled as a Girl Guide and was appointed Patrol Leader.
The 15-year-old aspires to become an Accountant and a professional choreographer and dancer. In her spare time she enjoys dancing, as she is a member of the Avenue Dancers, singing and modeling. She views herself as determined, cheerful, amiable and hard-working.
Should she be crowned The Scotiabank National Secondary School Miss Heritage 2015, she intends to wear her crown with pride and represent herself, her school and her country well for any responsibility during her reign.
Keneshia uses the Girl Guide motto "Be prepared" as a daily motivation.