A man whose lawyer escorted him back to St. Vincent Sunday morning remained in police custody Sunday evening as detectives continue their investigations into a burglary at the Villa Campus of the Community College late last month.
Police said last week that the man, Kamorni Antoine, 24 of Glen, was wanted in connection with a burglary and was "considered dangerous".
Antoine's lawyer, Israel Bruce, escorted him back to St. Vincent Sunday morning on board a commercial flight by regional carrier, LIAT, which landed at E.T. Joshua Airport shortly before 10 a.m.
Bruce noted to I-Witness News Sunday evening that police had circulated a wanted notice to the media last week.
"And there was the suggestion that he could have been armed and dangerous. The family, having seen and or heard that, decided that they would not run any undue risk with the life of their family member. And, so as a consequence, he was overseas and they felt that he should come in and see the police and find out what is their interest in him," Bruce said.
He told I-Witness News that he escorted Antoine back to St. Vincent from Barbados.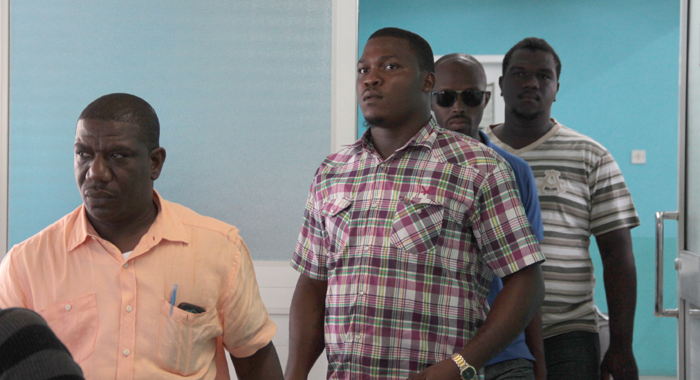 "So that was my responsibility to bring him to St. Vincent and hand him over the police for them to ask him whatever they wanted to ask him about whatever offence that they are claiming he was involved in.
"From all indications, it appears as if they are suggesting that he has been involved in the issue about some missing monies out at the Community College, from what I understand."
College officials have remained tight-lipped about the burglary, which occurred during the last weekend of August.
When contacted earlier this month, Director of the College, Nigel Scott, told I-Witness News, "That's not a story. Surely, there are things happening in the country that are more important. No comment."
Police in Calliaqua are investigating the burglary, during which a vault containing cash was stolen.
Detective Assistant Superintendent of Police Sydney James told I-Witness News earlier this month on that the vault contained an undisclosed amount of money.
Sources say the vault contained in excess of EC$30,000, which was collected as students' registration fees.
Plain clothes police officers met Antoine and Bruce inside the arrival hall at the airport while an armed police officer waited outside.
Bruce, his client, and the police officers left the airport in an unmarked police vehicle for Kingstown, where Antoine was taken for questioning.