Member of Parliament for North Leeward, Roland "Patel" Matthews, on Saturday, presented to constituents, a manifesto of his plans for the district as he seeks a second five-year term in office.
"I have done my research. I have talked to you, the ordinary people, and you have given me the mandate to produce this document," Matthews told supporters of his New Democratic Party (NDP) at a rally in Chateaubelair.
Matthews, an opposition lawmaker, expressed confidence that NDP will win the upcoming general elections, expected before year-end.
He said North Leeward is blessed with tremendous resources, including land space, water, and "the most assets for tourism development…
"In the fishing industry, we can do well. Our farmers are second to none, but you ask yourself why is North Leeward not benefitting. We can do better. We have to do better," Matthews said.
'14 years of neglect'
He blamed the ruling Unity Labour Party (ULP), which came to office in March 2001, for failing to use the resources of the constituency to the benefit of its residents.
"Fourteen years of neglect and pittance; 14 years of killing banana; 14 years of leaving the fish market and gas facility in Chateaubelair to rotten; 14 years of failing to maintain the Chateau wharf; 14 years of failing to maintain the feeder roads in North Leeward; 14 years of failing to improving the lives of the people of North Leeward.
"After neglecting the death trap in Coulls Hill, it has claimed three more lives," he said of a section of the Leeward Highway where four persons died when two vehicles went over a cliff in two separate incidents.
He said constituents should vote against the ULP  for "lying [and saying] yo' never send police into the bush; for describing our young men as criminals and vagabonds who you want to pursue until they exist no more; for taking away money from the young men of North Leeward and they're not getting it back and yo' not telling them what you take it for.
"After 14 years of failure, it is time, North Leeward, to rid our country of this mafia outfit parading as government," Matthews said, adding that he calls the government a mafia because it continually takes but the people get nothing.
'bearer of good news'
Mathews told party supporters he is the "bearer of good news".
"I come to tell you tonight the NDP is ready for action. The NDP is ready to make things better. The NDP is ready to improve agriculture. The NDP is ready for better health care. Young people, the NDP is ready to create jobs. The NDP is ready to improve tourism. The NDP is ready to improve the sector. We are on the verge of a new day. We are on the threshold of a new beginning," he said to cheers.
"I want you to be jubilant tonight. I want your hopes to be up tonight. Better days are coming, North Leeward," Matthews said.
Matthews said the constituency manifesto was a first for North Leeward manifesto.
"I want to introduce to you tonight the roadmap for development in North Leeward. I am introducing to you tonight my position and the New Democratic Party's position about a new North Leeward.
"… My brothers and sisters, you have to be happy because you notice tonight we didn't talk any comess (gossip), we didn't run down anybody, our leader was excellent, dealing with the issues."
Matthews said he has enough copies so that every house in North Leeward would get a copy of the manifesto.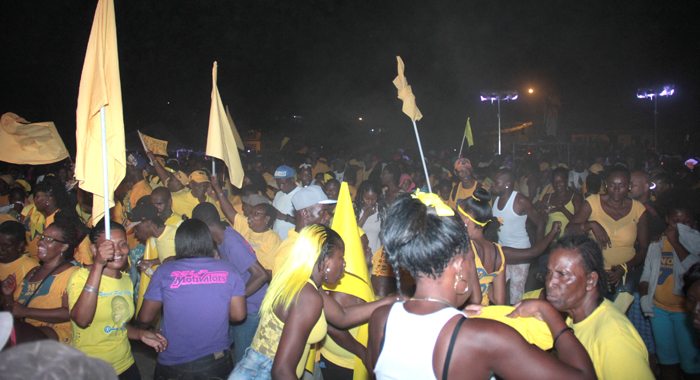 Roads & Infrastructure
Under "Roads & Infrastructure", the manifesto says there will be a comprehensive road programme that will repair existing roads and create new roads to improve agriculture and housing.
All public buildings will be properly utilised and maintained including schools, libraries, clinics, resource centres, bathrooms and other buildings for public convenience.
Drains and retention walls will be constructed in areas where they are critical, Matthews said, mentioning specifically the section of the Leeward Highway in Coulls Hill where the persons died.
The fishing complex in Chateaubelair will be repaired and fully functional, he said.
Agriculture
Mathews noted that party president and Leader of the Opposition, Arnhim Eustace, announced during the rally that he (Matthews) will become Minister of Agriculture if the NDP is voted into office.
The North Leeward MP said this shows how important North Leeward is, because there are only two people so far who are sure they are going to be in an NDP administration: Eustace, as Prime Minister, and he as Minister of Agriculture.
Outlining his plans for agriculture in North Leeward, Matthews said he would encourage the formation of farmers' groups in the constituency to effectively deal with issues affecting farmers.
He will also encourage the use of small farm machines to assist farmers to manipulate the rugged terrain of North Leeward.
In North Leeward, an NDP administration will support the production, handling and marketing of safe, healthy foods and provide income support to farmers, supply fertilizers and maintain control of pests and diseases by monitoring and spraying of crops.
It will embark on an intensive and extensive banana replanting programme, provide a crop nursery in North Leeward and involve the schools in agriculture.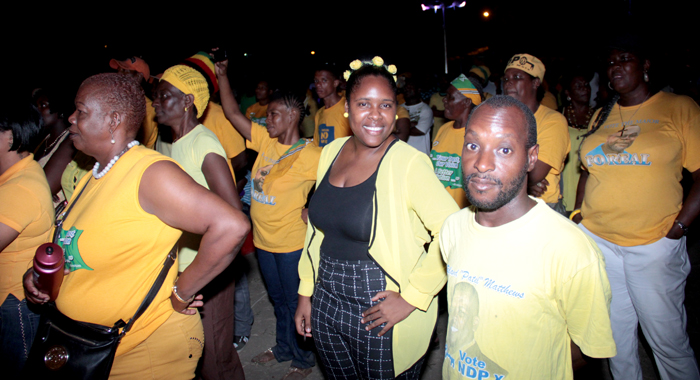 Health & the Environment
Under health and the environment, Matthews said he will ensure that each clinic is well equipped with all essential medical supplies and provide a resident health officer for each clinic to restore 24/7 health services for North Leeward.
The other points under health and the environment are:
Upgrade the elderly and shut-in healthcare programme.
Develop educational programmes for healthy eating and living through collaboration with the Ministry of Health and Ministry of Education.
Strengthen "environment education" and training in schools.
Ensure that the garbage collection mechanism in the constituency is adequate and consistent.
Upgrade Chateaubelair Hospital to be able to do minor surgery.
Matthews told party supporters that Eustace has said that if there is one programme that the ULP created that an NDP administration would continue and expand is the Home Help for the Elderly programme.
"So those of you who feel you have to vote Labour to secure your job, you will be employed, your salary will be increased and more people will be on the health care programme."
Addressing issues relating to youth and sport development, Matthews said that Cumberland Playing Field is incomplete after 12 years.
"We in the New Democratic Party, we have a plan. North Leeward, I have the plan. This is no comess. This is no old talk, this is not running down people and calling you names."
He outlined his youth and sport development plans for North Leeward as follows:
Develop and implement a Youth Apprentice Programme" for youth between 16-25 years for training in appropriate employability skills.
Ensure that all sporting facilities and entertainment venues are available so youths in the community can showcase their talents and abilities.
Young people will be the target beneficiaries of the Constituency Development Fund through development projects, particularly in tourism and agriculture and fisheries.
Provide support for Internet-based activities among young people with special focus on online industries and positive social interaction.
Strengthen entertainment services, tour guiding and craft industries to create youth employment in the tourism sector…
Upgrade and complete the Cumberland Playing Field with lighting and other amenities.
Mathews further announced that the NDP will create a youth apprenticeship programme.
"The purpose of this programme is not to exploit young people. Not to send you into the school and teach a whole class and pay yo' $400. Our programme will be different. It will be a real apprenticeship where you will go on the job, get the experience and hopefully to be gainfully employed. That is the New Democratic Party's thinking for young people," he said.
He further noted the NDP plan to create 500 jobs in the information communication sector during its first term in office.
The manifesto also outlines Matthews' position on crime, employment, and education and training.
Matthew will come up against the ULP's Carlos James, a first-time candidate.