Commissioner of Police Michael Charles has dismissed as "outrageous" a call by an opposition lawmaker for him to resign because he attended a rally of the ruling Unity Labour Party (ULP), dressed in red, the party's colour.
The nation's security chief's comments to I-Witness News on Thursday came as MP for Central Kingstown, St. Clair Leacock, and Elroy Boucher, head of the Public Service Union (PSU) made separate calls for his resignation over what they described as partisan expressions.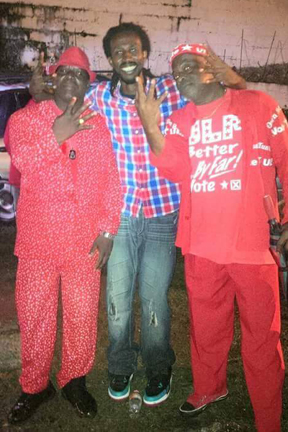 Charles has been seen attending at least one rally of the ULP decked out in a red outfit made of star print material similar to that used to make headwear that some ULP candidates have worn on the platform.
In one photograph, he holds up his hand in the "4 inna row" campaign sign of the ULP.
But Charles told I-Witness News that he had also attended a rally of the main opposition New Democratic Party, dressed in that party's colour — yellow.
"In St. Vincent and the Grenadines, I happen to be the Commissioner, the head of security, and from time to time, I will attend public meetings. In order to gain certain information and to see what is happening on the ground, you will have to blend in, hence the reason why I attended a public meeting and camouflage with the crowd," Charles told I-Witness News.
"It is not only ULP public meetings I attend, and when I attend other public meetings, I don't wear red. For example, the NDP public meeting at Sion Hill, I was there. I had on a yellow t-shirt. Two persons recognised me. I attended a public meeting for the Democratic Republican Party at Arnos vale but I did not wear that party's colour," he said. "So with regard to calling for me to resign, I think it is outrageous.
Speaking Tuesday night at a rally of the main opposition New Democratic Party (NDP), MP for Central Kingstown and NDP vice-president, St. Clair Leacock also called on Charles to resign.
Leacock, who attained the rank of major in the local Cadet Force, noted that he was in command of all foreign forces in SVG on the night of Independence in 1979.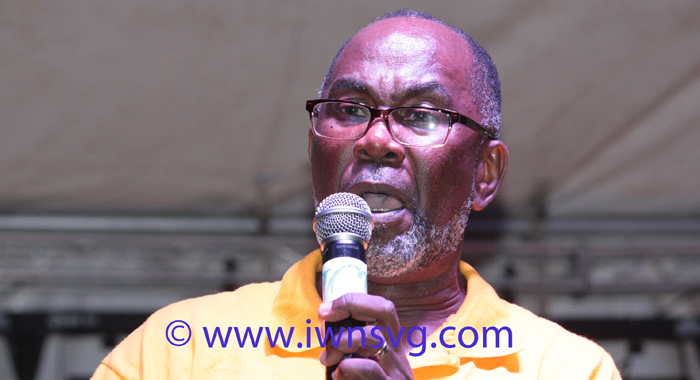 "We had a respected Police Force then…" he said, adding that Independence means that the nation is also responsible for its external affairs and defence, including national security.
"In that regard, it [was] never anticipated we could have in charge of a Police Force some people who could be so disrespectful — and "officers you all write it down". Police officer talking the minutes, I am coming after Commissioner Charles and I am asking that he resign before the general election is called. He is a disgrace and a dishonour to every single person who has worn the uniform in St. Vincent and the Grenadines," Leacock told the NDP meeting in Fountain.
"You cannot, as a Commissioner of Police, find yourself in red at a ULP meeting next to a man selling peanuts, or whatever the hell you selling and calling yourself a commissioner. And that only could happen when you don't have confidence in yourself or your educational standard is so goddamn low that you have no self-respect. Get rid of him once and for all."
Leacock, who is the NDP spokesperson on national security issues, said he had called Charles' next in command of the Police Force "because I am coming after all of them.
"Because if he don't want to move, they too will have to move. And if he lose, don't mess with the New Democratic Party because the regional security force will be here the next morning to ensure the change of government."
The opposition lawmaker, who is bidding for a second consecutive term as MP for Central Kingstown, said he will hold Charles responsible if any harm befalls him.
"You are a damn disgrace to people in uniform and get your act right now, once and for all," Leacock said.
"Every commissioner who has served this country, from Anderson to Jackson to O'Garro, has had something to do, to build the respect of this nation. In 2015, we can't have that."
But Leacock suggested that Prime Minister and Minister of National Security is condoning Charles' actions.
"But it is bad enough for Charles. It is worse for your prime minister. Because he sees you, he knows you and he doesn't rebuke it. That's why I say this is a failed state. It will be for the New Democratic Party to restore decency in this country…
"What you are demonstrating is the lowest of the lows. You are a disgrace to people in uniform. Total! And I owe you no apology. And what's worse, the example you have set has allowed the Richard Brownes to do the same thing, and others are falling in line."
Leacock called on NDP president, leader of the Opposition Arnhim Eustace to bring the matter to the attention of the Bar Association, the Christian Council, heads of government across the region and the Election Monitoring Committee in St. Vincent and the Grenadines.
"Because we, our parents, our grandparents, our great grandparents, have worked too hard to build an independent St. Vincent and the Grenadines for you (Charles) to destroy it today," Leacock said.
"And I will make you a subject of discussion and debate. Do not put your hand around me in any way to figure that you are showing appreciation and love. Your love, at this time, is unimportant to my wellbeing. St. Vincent comes first and I will not allow my party, my colleagues, our security, our St. Vincent, this blessed land of ours, St. Vincent, my homeland to suffer at the fate of a person who destroys credibility, integrity," Leacock said.
Charles, however, told I-Witness News it is not the first time that Leacock "is behaving like this with Commissioners.
"I can remember sometime ago with former Commissioner [Keith] Miller, he actually told Commissioner Miller he will be the next Minister of National Security and Miller has to watch it, when Miller was Commissioner. I am doing my job to the best of my ability. You won't be able to please everybody, but I think I am doing a reasonable job," Charles told I-Witness News.
At a news conference on Wednesday, president of the Public Service Union, Elroy Boucher, said Charles is supposed to be colour-blind, politically, and should have the confidence of citizens.
Boucher, however, said the police chief's recent behaviour "has brought that office to a lower level.
"He is the head of security in the country and ought to behave in a more responsible and professional manner. And, at this stage, the country needs a new commissioner. And I am calling on the commissioner to resign," Boucher said.
General elections are looming in St. Vincent and the Grenadines as Prime Minister and Minister of National Security, Ralph Gonsalves, has said he will allow the electorate to choose a new government by year-end, ahead of the March 2016 constitutional deadline.
"At a time like this, Vincentians need to feel conformable with the head of security. And people may think this is political because of the nature of what has been happening. But it speaks to the security of each and every Vincentian in this country, regardless of what party they may support," said Boucher.
"And you tell me, if you see a commissioner behaving that way and you are supporting the Green Party, for instance, are you going to feel comfortable, reassured, that your security is taken seriously?"
Boucher noted that "people at the top" do have a right to choose who they want to support politically.
"But when you hold certain offices, you have to behave responsibly in those offices, because the office demands that. And so we have to condemn that sort of behaviour. It is all over Facebook. Everybody can actually see it. That is no secret in St. Vincent.
"But you can't behave that way as the top cop. I don't know what other part of the Caribbean that happens or even further than that. Regardless of who you support. I have not seen that sort of behaviour in any past commissioner in regards to who they are supporting and I couldn't care who they support. But that is your private business, keep it private, because that is something that can affect even our very membership."
The police chief said he did not hear the comments made by the PSU head.