By Kenton X. Chance  
In the more than 40 years that 71-year-old Hugh Stewart has been a banana farmer, he has seen the fruit — once dubbed "green gold" — transform the communities in which it is grown.
"During the banana era, villages were transformed in St. Vincent and the Grenadines," he tells I-Witness News one humid Tuesday afternoon in October after spraying a section of his field in Collins — a village in the interior community of Marriaqua — with the compounds needed to keep his crop healthy.
"Proper housing, vehicles, indoor toilets; children sent to secondary school, to universities in the Caribbean and overseas. Lots of people travelled from bananas," he adds.
"Now that is not happening because we are not producing anymore," says  Stewart, who tells I-Witness News he is on stream to make some EC$75,000 this year from bananas, two-thirds of which will be profit.
He has a plan to ramp that up to EC$350,000 in 2016.
For 20 years, ending in the mid-1990s, banana was the mainstay of the Vincentian economy — a veritable king.
In fact, between 1984 and the first half of 2015, St. Vincent and the Grenadines (SVG) exported some 873,000 tonnes of bananas, bringing in some EC$1.421 billion dollars to the Vincentian economy.
"When I looked at these figures, the first thing that struck me was the large amount of money that banana has contributed to this country's economy," Opposition Leader Arnhim Eustace says on his New Democratic Party's (NDP) radio programme.
"And it says to me that we have allowed an industry to virtually die, which brought in that kind of money into the economy of St. Vincent and the Grenadines."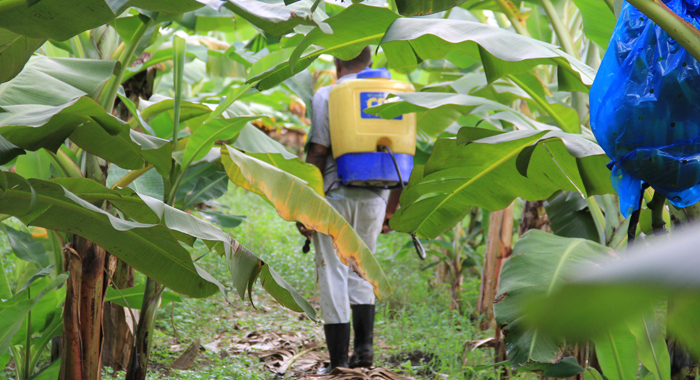 Depending on who you ask, changes in access to the market in the United Kingdom, a shift in policy at the level of the political directorate, and mismanagement of the sector, has, over the last 15 years or so, seen banana being deposed, becoming a veritable beggar in its erstwhile kingdom.
What is true, though, is that between 1984 and 2001, when the NDP was in office, bananas generated EC$1.13 billion to the Vincentian economy.
This compares to EC$291 million between 2001 and mid-2015, under the Unity Labour Party (ULP) administration.
Banana has long been a political fruit in SVG, and with general elections expected before year-end, the sector is the focus of much attention, with the two main political parties outlining their plans for the industry.
Their aim is to secure the confidence of farmers, and, hopefully, their vote.
Political observers say that farmers were instrumental in keeping the ULP in office when the party won the 2010 general elections and a third consecutive term, by a single seat majority.
The party won the constituencies that compose most of the nation's main agricultural districts.
In November 2011, one year after he was elected as Member of Parliament for South Central Windward and appointed to head the Tourism Ministry, Saboto Caesar told his constituents that lands in the district, previously the source of employment for many of its 10,000 residents, were lying fallow and overgrown with weeds.
It was time to begin farming again, he said in an address targeting the constituency's 950 farmers.
About a year later, Caesar would become the nation's Agriculture Minister, taking over from Montgomery Daniel, whose staff failed to spray against black sigatoka, a disease that causes banana leaves to wilt and die and fruits to ripen prematurely.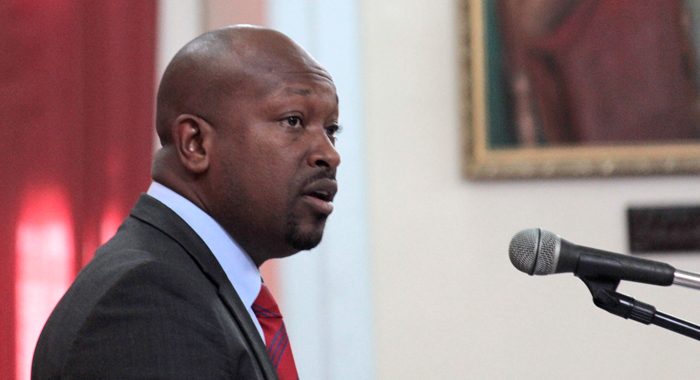 Under Daniel's stewardship at the Ministry of Agriculture, black sigatoka was left to run amok as officials failed to conduct aerial spraying even as bananas were about to begin fruiting, almost one year after Hurricane Tomas destroyed 98 per cent of the nation's banana trees in October 2010.
Speaking this month at a ULP rally in Diamonds, a South Central Windward village in eastern St. Vincent, Caesar said:
"We are committed and we must stay together and vote Labour for a bright future in agriculture."
He was speaking one day after Eustace told NDP supporters in Keartons, an agricultural and fishing community on St. Vincent's west coast, that there is "hope" for the banana industry".
Eustace said that while the decline of the banana industry has accelerated since 2010, the NDP will "bring that hope alive by taking the steps that are necessary to deal with the problems that confront our nation".
The challenges facing the banana industry are a big problem, Eustace says, adding, "there is no problem in us solving it.
"We know what to do to solve it. And when we get rid of them (the ULP), we will start the next morning to deal with that issue in St. Vincent and the Grenadines."
But Caesar told the rally in Diamonds that the first question the NDP must answer is why the NDP administration left the banana industry in EC$30 million debt in 2001.
"The NDP did not have a solution for bananas then, and they still don't have a solution," Caesar argued.
The NDP must say why in 1992 there were over 7,000 active banana farmers but that number had fallen to 3,000 by the time they were voted out of office nine years later, he further told constituents.
Caesar said that over the past five years, "nature has served us a particular hand" in agriculture, mentioning hurricane and drought, floods, pests and diseases.
"And it took hard, dedicated an strategic work under a Unity Labour Party government to keep agriculture afloat amidst all these disasters."
There has been progress since Hurricane Tomas, after which two pallets of bananas were exported a week, the minister said, adding that export now stands at 80 pallets.
Winfresh has opened the door for non-Fair Trade bananas to go to the UK, he said.
And when export to the United Kingdom recommences, the Ministry of Agriculture will ensure that the regional market is maintained and that SVG takes up its share in the banana market in the UK for Fair Trade and non-Fair Trade bananas.
Farmers are returning to the banana industry, Caesar told party supporters.
"And during the fourth term, we will reap the fruits of Labour. Labour loves the banana farmers…" said Caesar, a lawyer whose secondary school education was financed by a banana growers' scholarship.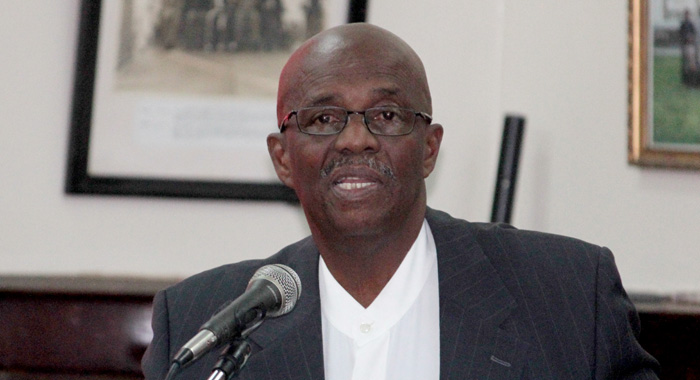 Speaking one night earlier, Eustace traced his history of involvement in the banana sector back to 1993, when he was appointed fiscal advisor to the government and was asked to play a role in the banana industry.
Around the middle of 1994, the Windward Islands were re-negotiating its contract with Geest, and Eustace was a member of the negotiating team.
In December 1995, he headed an 11-member delegation that negotiated to purchase Geest, which they bought for 147 million pounds, allowing the Windward Islands to own nine acres on the docks in Southampton, ripening rooms, 110 refrigerated trucks, and farm lands in Costa Rica.
From then on, the banana industry was stabilised, prices were good, and the islands were making money, Eustace said, noting that at its peak, SVG earned EC$111 million from banana exports in one year.
Some persons have blamed the World Trade Organisation ruling that reduced the tax that Latin American countries pay on bananas, for a loss in competitiveness for bananas from the Windward Islands.
Eustace, however, believes that that there is a place for Windward Island bananas in the United Kingdom as Latin American countries pay a tax of 216 pounds sterling per tonne of bananas.
"So, therefore, we have to be more efficient when we produce our bananas to be able to operate within that margin…"
He said if SVG is to "revive the industry, we have to do it within that framework.
"Therefore, our farmers have to be more efficient. We have to be able to handle things like black sigatoka, which this government has failed to do."
Eustace said that the NDP — which governed SVG at the height of the banana trade — understands the background and history of the trade issues.
In his attempt to woo farmers back to the industry, Eustace pointed to the contribution of bananas to the development of the country.
"… when you look at places like Marriaqua and other places in the countryside, including in North Leeward, you will see all the homes built out of bananas.
"You will see the young people who went to all sorts of schools, including university, because of bananas.
"And we believe that we can do that again. … We have been growing bananas for 55 years and we believe that the skills are there in St. Vincent and the Grenadines for us to do that yet again."
His banana plan includes giving farmers monthly income support of EC$500 while their crop is coming into season.
Eustace noted that St. Lucia, whose banana industry was also affected by Hurricane Tomas and black sigatoka, is already exporting 20,000 tonnes of bananas a year.
The aim of the NDP's plan for the sector — which revolves around rehabilitating 1,000 acres of bananas during its first year in office — is to improve the economy of SVG and make more jobs available to citizens.
"And if bananas are doing well and the banana farmer can earn income, and we can earn that foreign exchange coming in, it can be used to do other things in other parts of the country. So, it is an important thing to do," he said, adding that the negotiation 20 years ago provided for other fruits and vegetables from the Windward Islands to be sold in Europe.
At the constituency level, the ULP's St. Clair "Jimmy" Prince and Curtis Bowman of the NDP have addressed issues relating to bananas, specifically in Marriaqua, which they are each hoping to represent in the nation's Parliament after general elections later this year.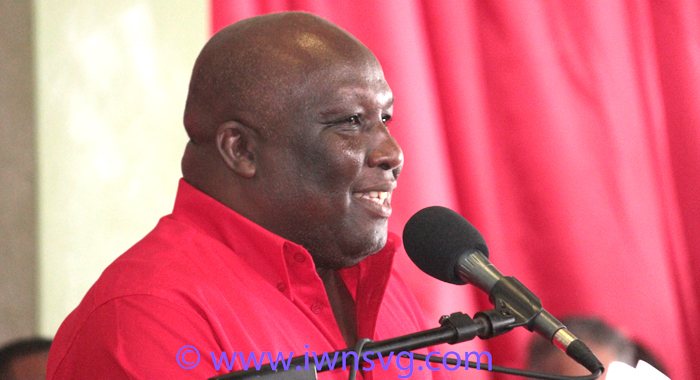 At a rally in Marriaqua in September, Prince said the loss of banana income in the agricultural district has resulted in hardships for farmers.
Recently, the banana industry has been met with some setbacks, namely poor markets, natural disasters, and the general cost of production, he said.
"Because a generation has grown up to manhood by cultivating bananas, it has been the backbone of economic life in the valley. Agriculture, therefore, must remain sacred to the people of Marriaqua," Prince said.
He said one of the items on his agenda "is to explore the possibility of trying to do something for agriculture in St. Vincent and the Grenadines in general, but also particularly for the people of Marriaqua".
The ULP has been representing Marriaqua since 1998, and the NDP's Bowman is making his second attempt to win the seat.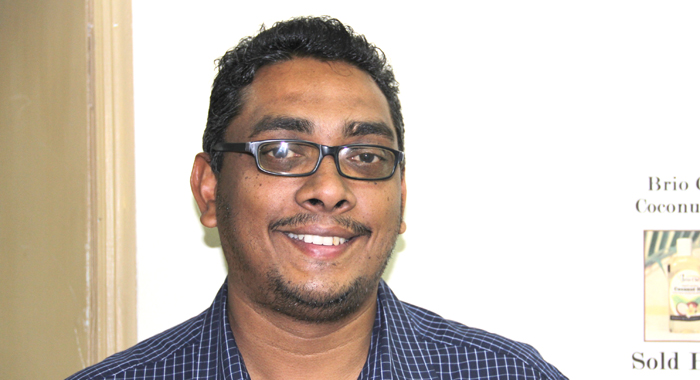 Bowman, a pharmacist and businessman, spoke of his personal experience with green gold, saying:
"I know what banana has done for me, Curtis Bowman, in my life. Banana has sent me to school. Bananas have made my family what it is today."
He quoted Prince as saying that the Marriaqua residents used to be independent and banana was the backbone of the economy of the valley.
"So, in essence, he said the ULP killed banana in this country," Bowman said, adding that after Prince's alleged confession, he promised to see what he can do for   agriculture.
"But poor fella. We in the New Democratic Party, with my leader here, Arnhim Ulric Eustace, we are not going to tell you we can see what we will do. We know what we are going to do … We are going to put you, the farmers, back to your land. We are going to resuscitate the banana industry in planting 1,000 additional acres of banana," Bowman said.
But notwithstanding the political parties' grandiose plans, Stewart is convinced that only farmers can revitalise the banana industry.
He, however, said farmers are often misled by "the talkers".
"Most people who talk in this country are politicians," he says, even as he tells I-Witness News that only farmers can save the Vincentian economy.
"Farmers are looking to government for solution. Government is not the solution."
Stewart is convinced that Windward Island banana farmers can compete with Latin America.
He said the region has no labour problems, as is the case in Latin America; both areas face the challenge of pests and diseases, but the distance between the Caribbean and Europe is shorter than Latin American and Europe.
But he says farmers were misled by politicians and, therefore, left the industry.
"The government take the farmers and put them on what they call non-contributory pension. Farmers going on pension? Famers can make their own money," Stewart tells I-Witness News.
"Gonsalves said he wants to help poor people. You help poor people by doing what? Keeping them poor? Giving them a little allowance a month is keeping him poor. Let the man get to work. Give him a job. Let him work for his money."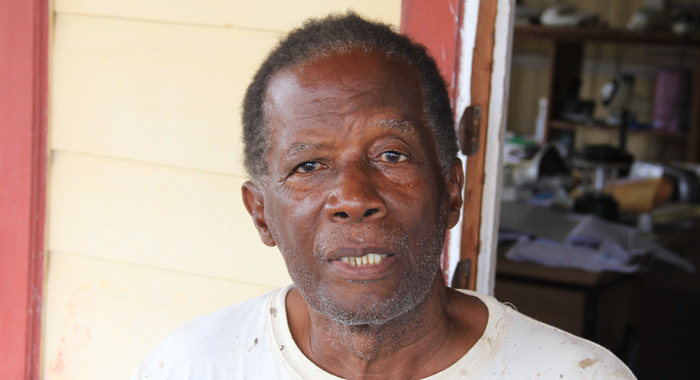 Stewart does not believe that farmers are holding sentimentally to the "dead legacy" of bananas.
"Banana dead, I dead. Banana ain't dead at all. It's just that the farmers need to forget about who going bring back bananas, who going to plant a thousand acres and get on with it. Get on with forming organisations, get on with seeking technical advice, get on with encouraging their children to assist them with their books and the technology."
Commenting on Eustace's plan to rehabilitate 1,000 acres of bananas during the first year of an NDP government, Stewart noted that the government does not plant bananas.
"They are facilitators," he said.
"He (Eustace) can direct his ministry officials to get on with it.  And if the technical people decide to behave as they are behaving now, the same result will be. Not getting anywhere.
"He has to get people motivated to get involved in banana production. Apparently, people have been looking forward to him as the solution. But he will get fed up, if people don't want to work," Stewart says.