The Leader of the Opposition has written to the Governor General "with respect to the behaviour of the Commissioner of Police", Michael Charles, who has attended rallies of the ruling Unity Labour Party (ULP) dressed in the party's colour — red, and was photographed displaying the party's "4 inna row" campaign hand signal.
In his Oct. 26 letter, Arnhim Eustace said to Sir Frederick Ballantyne that the police chief,
"while having a pivotal role to play in our national security, frequently and blatantly plays a partisan and political role.
"He has resorted to wearing ULP party colours at party and other public events.
"Pictures in the media depict him playing Old Mas during our carnival festivities in a costume ridiculing opposition Members of Parliament."
Eustace said that type of behaviour by a senior public official is "unacceptable, but even more so since his post is critical to the national security of our state.
"Your Excellency, I request and ask you that you use your best efforts as Head of State to restore this recurring situation. In fact, I am of the view, Your Excellency, that the Commissioner should resign, as his behaviour is inimical to the best interest of the security of the state of St. Vincent and the Grenadines," Eustace wrote.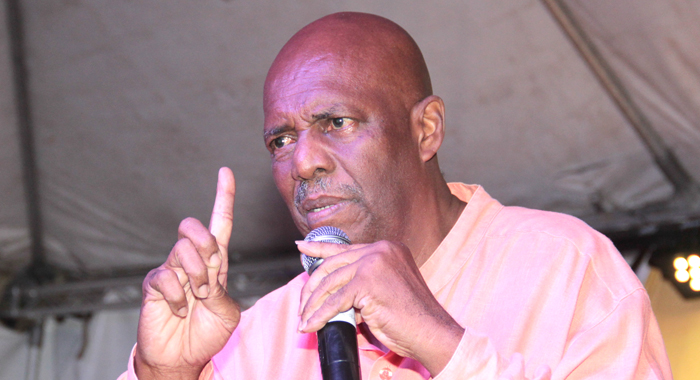 Commenting on the development on his radio programme this week, Eustace said:
"I believe that the Governor General, as Head of State, can have some influence and I am asking him to use his influence to try and put an end to the current situation, which is totally unacceptable.
"The Commissioner of Police, of all posts, more than any, should be careful with his actions. He does not deserve at this time, to be Commissioner of Police and he should go," Eustace said, adding that he was using the opportunity to write to the Governor General "expressing our concern and asking him to use his influence as head of state to try and put the situation right.
"We cannot continue to operate like this. We are like a maverick nation where anything goes. We cannot continue to operate like this. Our people will begin to take nothing seriously coming from this administration," Eustace said.
Head of the Public Service Union, Elroy Boucher and MP for Central Kingstown, St. Clair Leacock, who is a vice-president of the New Democratic Party, which Eustace heads, has also called for Charles' resignation.
Related:
Charles has defended his actions saying that he has attended rallies of both the ULP and the NDP in their party colours.
He said that he did so to blend in and to facilitate intelligence gathering.
But Prime Minister Ralph Gonsalves, who is also Minister of National Security, has said that it is not wise for the police chief to wear party colours at political rallies.
Gonsalves, however, said he does not think that Charles should resign because of the incidences.
Related: