MP for West Kingstown, Daniel Cummings of the main opposition New Democratic Party (NDP), did not have to say much about his opponent, Deborah "Debbie" Charles of the ruling Unity Labour Party (ULP) on the campaign trail on Wednesday.
Cummings, who is seeking a second term as MP, had an audio recording of what is believed to be a prominent ULP activist in West Kingstown, to make the case for him.
"I want to leave you with a little something. You know in my style of campaign — in 2005, they brought a lady. In 2010, they brought a lady, in 2015, they bring [a lady]," Cummings told an NDP rally in Rose Place.
"I am not going to say anything about the other side. But I want you to listen to what the other side is saying about that side. From the horse's mouth. Listen," Cummings said, as the recording was played.
In the recording, believed to be a voice note sent in a chat group such as WhatsApp, a male voice, sounding similar to that of a prominent ULP activist in West Kingstown, says:
"What you are reading in this group chat, I hope you read it properly. I hope you read it properly, because you have the daughter of a candidate and the candidate just called me on my phone to justify her daughter's ignorance. I never see worst.
"But we young people, as much persons out there, fighting for the cause of the party and West Kingstown and we remove Michelle Fife and this is what we are getting."
Michelle Fife, a lawyer and former Miss SVG, was the ULP's candidate in West Kingstown, lost to Cummings in her first attempt to retain the seat for the ULP.
She has since been replaced by Charles, a teacher, and it is rumoured that Fife is no longer supporting the ULP, but party general secretary, Julian Francis, says he had no evidence of this.
The ULP activist in the recording has campaigned on social media against Fife being retained as the candidate.
"Imagine we are being shot in the leg the same way as if we are fighting ourselves?" the activist further says in the recording.
"The amount of energy and passion coming out in that girl's speech, negative remarks towards me is not even in her as a person going campaign for her mother. She don't even do nothing for her mother. She don't push so much for her mother and get people to support her mother, and she find the energy and the will to cuss me and they don't even go out there and campaign.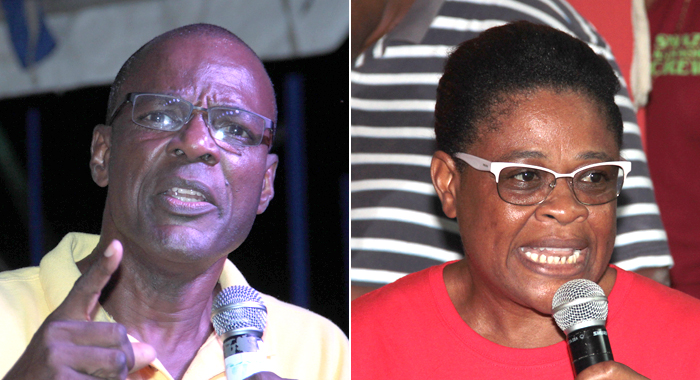 "The amount of people I talk to yesterday who can't tell when last they see Debbie, who can't tell when last they see anything related to Labour in West Kingstown, as if we gone dead and we saying we wah (want to) win West Kingstown? Well Daniel Cummings will deal with us. Imagine that. Imagine we have to turn around and shoot our own people who have been so kind and give out so much energy. I can't believe this. I really can't believe it. And I am done. I am done with West Kingstown. I will not be campaigning in West Kingstown for Debbie Charles. Put that on record," the activist further said in the recording as the crowd erupted in cheers.
I-Witness News does not know when the recording was made.
Speaking after the recording, Cummings said:
"Me sure alyo know that' voice dey. Ello, me nah say that yo know. Ah done. Alyo hear that? Ah done. I have nothing to say. Good night. God bless you. Remember put your X next to the key, the New Democratic Party for good governance in SVG."
It is not the first time during the on-going election campaign that a ULP insider is being recording making damaging comments about another party member.
Earlier this year, Louis Straker, who was called out of retirement to replace MP for Central Leeward Maxwell Charles as the ULP candidate for Central Leeward, was recorded portraying Charles as a lackadaisical representative who had not done enough to represent his constituents.