Head of the state-owned International Airport Development Company (IADC), Rudolph "Rudy" Matthias, on Thursday, admitted that the Argyle International Airport will not meet the December 2015 completion deadline but pleaded with the electorate to re-elect the Unity Labour Party (ULP) and allow them to finish the long-delayed project.
General elections are due on Dec 9, and Matthias said the main opposition New Democratic Party (NDP), which he said has been critical of the project at every stage, should not be allowed to complete the airport.
"We are nearly done. They said it couldn't be done. They said it couldn't be built, but today we are witnessing one of several historic moments in the construction of this Argyle International Airport," he told a ceremony at the airport, where four planes made historic landings.
Among the aircraft was an airplane from the Eastern Caribbean Civil Aviation Authority (ECCAA) that conducted flight checking of the various procedures that have been developed for the approach to and departure from the airport.
"Today, you have seen with your own eyes three aircraft landing at the Argyle International Airport," Matthias said, and the crowd shouted, "Four! Four!"
"Oh Lord! Forgive me!  I don't have my glasses," he said laughing, as a member of the crowd shouted "Four inna row", a campaign slogan for the ULP, which is seeking a fourth consecutive term in office.
"Yes, is four inna row," Matthias said as he continued to laugh.
Matthias recognised the hard work of several agencies and persons who have been involved.
"First, we have to thank our Prime Minister [Ralph Gonsalves] and his government for the unflinching support over the years."
Matthias said that when Gonsalves announced the project in 2005, he (Matthias) had the task shortly after to visit many of the homeowners in this area to tell them about the government's plan.
He said that Gonsalves announced the construction of the airport in August 2005, adding that there was an election in December 2005.
"And while we visited the homeowners, there was a chorus in the media at the time that it was a political gimmick. So we encountered significant challenges talking to and encouraging the homeowners to work with us on this project."
That there were challenges at every stage of the project "but as you see for yourselves, we are overcoming them day by day," Matthias said.
He said that in September 2005, the IADC set about the task of asking homeowners to move.
"And if you count with me, we have been at it for just over 10 years. So this is a 10-year baby that has just been born here today. Over the years, we have had the strongest and the most unflinching support that any company can have from a government in power," Matthias said.
He said Gonsalves, who is also Minister of Finance, was always there to assist, mostly with money, whenever the IADC needed support.
"Truly, we couldn't have got this far without the strong, unflinching support and commitment of Ralph Gonsalves and his government."
Matthias noted that Director General of ECCAA Eastern Caribbean Civil Aviation Authority, Donald McPhail, who also spoke at Thursday's event said that the international airport project is a complex one.
Related: 
"Not only are we building an airport, but, as you know, we had to relocate the road — there is a new segment of the Windward Highway that we had to build. We had to relocate a church and a cemetery.
"And for those who don't know where the dead bodies are buried, they are here in the new cemetery in Argyle. They are there in the ground. We didn't put them up anywhere. They are right in the ground and if he doesn't know, you should invite him to come and have a look for himself."
Leader of the Opposition Arnhim Eustace asked on the weekend about where the bodies exhumed from Argyle were buried, saying he had reasons for asking the question.
Related: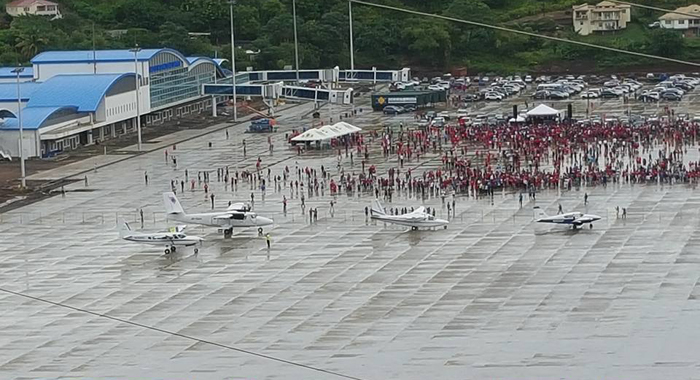 Matthias noted that the IADC had to relocate 135 homes and had a lot of support from the homeowners as the project progressed.
"But truly, it wasn't necessarily simple at the start," he said.
Reports are that some 60 property-owners are yet to be compensated for their properties, eight years after construction of the airport began.
"So, over the years, we have encountered significant hurdles. Not only the three mountains we had to remove and the valleys we had to fill, but we encountered all other sort of issues, especially finance. Because, you know, when we started this airport we didn't have all the money in our back pocket."
He said the money was promised and as they proceeded with the project they got support from many friendly governments.
"But, I wouldn't tell you that the money always came when we needed it. So there were always financial issues that we had to deal with up to this stage. But I doubt that in the next two or three months that IADC can complain about financial issues," he said, adding that he knows where the money is to complete the project.
The government has said that it has secured all the monies needed to complete the airport.
Political observers said that the Dec. 9 vote will be a straight race between the ULP and the NDP, but have also said that the race is too tight to call.
"It would be my dream and I am sure that it would be the dream of everyone here to see this project completed under the ULP administration. I can't conceive of the Argyle International Airport being completed by persons who said at almost every juncture that we didn't need this airport; that it couldn't be built.
"I can't conceive of them coming to Argyle to open this international airport here at Argyle. I can't conceive of it.
"I can't conceive of [Leader of the Opposition] Arnhim Eustace sitting in the VIP lounge in this new airport when it is opened. I can't conceive of that," Matthias said.
He said it would not be fair if the current administration is not allowed to complete the airport.
"It will be an injustice if we are not allowed to finish this airport project at Argyle. So we have to finish it. It was difficult; we started it. And it was difficult; we got it to this stage. When it is done now, we can't give it to people who said 'Find it where?'" Mathias said in an apparent reference to Eustace' answer to a question some five about financing for the airport if the NDP were elected.
The NDP has since said that it will complete the airport if elected to office.
Matthias told the gathering, many of whom wore ULP campaign t-shirts, that more time is needed to complete the airport.
The airport has missed completion targets annually since 2011 and Matthias told reporters in September that it would have been finished by year-end.
"… we need some time to finish it," he said on Thursday.
"I am sure we have about two more months or two and a half more months to finish this airport. But you know decision time is December 9th. So you have to decide whether you want us to finish this airport or whether those who doesn't (sic) know how to find the money will come here and finish it," he said.
Among the work to be done at the airport is the paving of 3,000 feet of the 9,000-foot runway, the completion of the fuel storage facility, and completion of the perimeter fence.
"I am not a politician but I can't say how sad I would be if we are not given a chance to finish this airport project," Matthias told the crowd.
"So I welcome you here today and I want you to celebrate with us one step in the process of completing this airport. But I want to beg of you to give us a chance to finish the job. We are only nearly there. We ain't finish yet," he said.