Trinidad-based, state-owned regional and international carrier, Caribbean Airlines (CAL) will fly to long-delayed Argyle International Airport, when it is completed.
Prime Minister Ralph Gonsalves, however, gave no indication of when these flights will begin when he made the announcement on Sunday at a rally of his Unity Labour Party (ULP) at the incomplete airport.
His address was part of a rally where a chartered LIAT flight with hand-picked party supporters state officials and other persons on board landed in what political observers have described as an attempt to sway voters ahead of Wednesday's general election. The flight, which had an all-Vincentian crew, originated at E.T. Joshua Airport about five minutes by air from Argyle,
The EC$729 million airport at Argyle, which has been under construction for over seven years, has missed completion deadlines annually since 2011. Gonsalves said Sunday that the airport will be completed around Easter 2016, but the main opposition New Democratic Party (NDP) has said that it is likely to be completed by 2020 if the ULP remains in office.
A source close to the project told I-Witness News in November, shortly after four small aircraft landed at the airport as part of test flights, that the work that remains is more likely to be completed towards the end of 2016.
Argyle, the nation's first international airport, now joins E.T. Joshua and Canouan, bringing to three out of six, the number of airfields in St. Vincent and the Grenadines where a aircraft from LIAT's fleet of ATR 72-600 and ATR 42-600 can land.
Gonsalves told thousands of party supporters at Sunday's rally that airlines from North America, Europe and Latin America will fly to Argyle. He, however, declined to name any of them besides CAL.
"Well, when the time is appropriate, I will tell you which planes coming. But, believe me, we have the planes lined up," he said, noting that a magazine on airport business has Argyle on its cover with a story headlined "Build it and they will come" — a mantra Gonsalves has used to justify the airport.
"Well, we build it and we are making all the arrangements and they are coming from America, from Canada, from England, from Europe, Latin America and CAL out of Trinidad," he said.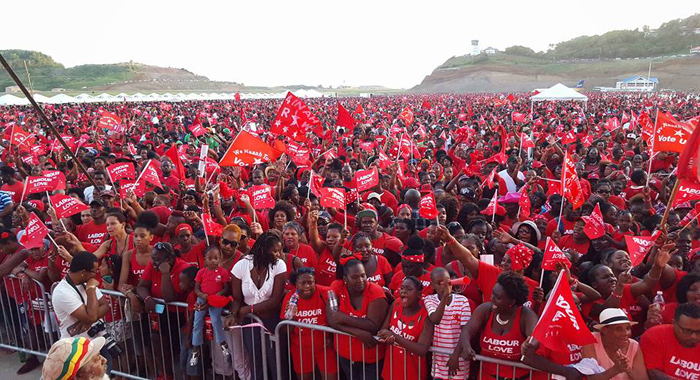 He said the opposition wanted to stop the LIAT landing and pointed out that Leader of the Opposition Arnhim Eustace wrote to the regional civil aviation authorities noting that the airport is incomplete and the landing was taking place days before an election.
"The authority gave a clean bill of health on the airport for LIAT. And then they (the opposition) turn around and bring pressure on the Chief Executive Officer of LIAT," Gonsalves said, adding that a number of NDP persons came to the airport on Sunday "spying".
"They never expect LIAT to land you know. But the chief executive officer wrote and told them — I don't know if they get the information before the plane land. They told them that the Eastern Caribbean Civil Aviation Authority has approved the airport as being fit and proper and worthy and there is no safety problem, and, secondly, it's a straightforward commercial transaction, and that LIAT will be landing," Gonsalves said.
"And LIAT came and you saw LIAT landing and you saw we all came out of the LIAT plane. Because, as I said to you time and again, and as Rudy Matthias (head of the airport company) said tonight, over 6,000 feet in length has already been surfaced," he said of the runway from which fire fighters had to chase stray dogs ahead of the touchdown.
One-third of the runway remains unpaved, but Gonsalves reiterated that the completed section is much longer than at E.T. Joshua Airport, the nation's main aerodrome. "And it's just a short distance remaining and it's a piece of cake to surface the balance," he said.
LIAT is owned by the governments of Antigua and Barbuda, Barbados and St. Vincent and the Grenadines with a combined shareholding of 90 per cent between them. The remaining 10 per cent is owned by other regional governments and minority shareholders.
Gonsalves is chair of the shareholder governments.
Gonsalves told the rally that voters have to decide on Wednesday whether they want him "to be here to open this airport sometime after Easter next year or you want Eustace to be here to say he going open beyond 2020, if at all".
He noted that in Eustace's letter to the civil aviation authority he said the request for LIAT to land at Argyle was being seen as a political manoeuvre aimed at influencing the outcome of the election.
"He knows that this Argyle International Airport, the people are likely to reward us for the hard work which we have done here over the last seven years plus to build this airport and he doesn't want us to get any credit for it. Wha' you want people to do? Give you credit for what yo' try to stop?" Gonsalves said.