By Kenton X. Chance 
About a year ago, when asked about the role that social media could play in deciding elections in St. Vincent and the Grenadines, Prime Minister Ralph Gonsalves adopted his usually dismissive attitude towards new media.
He said he had no time for Facebook and that his interaction with the Internet was largely limited to reading news and current affairs and journals.
But since then, after branding Vincentian cyber activists as "Internet crazies," Gonsalves evidently has come to realise what digital media strategists Nerissa Golden and Ursula Barzey had long established.
In July 2014, Golden and Barzey noted that more than 10 Caribbean countries and overseas territories were scheduled or likely to have elections before the end of 2015.
They said that not including a definitive social media strategy in their campaign could mean a loss of power for incumbents to parties prepared to win by any means necessary.
When he was asked earlier this month about the role that social media could play in Wednesday' election, Gonsalves said:
"Social media, increasingly, plays a vital role in mobilising persons for elections and to vote for you."
He said that that while it is not the only medium, "it is a vital medium.
"And as you notice, we have a good social presence on social media," Gonsalves said of his Unity Labour Party (ULP), which has used paid sponsored posts on Facebook and YouTube to spread its campaign messages.
"I wouldn't be announcing to you to tell you that I have a Facebook chat at 6 o'clock if I didn't think it was useful," he said ahead of one of two sessions he has spent — with the aid of speed typists — interacting with persons on Facebook.
"… I want to engage persons, especially young people and professionals who tend to go on the social media," said Gonsalves, whose Facebook page has since April 19 awoken from the hibernation it went into on Dec. 14, 2010, four days after the ULP was re-elected for a third term by a single seat majority.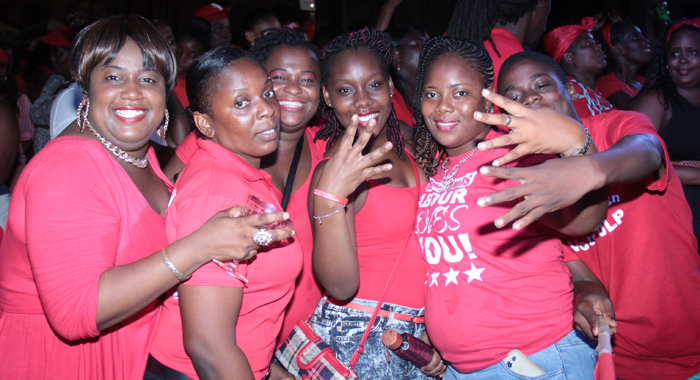 Political observers believe that the young people that Gonsalves and the ULP are trying to reach through social media could decide whether he and his party are returned to office for a fourth consecutive term.
These young people, notwithstanding their love affair with cyberspace, live in a real SVG, where many of them cannot find work.
ULP-paid regional pollster Peter Wickham recently confirmed what anecdotal evidence had long suggested was a high rate of unemployment in SVG, among the youth.
A recent CADRES poll conducted on behalf of the ULP found that a full 58 per cent of respondents said the "issues of greatest concern" to them in this election cycle are jobs/employment, the cost of living and the economy.
The suggestion is that these respondents themselves are jobless or know someone who is unemployed.
The rate of joblessness, especially youth unemployment, was made abundantly clear earlier this year when hundreds of persons turned up for interviews to fill a relatively few job openings at KFC, a few weeks after a similar response to a job call at Subway.
Among the interviewees were high school and community college graduates, including persons with associate degrees.
The main opposition New Democratic Party (NDP), and particularly its leader, Arnhim Eustace, has remained more active on social media, though the vast majority of post on his page were made by others, most frequently NDP spokesperson Vynnette Frederick.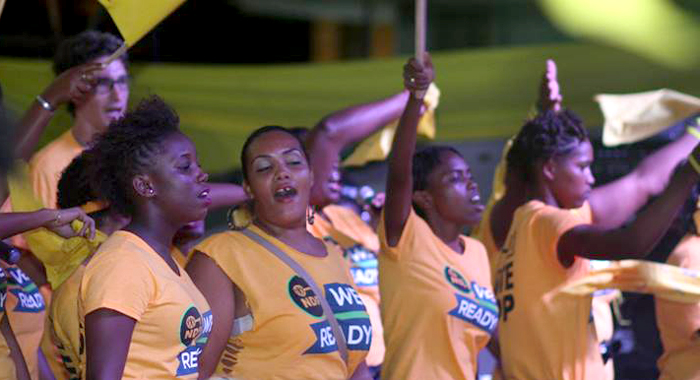 But in the real world, in a very intense political campaign, both leaders have appealed to the youth, saying that their party's policies and programmes best reflect the interest of the youth.
"Fundamentally, the Unity Labour Party sees the youths not as problems to be solved. We see the youths as solutions to the problems of our civilisation," Gonsalves told a ULP youth rally on Saturday.
"We see the youths as the flowers of our civilisation, and the youth must be trained, socialised, empowered, developed, facilitated in that development to bear fruits abundantly," he said. He accused the NDP of seeing the youth as a problem.
Speaking at an NDP rally that same night, Eustace told party supporters that the NDP manifesto details initiatives aimed at improving the economy and decreasing unemployment.
"These include proposals for youth, sports, and culture," he said.
"I look forward to the day we shall all usher in together, and the signs will be undeniable and prolific, young people will walk with shoulders high and make direct eye contact," he said. "They will prize information over rhetoric; answers over spit; women will take back their power, and say a loud 'no' to the compromises many in authority demand of them."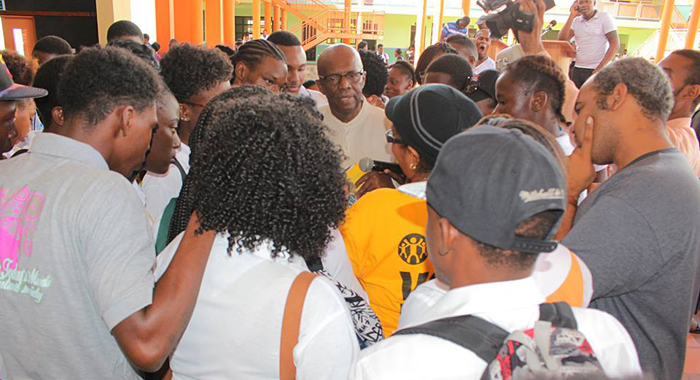 The 2015 election campaign has been unlike any other, with the proliferation of social media allowing persons, especially the youth, to follow the campaign, strategise and hold discussions in real time.
One of the biggest discussions of the campaign began one day after the Nov. 7 announcement of the elections, and was conducted largely on social media.
The digital chatter was about recordings featuring a male voice sounding strikingly similar to that of a senior ULP official having "phone sex" with a younger female.
While traditional and "mainstream" media have been cautious in their discussions, the relative privacy of social media, especially direct messaging services like Whatsapp, has allowed persons within SVG and across the world to have unencumbered discussions about the recordings.
The responses of the two main political parties have been to say that the scandalous recordings are not an election issue, although they have easily been one of the most widely discussed topics on social media this campaign season.
And, on Sunday, two days before the election, a document began circulating on social media, alleging that Gonsalves held a multi-million dollar bank account in Switzerland in 2012.
The ULP and Gonsalves have both dismissed the document as fraudulent and announced that local law enforcement agencies have been ordered to conduct an investigation, and they are enlisting the support of regional and international partners in this regard.
Gonsalves has sought to put the document at the feet of the NDP, while pro-NDP cyber activists have suggested that the document in fact originated inside the ULP and is intended to gain sympathy votes.
Other major election issues, the CADRES poll says, are crime (11 per cent of respondents) and health, education, roads and housing.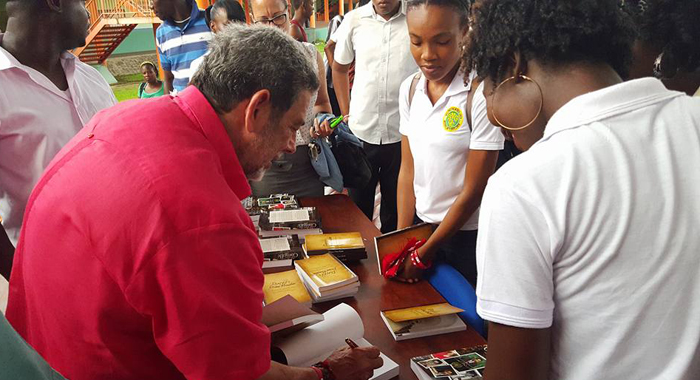 The CADRES poll did not mention Vincentians' attitude to the long-delayed, EC$729 million Argyle International Airport, which will miss the December 2015 completion target, one of several since 2011.
The ULP has presented the airport, which it says will be complete by next Easter, as a game-changer for the Vincentian economy.
Critics, including the opposition, say that the airport, specifically the manner in which the ULP administration is handling its construction, has exacerbated the impact of the global financial crisis.
The airport, which has been under construction for seven years, has been a central plank of the ULP's 2005 and 2010 election campaigns, and the party has used it twice in its campaign this election season.
In November, a de facto ULP rally was held at the airport when four aircraft, one of which was involved in a test flight by civil aviation officials, landed at the airport.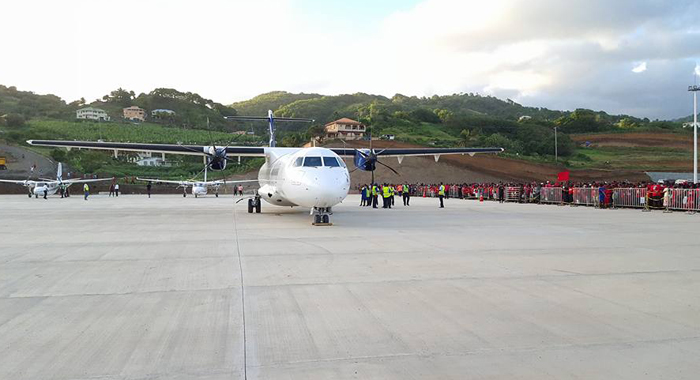 And, on Sunday, a chartered LIAT flight landed at the unfinished airport as part of a ULP rally, proving that the nation now has three airports where LIAT can land, although the regional carrier no longer flies to Canouan because of low demand for seats.
But at Sunday's event, less than six months before the airport is expected to become operational, there was no announcement of the international carriers that will fly to St. Vincent.
Gonsalves, however, announced that Trinidad's government-owned Caribbean Airlines (CAL), which recently announced that it will no longer fly to London, will service Argyle.
The prime minister, who is chair of LIAT's shareholder governments, had fought against CAL flying to St. Vincent, saying that a fuel subsidy the carrier was receiving from Port-of-Spain constituted unfair competition for LIAT.
The ULP is seeking an unprecedented fourth term in office in SVG, having seen its election fortunes decline in each election since it first took office in 2001, and having retained power by a single seat in 2010, when just 1,531 votes separated it from the NDP, compared with 9,081 in 2001.
Behaviour specialists say that people often have different personas in cyberspace and in the real world. However, traditionally, many Vincentians vote along the same lines as their parents.
As of Nov. 23, 2015, some 89,527 persons were on the vote's list. Of the total, 11,904 registered between Jan. 1, 2011 and Nov. 23, 2015. It is presumed that many of the first-time registrants are young people and new voters. By midnight Wednesday, political parties should know how many comments, clicks, "likes" and "shares" actually translated into X's.