The views expressed herein are those of the writer and do not represent the opinions or editorial position of I-Witness News. Opinion pieces can be submitted to [email protected].
In 2000, the U.S. Presidential Election between then Governor of Texas George W. Bush and then U.S. Vice President Al Gore was ultimately settled by a margin of just 537 votes out of almost 6 million cast.
The controversy focused on Florida, where a number of rumours about voting irregularities surfaced, including bringing the word "chad" into popular use to refer to the hole left by the punched card ballots commonly used in many U.S. states at the time.
A parallel can be drawn with our recent election, as many have also raised issues of voting irregularity, particularly around Central Leeward.
However, that is where the comparison stops. Back in 2000, there was genuine confusion as to who had won. On the night, the main news networks first declared Gore had won Florida, then changed this calling the state for Bush, before finally admitting it was too close to call. During the night, Gore even made a concession call to Bush, before later retracting it once it was clear just how close things were. When Bush was finally announced as President, he became only the fourth U.S. President in history to be elected whilst receiving fewer popular votes across the country than his opponent.
There is no such complexity here.
The results of the election clearly show that the ULP won both the popular and the constituency vote, albeit by a narrow margin. Comparing votes cast in 2010 with 2015, there was an average swing to the ULP of 2.8 per cent across SVG, or put another way, a swing to the ULP in 13 of the 15 available seats. This is a clear and comprehensive victory.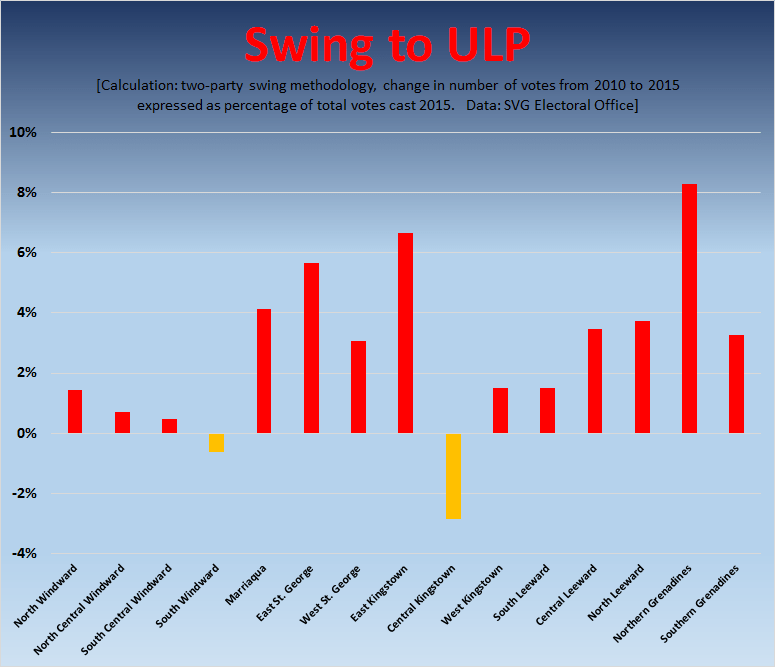 Back in 2000, representatives of the two political parties mounted a number of legal challenges, these were completed, lessons learnt, and, as a result, improvements were made to the election process. Here, party representatives have made comments on social media, radio, TV and at various rallies and street protests, yet no legal challenge has been mounted. In addition to this, the range of independent election observers (Commonwealth, CARICOM and OAS) have all issued preliminary statements confirming the elections were free and fair.
It is perhaps worthwhile reflecting on the conduct of the so-called loser of the 2000 US Presidential election. In the aftermath of the election, Al Gore remained calm, resolute and acted "presidentially" saying in his concession speech that "for the sake of our unity as a people and the strength of our democracy, I offer my concession".
Since his loss, he went on to be a global force for tackling climate change, embarked on a worldwide lecture tour and released the book and film "An Inconvenient Truth". In 2007, he was awarded the Nobel Peace Prize.
This is the proper expectation for our political leaders. They should challenge and inspire us to make our country a better place, and improve the lives of the people around us. Win or lose we should expect those who sought to be our Prime Minister to represent the country as a whole, and all of our citizens not just the ones who happen to dress in the same colour they do.
At the moment only one of our political leaders is striving to be better, to take positive and meaningful steps to bring our country together, not split it in two, and to take all Vincentians both those at home or abroad towards a brighter future. I sincerely hope this situation changes forthwith.
Simon Bullock