Police on Wednesday confirmed that they have in custody the son of a 74-year-old Redemption Sharpes man who was found dead at their shared home Tuesday evening.
The Major Crime Unit, which investigates homicides, is keeping Dexter Hepburn in custody pending the results of an autopsy on the body of his father, Christopher Hepburn.
The autopsy is expected to be performed on Thursday.
Relatives of the men and residents of their Central Kingstown community say that Dexter, said to be taekwondo black belt, has a history of mental illness.
They also say that he has repeatedly beaten his father, including as recently as last weekend.
Christopher was found dead Tuesday afternoon after Dexter told a neighbour who had inquired about his father, that the older man was dead.
That neighbour, Wayne Hillocks, told reporters on Wednesday that he was talking to another a friend around 2:45 p.m. when he got a long distance call from his sister.
Hillocks said it was a little crowded where he was so he moved to the other side of the hill.
"I know Dexter, so I said, 'Dexter, what's going on, man?'" Hillock told reporters.
He said Dexter joked about loving his (Hillocks') sister and Hillocks communicated the joke to his sister.
"I say, 'But he playing crazy here'," Hillock recounted, adding that Dexter responded, "How you going say I playing crazy and my dad is inside dead."
"I said, 'You got to be kidding me.' So I left the same time, me and him, and went in there. I looked and I saw him (Christopher) with his head up, mouth open."
Hillocks said that Christopher was lying under a sheet, but was obviously lifeless.
"I never troubled the body or nothing because I've been away for a long time. I know how that procedure goes. And that's it. I actually determined he was dead just the way he was," said Hillocks who has been living in the United States.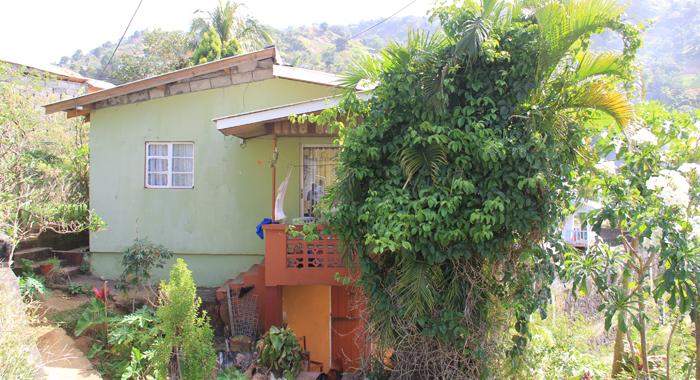 Hillocks said Christopher's body was under a sheet and he saw no signs of trauma.
"To me, it's as if he was gasping for air. But, according to his stepdaughter, he slept with his mouth open; so he probably could have died like that," Hillocks said.
He said Dexter had spoken about his father having died as if he was joking.
"But I took it seriously because I know he is kind of crazy," said Hillocks who said Dexter had been "brilliant kid".
Initial reports were that the house was ransacked. However, Hillocks said:
"The house was in that condition all the time. I guess they kept it like that … The autopsy would decide what happened. At the end of the day, the house was unkempt, nobody was going there and clean. Like a crazy man's house, literally," he said.
Veroni Dublin, the dead man's niece, said he and his son had a good relationship, including after her uncle and his ex-wife got divorced.
She said Dexter used to go overseas for taekwondo tournament and one occasion when he came home he was vomiting blood.
He then quit the sport. His marriage later fell apart.
"And then he stop work and he just there, come don't care, stop bathe and things like that.
"And then we would get news that he does hit his father, but, every time you ask uncle, uncle would deny it. Then he has bruise on him, how he get the bruise nobody knows…" Dublin said.
She said that after her uncle was found dead other residents said that he was heard crying since Friday saying his son was beating him.