A 19-year-old resident of Langley Park, Georgetown was Friday night crowned Miss Windward 2016 in a show held in her hometown.
Kimesia Bowen, Miss Langley Park defeated four other contenders for the crown, and won all but one of the categories that contributed points to determining the winner.
Bowen, an SVG Community College graduate who holds and Associate Degree in business studies, won the Swimwear, Talent and Eveningwear section of the show.
She ceded the Interview segment to First Runner-up, Zoneh Seymour — Miss Biabou.
Miss Windward 2016 Results:
Most Punctual: Monifar Cordice — Miss Kayow
Most Improved Contestant: Cristal Pope — Miss Caratal
Miss Congeniality: Lorice Nero — Miss Pepper Village
Miss Photogenic: Kimesia Bowen — Miss Langley Park
Best Swimwear: Kimesia Bowen — Miss Langley Park
Best Talent: Kimesia Bowen — Miss Langley Park
Best Eveningwear: Kimesia Bowen — Miss Langley Park
Best Interview: Zoneh Seymour — Miss Biabou
Second Runner-up: Lorice Nero — Miss Pepper Village
First Runner-Up: Zoneh Seymour — Miss Biabou
Miss Windward 2016: Kimesia Bowen — Miss Langley Park
Other contestant: Lorice Nero — Miss Pepper Village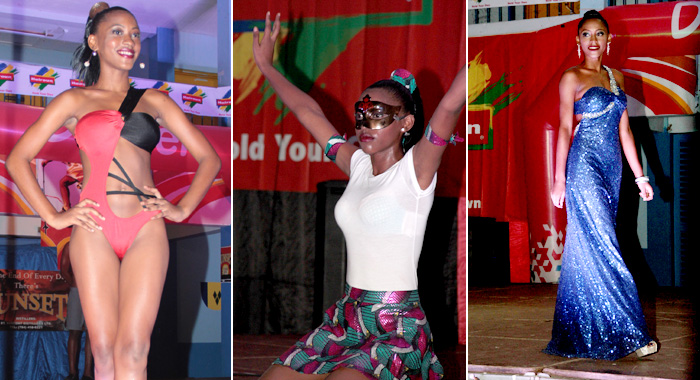 Bowen's talent presentation was a dance highlighting the abuse of women.
The audio accompanying the presentation said that one in every four women experiences physical or verbal abuse. Women were, therefore, encouraged to stand up not become victims of abuse.
It was evident that organisers of the show had attempted to mimic certain elements of the national beauty pageant, Miss SVG.
The contestants appeared in carnival costumes in their introductory appearance, which was followed by a dance by all contestants.
Muscular males escorted the women onto and off the stage during the swimwear segment.
Young men in suits — some ill-fitted and incorrectly buttoned (as is often the case at the Miss SVG pageant), also escorted the contestants during the evening wear segment.
Also, like the national pageant, some of the contestants had difficulties during the interview segment.
But none more so than contestant number one, Monifar Cordice, Miss Kayow, who could not get past the first clause of the answer to her second interview question.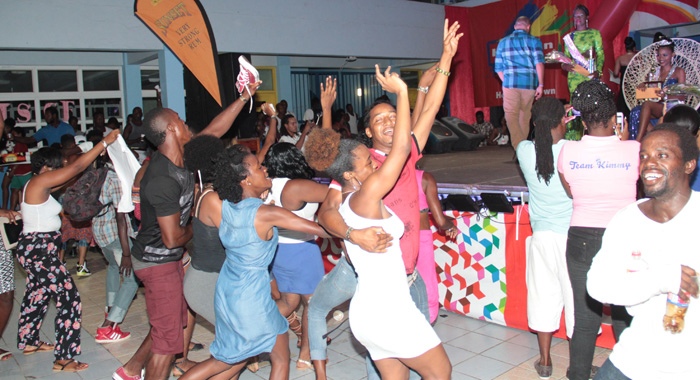 The 20-year-old graduate of the Girls' High School, who is a student at the St. Vincent and the Grenadines Community College: Division of Technical and Vocational Education pursuing an Applied Associates Degree in travel and tourism, was asked:
"In a society that is so driven by money, do you think people often sacrifice their health in order to gain financial wealth and success."
Cordice responded: "In my opinion, I think people have been –"
After a minute of silence by the contestant, emcee Joel "Psychadelic Fugitive" Bibby got the judges' permission to ask her the question a third time, which she did.
Cordice said, "In my opinion, I strongly believe that people have been–" then went silent again for more than a minute as some patron laughed, jeered and booed.
After about a minute more of no response, the emcee invited the crowd to "put your hands together for contestant number one…" as the DJ played music.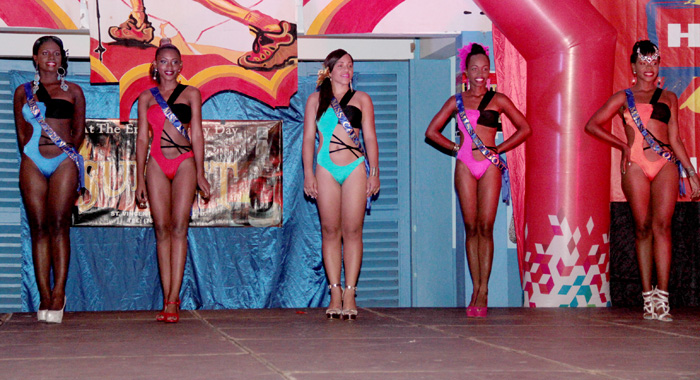 But the winner of the Interview segment, Zoneh Seymour, Miss Biabou, encountered no such difficulties when she was asked, "You mentioned in your bio that you aspire to be a paediatrician. What attracted you to this career path and why?"
Seymour responded: "When choosing a career, it's a personal decision. I would want to be a paediatrician because I love working with children. When giving medical care to young patients, it comes like you are helping out an entire family, especially mothers because when your child or children are sick, it feels like a part of us is missing, and I would want to be the one to restore that world."
The crowd erupted in cheers.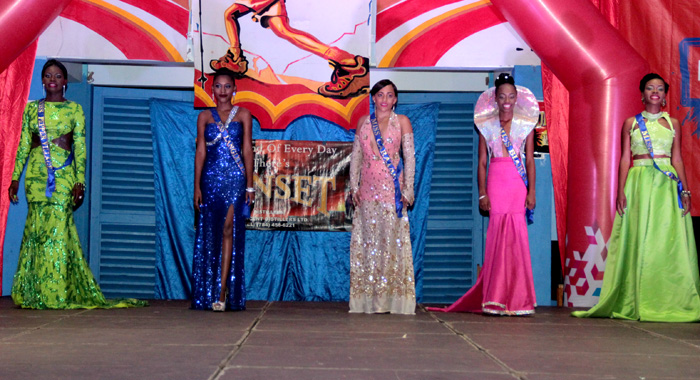 Seymour was then asked: "If you had one message to the world, what would it be?"
She said: "My message to the world would be, don't live your life to please anyone. If you are not happy, get out of the situation that makes you unhappy because you only have one live to live."
Miss Windward 2016 was Bowen's first pageant. After her crowning, she told reporters that she did not expect to win.
"It is a surprise for me," she said. She that having won the pageant, she will now contest the Miss Rural SVG pageant in Canouan this year, "and maybe Miss SVG".