By E. Glenford Prescott
Team Rivals, one of the most successful cricket clubs in local cricket, are mourning the June 15 death of founder and manager Carlos Veira.
Reports say that Veira, who was not in the best of health for the last year or so, died at the age of 65.
"We have lost a stalwart and a real servant of the game," said former SVG captain Stanley Hinds as he paid a short tribute to Veira on national radio Saturday evening.
Hinds said Veira served as a national selector for many years, an executive member of the SVG Cricket Association and was always close to the game.
"He was like 'Mr. Cricket' and he was also a loving individual and because of his soft heart, many people took advantage of that," Hinds said in a conversation Monday.
In the 1990s, Veira formed Rivals Cricket Club, which was sponsored by his business entity, Courtesy Sports — a sports shop, with pacer Cameron Cuffy and batsman Clarence Wyllie, two of the foremost names at the time, along with Bradley Brooker and a few other useful cricketers.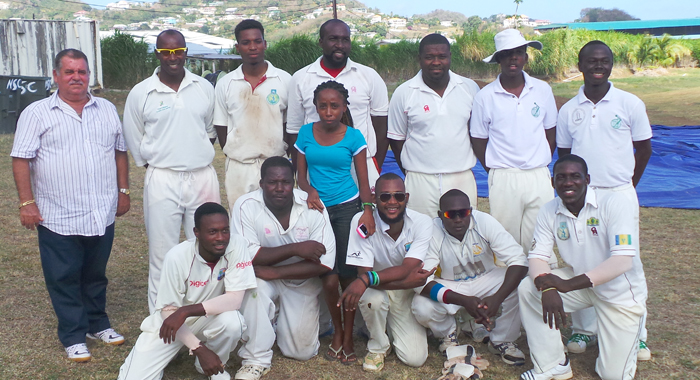 Later the team was strengthened with the arrival of Orlanzo Jackson, Deighton Butler and Joseph Carrington, with Caspar Davis joining later on.
The team then gradually moved up the ladder to challenge the likes of Radcliffe, Victors 1, Spartans and Packers for championship honours. But they had to wait a few years as Victors 1 moved into the ascendancy with a series of titles.
But even so, the recruiting of a number of young talented players and the regional and international experience gained by the established players hinted that it would not be long before Rivals became the dominant team in the Premier Division. And so the inevitable happened with devastating mirthless consequences.
And Veira presided over it all as the club, now known as Team Rivals, won four consecutive Premier Division titles in addition to others won before then: two consecutive T20 titles and two consecutive Super 40 titles in an imperious display never before seen in local cricket.
The club also saw Cuffy (Test) and Butler (ODI) wearing the West Indies colours, while Jackson and Davis were thought to have been unlucky not to have been given an A team call up for their regional exploits.
Jackson, in particular, who grabbed 87 wickets in three seasons, but at 29 at the time, was deemed too old by West Indies chairman of selectors, Sir Viv Richards who then selected 34-year-old Barbadian seamer, Vasbert Drakes a few weeks later.
A number of Rivals players also gained selection to the SVG and Windwards team at the youth and senior levels, with left-arm pacer Obed McCoy making the West Indies U19 team to the World Cup in Bangladesh. He, however, was forced to return home after suffering a hand injury as the team won the tournament.
However, despite all the past success, the club were dethroned as Super 40 champs in 2015 and as both Premier Division and T20 champs in 2016 as Veira's failing health took its toll.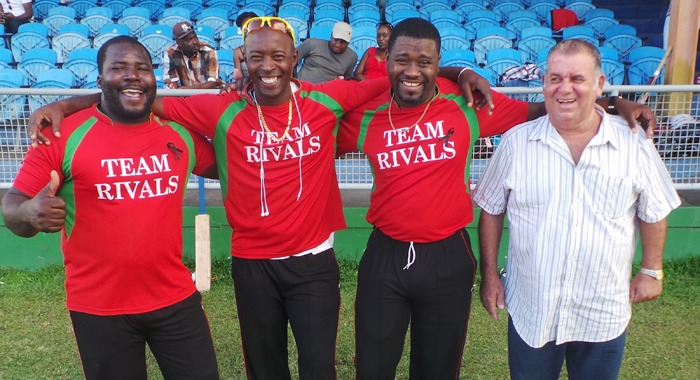 This has led many into believing that the Club could well face an uncertain future with the passing of Veira.
It is something that Jackson, who said he had an excellent relationship with Veira, has accepted but has vowed to prevent the Club from folding.
"Fatman died on my birthday, which is also the birthday of Anson (Latchman), and we have decided that we must do everything to keep his legacy alive. He brought the Club to where it is today and I believe we should try to keep it going,' Jackson said.
Latchman is the team's wicketkeeper and is currently a student at UWI Cave Hill.
Jackson, however, said that it would be a difficult task to keep the unit going because of a number of problems which have been affecting the unity of the team in recent times, including, among other things, with only nine players turning up for some matches.
"This year we had problems with some players behaving as if they are bigger than the game; coming when they feel like, coming late or not at all and these had a serious effect on the team."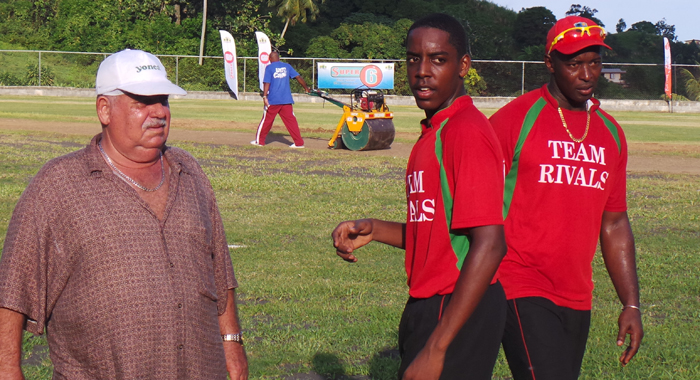 While recognising that some of the current players would leave the team, Jackson is not too worried about replacements but there are other things which are causing him some concerns.
"Yes some players will move on and this was obvious from what happened during this season but I have my Academy and players will come. Yes, they would be young but I will fight to see this team survive but I am worried with the support the team will get now because 'Fatman' did it all when it came to sponsorship and providing gear for young players. Whether it was a pair of gloves, a bat or pads he was always there for us. I expect things will be different with the family now," Jackson said in a voice dripping with emotions.
In speaking about the relationship the two had, Jackson said: "He was like a father to me.
"I joined Rivals in 1997 from Touch Colts and he gave me a job as a stevedore to meet my travels back and forth and he took care of me and the others real good — like his children. H was always there for us big time. He was a boss," Jackson said, his voice trailing off.