Leader of the Opposition Arnhim Eustace on Monday described as a "vicious" act the decision by the Government to evict the Cobblestone Inn from the state-owned building in which it has been located for the past 30 years, giving its manager just two months to quit the premises.
Eustace, commenting one day after Prime Minister Ralph Gonsalves defended the action of his administration, said the eviction is "one of the nastiest acts ever committed by a government against its own people; a vicious, and as some people like to say, bad-minded, act".
Owner of Cobblestone Inn, Ann Joshua has remained silent on the development, telling the media only that she has received the July 12, 2016 letter evicting her. She has also said that her rent payment is not in arrears.
Eustace, speaking on his weekly radio programme, repeated his allegation that the Gonsalves-led Unity Labour Party (ULP) administration has destroyed the nation's tourism industry.
He reiterated that St. Vincent and the Grenadines is the only Windward Island that has seen fewer visitors in 2015 than in 2000, and has the overall lowest number of visitors among the four islands during the period.
"We see the bad mind and the clear victimisation practised by this regime against people who do not support them," Eustace said, noting that Gonsalves spoke about the eviction on Sunday.
Eustace noted that the Cobblestone Inn business is locally and has been operating at the same location for over 30 years.
Joshua, a born Vincentian, who is a first cousin of Gonsalves, had been renting the building for 30 years, half of which has been under the ULP administration.
The letter sent to Joshua by a lawyer for the National Properties Ltd., the state-owned company responsible for the management of the building, did not give any reason for the eviction.
Eustace said: "And now, with no explanation given, Ann Joshua is being evicted."
He said he understands that her rent is paid up, except for July, her value-added tax is paid up , her National Insurance Services contributions for her staff are paid, and the pay as you earn (P.A.Y.E.) deductions from her staff's wages have been paid in to the Government.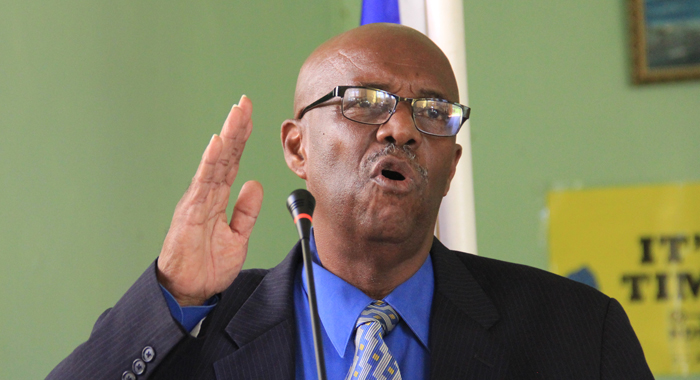 "So, in other words, she really doesn't owe anything to the Government in relation to the operation of the hotel," Eustace said.
He contrasted that to the situation last month where Britain-born businessman, Dave Ames of Buccament Bay Resort, fled the country after being summoned to court to answer tax evasion and theft charges.
The Crown is alleging that Ames, who is a naturalised Vincentian, has deprived the state of almost EC$7 million he collected in VAT and P.A.Y.E. deductions from his staff's wages.
"In other words, Ames who has [allegedly] stolen millions of dollars from the same Government that is now evicting Ann Joshua, he left the country after an arrest warrant was put out for him.
"If the law is properly applied, he should now have another charge to answer," Eustace said.
"But here is something I quite don't follow; the logic defeats me," Eustace said, noting that Gonsalves said last week that Ames left the country legitimately.Gonsalves said last week that Ames left the country legitimately.
Eustace further noted that Gonsalves said he is waiting to see what the prosecuting authorities will do to get Ames to return to SVG to answer the charges.
"This has to be rubbish. This really has to be rubbish. Ames was here, Gonsalves. He was here, he was charged, a warrant for his arrest was issued, he skipped the country by boat from Chateaubelair and you, the Minster of National Security, are now coming to tell us he left legitimately.
"This is a clear case again of you not doing your job; a clear case of your incompetence. In fact, Ames shouldn't leave; you should leave, Gonsalves," Eustace side.
He said that in democratic countries across the world, Gonsalves would have had to resign by now "because it is your job, as Minister of National Security, to keep wanted criminal from absconding. And, as usual, you have proven to Vincentians that you cannot do your job.
"You are the one who said, 'You can go to all the court you want, you have to come back to Papa.' It is statements like this which invite Vincentians to ask whether Ames came to Papa and Papa said, 'It's OK, man. You could go', especially in light of you now saying he left legitimately. So, here again, Vincentians are seeing the web of incompetence and corruption that is stifling this country with a big red spider sitting in the middle of the web."
Eustace said that now, on top of incompetence and corruption, the Government is showing bad mind and more and more victimisation.
He asked if Gonsalves was not satisfied with what his Government has done to businessmen Marcus DeFreitas, Leon "Bigger Bigs" Samuel and the 561 persons who were fired within months after the ULP came to office in March 2001.
"You are not satisfied with that? You want to destroy Ann Joshua now?" Eustace said.
He asked if Joshua was being punished for allowing to use the washroom at the hotel opposition supporters who have since December been protesting daily in Kingstown the results of the last elections.
Eustace described as an "excuse" Gonsalves' explanation on Sunday that his Government wants an open and transparent process for determining who gets to rent the hotel.
The prime minister said on Sunday that Joshua can also make a bid.
Gonsalves also said he doesn't want it to be said that he is allowing his cousin to rent the builsing for 30 years without giving someone else a chance.
Eustace, however, noted that Joshua has been renting the building 30 years, half of which was before the Gonsalves administration came to office.
"Nobody can't blame you and say you put your cousin there now. She has been there for 30 years under more than one administration, without the same open and democratic process you are talking about, which you yourself covered for 15 years — half of the time.
"You see, Ann's problem, Ann's only sin is that she is seen as not being a supporter of the ULP. But she knows her tourism, she is good at it, and she realised you have wrecked the tourism industry in this country," Eustace said.
Eustace asked if Gonsalves is only now interested in an open and transparent process.
"Did you call for an open and transparent bidding prices when you all took the car park in town from the Chamber of Commerce and gave it to Noel Jackson and company? You had open process then? What about the millions of dollars you spent to buy lumber and galvanise for whatever programme you said you had in place before the elections?
"Did you have an open and democratic process so that the local firm could get involved in supplying those materials which you gave away?"
He also asked if there was an open and transparent process to fill several Government posts — notwithstanding the advertisements inviting applicants.
"I am putting it to you, Gonsalves, that you have created a state of affairs in this country that is the opposite of open and transparent. There is no openness and no transparency in anything that you do," Eustace said, mentioning the Ottley Hall Marina, which was leased for US$5,000 a month, the long-delayed Argyle International Airport, and the Government's management of PetroCaribe.
"So when you talk now about wanting an open and transparent process, … you are lying. All the good talk about wanting an open and democratic process is a big lie — old sweet talk, high-sounding talk but signifying nothing but lies and deception.
"You might be a sweet talker but you are not delivering the goods to the people of this country," Eustace said, mentioning the years of negative or poor economic growth.
"It is time for you to step aside and let competent people take over to move this country forward," Eustace said.
"I want to tell Vincentians I know things are difficult, you are seeing the dark times of things, don't despair; don't give up hope. The struggle is real, but we, the people who want fair play and democracy in this country, we shall prevail.
"The people who want an end to corruption and political victimisation in this country, we shall prevail. When the New Democratic Party forms government, we will turn this country around, and you will see progress and local business people like Ann will be helping to lead that progress, helping to speed up the development of our country. Include Bigger Bigs and others of that ilk who have been victimised by this illegitimate administration — people who will work with us all to build this country," Eustace said.
Official told Cobblestone Inn boss she insulted the ULP gov't