Sixteen Vincentians who were awarded scholarships to pursue university degrees in Taiwan were presented with their scholarship certificates at an event at the Community College Villa Campus on Tuesday.
The batch includes Clint Lewis, the first Vincentian awarded a scholarship to pursue a doctorate under the Taiwan Ministry of Foreign Affairs scholarship programme.
Lewis, who completed a bachelor's degree in Mexico and a master's degree win Taiwan, will pursue a Doctor of Philosophy degree at Dong Hwa University.
Of the remaining recipients, 70 per cent of them will pursue bachelor's degrees, while 29 per cent will pursue on master's degrees
Speaking at the event, Taiwan Ambassador to St. Vincent and the Grenadines (SVG), Baushuan Ger said that 17 Vincentians were this year awarded with Taiwan scholarships — the same number as last year, but one recipient decided to decline the offer at the very last minute.
The scholarships are offered by Taiwan's Ministry of Foreign Affairs and Taiwan ICDF, the country's international development cooperation agency.
"On behalf of the government of the Republic of China (Taiwan), I would like to extend our warmest congratulations to each and every one of the recipients of the two scholarships," Ger said.
He said that since the inception of the Taiwan Scholarships Programme in 2004 — at the request of Prime Minister Ralph Gonsalves — more than 110 Vincentians have benefited from the two types of scholarships.
"Education has never been cheap. For these two scholarships, it costs about US$17,500 for each recipient every fiscal year. That means, for a four-year college programme, my government will invest on each of the recipient US$70,000. That is an equivalent of EC$189,000. Expenses on Mandarin programmes and airfares are extra," Ger said.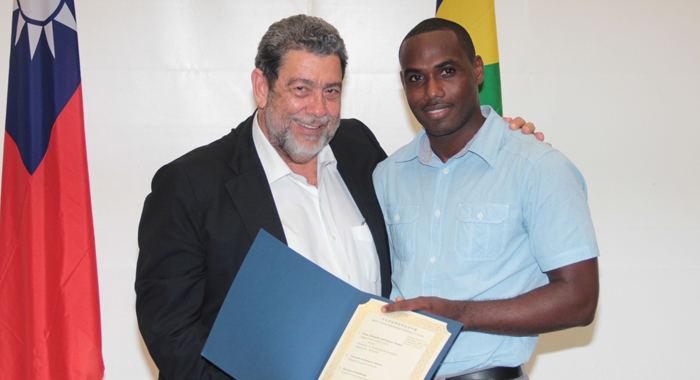 The diplomat said that Taiwan launched the scholarship programme for citizens of its diplomatic allies because it believes nurturing young talents to be well-equipped with crucial skills and knowledge will benefit the development of the countries that the students come from.
"I am proud to share with you that, in St. Vincent and the Grenadines, the scholarships we have offered have [borne] fruitful results. The shining examples are Jamali Jack, Gordon Shallow, Silkie Prescott, Kenton Chance and many others. They have come back from Taiwan and serve the country with the knowledge they have learned there. I trust that many of you will follow their steps after your graduation," Ger said.
He said this year's scholarship recipients will pursue a range of discipline, including computer science, medicine, trade, environment, engineering, and international relations.
Ger said he was especially happy to know 11 of the scholarship recipients will take the Mandarin Chinese programme for the first year.
"I am sure that all kinds of relations and cooperation between our two countries will be further advanced with more Vincentians being able to speak Mandarin Chinese."
He urged the students to enjoy Taiwan but ensure that they study hard for their degrees.
"This year, one Vincentian student almost failed from his college programme. Over the years, Vincentian students have maintained an excellent reputation on academic performances. I sincerely hope that all of you will make it through and get your degrees back," Ger said.
He told the recipients that his embassy, however, expects that they will be ambassadors for SVG while in Taiwan.
"Months ago, a Vincentian student, Maridonna Burgin joined a pageant in Nantou County in central Taiwan and won a big prize. She is the very first foreigner to join and win a prize in that pageant.
"I believe Maridonna has attracted a lot of attention and people in Nantou have learned more about St. Vincent and the Grenadines through her presentations. I, therefore, encourage all of you to make the best of your time in Taiwan and share Vincentian culture with the locals," Ger said.
Speaking at the ceremony, Prime Minister Ralph Gonsalves noted the challenges that his government faces in meeting the country's developmental needs.
He said that people often ask why the Government is not fixing this or that pothole. He said he would rather fix first the metaphorical potholes in the heads of the people.
Gonsalves told the recipients that opportunities to access university education were not as prevalent when he was a student.
He urged them not to avoid learning Mandarin Chinese, noting the increasing importance of the language and mentioned that both of his daughters have each spent a year in Taiwan learning the language.
The Prime Minister told the students that they should never forget SVG, their families, friends and communities and warned them against believing that the scholarships are solely the results of their own individual efforts. He said the opportunities were the results of the close collaboration of many people, some of whom the scholarship recipients do not know.
Gonsalves further told the student that with the increasing number of Vincentians in Taiwan, it is time for Kingstown to have formal representation in Taipei and said he will discuss this with officials there when he visits in October.
Another first as Vincentian is selected to teach English in Taiwan