The Carnival Development Corporation's (CDC) gamble on a launch of Vincy Mas without a Best New Song Competition — a signature component of the launch over the past few years — paid off and resulted in a dynamic launch of the festival.
Carnival organisers proved to sceptics that Vincy Mas could again enjoy a dynamic launch, without a competition element.
All components of Vincy Mas were on display at Victoria Park during Saturday's launch, but it might have been Dynamite, an artiste who has crossed over from reggae to soca, who might have left the most lasting impression on patrons.
The artiste, whose real name is Joel Tyril, "shell it down" with this song, "Brave", whose catchy beat and short lines saw patrons spinning their waists like CDs.
Saturday's launch and this year's festival is the first under the chairmanship of Ricardo "Ricky" Adams, who has replaced longstanding chairman, Dennis Ambrose, who now serves as an advisor to the CDC.
Vincy Mas 2017 marks the 40th anniversary since the festival was changed from a pre-Lenten event to a summer one.
"We, at the CDC, commit to making it a very special one for Vincy Mas," Adams told patrons at Saturday's launch.
The event brought together the spectacle of traditional and modern mas, the beauty and intelligence of the Miss SVG delegates, Calypso in all its genres — including ragga and Power Soca –and the sweet sound of pan.
Adams said that the CDC realises that it must adopt a more dynamic approach to outreach marketing.
"We must reach out to you folks on the media that you use," he said, adding that in addition to traditional media, the CDC must focus on its updated website, which will be launched soon, as well as Facebook and Instagram.
"We must speak the language of the market," Adams said, adding that the CDC must also pay attention to the youth in Carnival, and mentioned some of the young and upcoming artistes.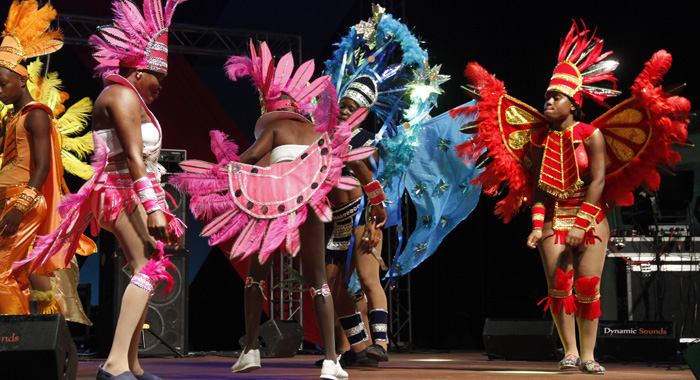 Among the calypsonians performing at Saturday's show was Lornette "Fya Empress" Nedd-Reid, who created a storm in Trinidad when she decided to take the calypso governing body there to court.
Fya Empress was among the finalists initially in Trinidad, but was later omitted after it was found out that she was not a Trinidadian national.
However, the court there ordered that she be allowed to compete in the finals.
The artiste, who has bagged several calypso crowns in St. Vincent, the land of her birth, sang a capella parts of "Guilty", the song that took her to the finals in Trinidad.
She signalled her intention to halt Man Zangie's attempt to create a historic beaver trick in calypso in St. Vincent and the Grenadines this year.
Man Zangie, whose real name is Zamfir Adams, sang during Saturday's show, two of the songs that won him crowns in previous years.
But Michael "Lord Have Mercy" Ollivierre, in his usually energetic manner, performed a calypso that some calypso lovers say threw some "shade" at Man Zangie.
Mercy said that a man got three crowns in a row in recent times, but "what he sang about you don't know/you can't remember a single line".
Calypso judges do not pick good commentaries, preferring instead "them big words poem some men does buy in Trinidad", Mercy said.
The veteran artiste's message was "help to save calypso" and encouraged persons to "come to the tent".
The CDC will, this year, work with calypso tents to ensure earlier releases, better tent shows and more mobile tent shows, Adams said.
He said the CDC will also work with mas bands to develop their craft and become more business oriented.
The CDC head further said that the corporation will be working with steel bands to develop the school and community programme.
"We will assist the rural carnivals to develop and improve structure so that they become a feeder system into the national festival, and a breeding ground for new talent," Adams said.
He said carnival planners intend to work collaboratively with Vincy Mas stakeholders, including the government, law enforcement, private sector, media, components of Vincy Mas and private promoters "to do what is best, not for CDC, or any single entity, but for Vincy Mas and St. Vincent and the Grenadines".
Among other things, Saturday's launch included the first official public appearance of the seven women who will vie on June 3 to become Miss SVG 2017.