By Kenton X. Chance  
The Vincentian-American family that had been living in a tent in Bequia for three years will be reunited on Monday.
Otis Lockhart, 48, who is originally from Edinboro, will be reunited with his U.S.-born wife, Rhonda, and their three dual-citizenship children.
The reunion is slated to take place one week after their lives were disrupted by a report to police, claiming that he was holding the other members of his family against their will.
By Tuesday, one day after Lockhart was arrested, police told him that they had no evidence to substantiate the report that was made against him.
He was, however, kept separate from the other members of his family as police continued their investigation, which is said to also include officials at the United States Embassy in Barbados.
The police came to their conclusion after interviewing Lockhart's wife and children, who were also interviewed and examined by health, education, and social services professionals.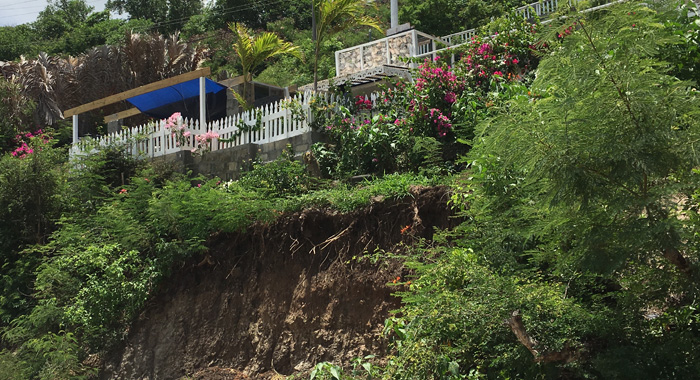 After being released by the detectives investigating the case, Lockhart was kept at the Central Police Station until Thursday, when one of his relatives went to sign for his release.
On Friday, the police attempted to reunite the family, taking the woman and children to Lockhart's father's house at Edinboro, where he went to stay after he was released.
However, Lockhart and his father had gone to Bequia to check on his property, and the man was later told that he would be reunited with his family on Monday.
The case has generated much interest among the Vincentian public, with many persons questioning why Lockhart, a computer engineer who returned to St. Vincent in 2009 — after working in the United States for almost two decades — chose to live with his family in a tent on lands he bought in 2013.
In a full-length interview with iWitness News at the property — located in the upscale, sparsely populated community of St. Hillary in northern Bequia — Lockhart said on Friday that things have not moved as quickly as he had hoped with the family's idea of setting up a camping business.
He said the tent in which his family lived is designed to house eight persons, but did not allow iWitness News to see inside.
Lockhart said that the tent — which is pitched under a roof constructed with timber — was not in its regular condition because all of his possession had been dumped inside after his arrest.
He showed iWitness News that he has water and toilet facilities — though an unconventional type — at the property.
Lockhart said that he believes that a worker who he fired recently made the report to the police.
Another man, Stanley, who told iWitness News that he has been working with Lockhart since he first moved to Bequia at the turn of the decade, told iWitness News that he knew that Lockhart and his family were living in the tent.
He said that the family would sometimes go to the beach together and did so quite recently.
Lockhart told iWitness News that he did not let many people know that his wife and children were also living at the site because he was concerned about their safety.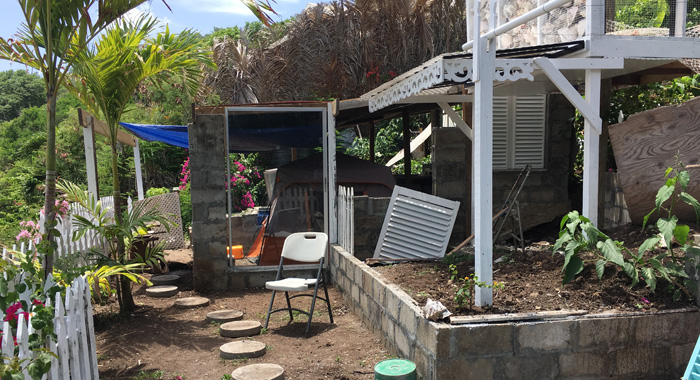 He noted that while the area is safe, they were, nonetheless, living in a tent, adding that there are a lot of killings in St. Vincent and the Grenadines.
"Anyone can go into the tent. You don't have to break a glass or anything," he said, adding, "We are more susceptible."
"I couldn't' let every- and anyone know I had my wife and children living there," he said.
Baslon John, the man who raised the alarm told Jerry S. George in a Facebook live interview on Saturday that he first saw a child in the tent in 2015.
John said that one day when Lockhart went to Port Elizabeth, he looked into the tent after hearing a sound and saw a naked little girl lying on the floor.
He said that Lockhart, who he knew as Al, had told him that his wife and family were in the United States.
John, however, said that he did not raise an alarm because he did not want to assume that Lockhart had kidnapped anyone.
He said he was in Port Elizabeth last week and his friend told the police about the situation and the police came to him and asked if he knew about Lockhart.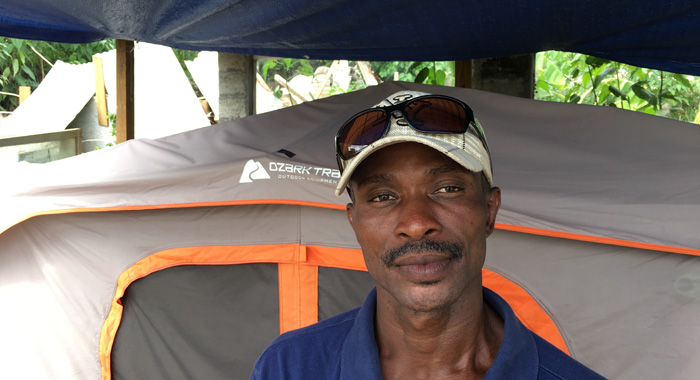 John said he told the police where Lockhart lives and the police asked him to take him there, but he didn't.
A few minutes after the man's conversation with the police, Lockhart came to Port Elizabeth and persons who were relaying the information to the police identified Lockhart to the police, who arrested him at a supermarket, where he was buying grocery.
John said Lockhart always kept him away from the tent while he worked at the site.
The Lockharts home-schooled their children, a 13-year-old boy, and two girls aged, 11 and 8.
He said they had always planned to move back to the United States after a certain period so that the children could go to regular school and had planned to do so in December.
Lockhart told iWitness News on Saturday that Ministry of Education Officials have told him that the children will have to enrol in regular school.
He, however, said that because of the development last week, the family will return to the United States as soon as possible.
Lockhart told iWitness News that he will return after about a month to continue to pursue his business idea of setting up a camp-style accommodation facility on the property in Bequia.