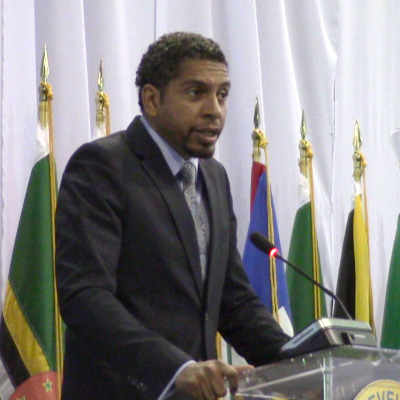 PROVIDENCIALES, Turks and Caicos Islands (CMC) — St. Vincent and the Grenadines' Minister of Economic Development, Camillo Gonsalves Wednesday urged the Barbados-based Caribbean Development Bank (CDB) to continue to use its "Caribbeanness" in the socio-economic development of the region.
"This institution must first and foremost be a Caribbean one, not merely in its location or its membership, but in its principles, its focus, and its unique understanding of our history, or characteristics, or limitations and our possibilities.
"This Caribbeanness cannot be excised under the guise of reform, modernisation or any other similar positive-sounding euphemism. There are many development banks. There is only one Caribbean Development Bank," he told the 47th annual meeting of the Board of Governors.
Gonsalves, speaking on behalf of the borrowing member countries (BMCs), said that development must continue to excite and animate the bank's philosophy and action.
"We must eschew nibbling on the margins of development and boldly pursue transformative social and economic change that makes tangible difference to the lives and livelihoods of Caribbean citizens. In these unusual times, business-as-usual is not an option.
"Today, Caribbean development means taking account of our countries' commitment to the Sustainable Development Goals, which cannot be achieved on the fly or on the cheap. It means grappling with the crosscutting costs and impacts of Climate Change, which affects our region uniquely.
"It means accelerating progress to green economies of renewable energy and post-crisis economies that build upon our strengths in tourism but expand on the development potential inherent in agriculture, ICT, regional integration and the creative industries."
Gonsalves said that development meant policy formulation that addresses the needs and particularities, not simply repackaging the one-size-fits-all prescriptions imported from abroad.
"And in our context, development also means implementation – not as an individual problem of borrowing countries, but as a part of the central mission – and, indeed, responsibility — of the Caribbean Development Bank itself."
He said that while the CDB has proven itself, time and again, to be a pillar of strength and support in the region's thrust towards that development, it has been faithful, over these last 47 years, to its purpose of contributing to "the harmonious economic growth and development of the member countries in the Caribbean".
Gonsalves said the CDB has also demonstrated that it understands the Caribbean's problems, challenges, and issues.
"Our Caribbean Development Bank knows our countries, and we value its work. It is therefore important for us to continue to support and further develop this vital partnership, which can only redound to the benefit of all our members."
He said that the meeting is taking place at a time "of breathless global changes that present myriad potential challenges and opportunities to our region's collective developmental aspirations.
"To our north, political changes have ushered in new methods and priorities in the philosophy of global cooperation. To our south, various regional members of our Bank face political and economic challenges that require urgent, internal and sovereign solutions. To our east, the threads that bind the world's most successful integration movement have frayed, with as-yet unforeseen consequences.
"Globally, climate change, commodity prices and the continuing, stuttering recovery from the world economic and financial crisis all shape the answer to the underlying question that animates this gathering: how do we promote inclusive growth, or increase it, and attain sustainable development in our countries, given our small size, our vulnerabilities, our high debt burdens and our shrinking fiscal space," he told the delegates.
Gonsalves said that nothing is more discouraging than borrowing to rebuild infrastructure before having paid off the loan that facilitated its original construction.
"Within the context of the Sendai Framework, which requires us to understand disaster risk, strengthen disaster risk management and governance, and invest in disaster risk resilience and with the commitment to 'build back better,' we recognise that all of our countries need to double, if not triple the resources if we are to keep abreast of the requirements for sustainable development."
But he said he was confident that the Caribbean would rise to the challenge.
"We in this Caribbean have a long and proud history of resilience in the face of sometimes unimaginable adversity; we have learnt well, the lessons from of those struggles and we will, together with the help of all member countries and other development partners, continue to work towards advancing the development of this Caribbean region," he added