Leader of the Opposition Godwin Friday, on Tuesday, called on persons who travel by sea within St. Vincent and the Grenadines to treat their journeys as a matter of life or death.
He also called on persons to have proper equipment in their boats "so that if something happens, there is a better chance of finding them".
Friday's comments came in Parliament in response to a ministerial statement from Prime Minister Ralph Gonsalves about the six Vincentians who have been missing at sea since June 3.
"Midnight Shadow", a cigarette-type, dark blue speedboat outfitted with one 200-horsepower Yamaha outboard engine, went missing during a trip from the southern Grenadine island of Canouan to Mustique, in the northern Grenadines.
The boat was captained by Montgomery Hazel, 56, of Chauncey.
Also on board were Claudia Williams, 43, place of abode unknown; Ned Da Souza, 43, and his wife, 39-year-old Charmaine Da Souza, 39, of Richland Park, Sheron Simmons, 44, of Biabou, and Josianne John, age unknown, of Murray's Village.
During the journey, the boat began taking in water, according to information the occupants of the vessel relayed to someone in Mustique.
The Coast Guard, which was contacted one hour after the distress call was received, was told that the person who received the distress call did not get the location of the vessel because of poor connectivity.
When the person returned the call to the boat, they reportedly heard the captain telling the occupants to put on their life jackets.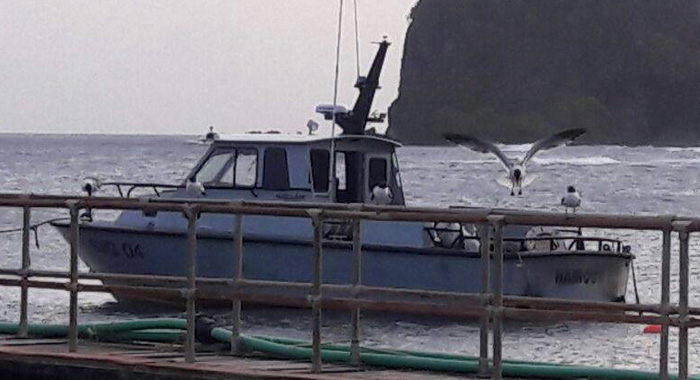 "A radio is better than a cell phone," Friday said in Parliament, but added that the nation needs to improve its Coast Guard capabilities to assist persons at sea.
iWitness News understand that the Coast Guard only has use of its rigid-hulled inflatable boats, since the largest of its vessels, "Hairoun", a 40-foot boat, has been having problems for some time.
Friday expressed "deep sadness" at the incident and told Parliament that he wanted to let the relatives of the missing persons know "that we all share in their loss and their pain".
He said he spoke with the father of the owner of the boat.
"And, Mr. Speaker, it is, unfortunately, a scene that repeats itself," the opposition leader said, adding that during the Bequia regatta some years ago a boat disappeared with seven persons on board.
He spoke about "the impotence that we feel knowing that our loved ones are out there struggling for their lives and we can't find them" and urged more emphasis on lifesaving equipment.
"Hope springs eternal and the family, I would urge not to give up hope but also to understand that we share your loss, we share your grief and we continue to hope with you that those persons who are now still considered lost at sea can still be found," Friday said.
In his ministerial statement, Gonsalves, who is also Minister of National Security, said that the search was suspended Monday, eight days after the boat disappeared, although it is normal for a search to be suspended after three days.
He said the search included the Vincentian Coast Guard, the Regional Security System and an aircraft from Curacao.
He said that private persons and entities assisted, including the Mustique Company – with which the missing persons worked, which provided marine assets and aircraft, and Kelly Glass, who used his aircraft, as well as other persons who used their boats.
"Mr. Speaker, all of us would know one or the other of these persons very well," Gonsalves said, adding that he knows two of the missing persons.
"This has been a very painful matter," the prime minister said, adding that he has prayed on the matter, which he said has caused him much "pain and anguish".
Tuesday's meeting of Parliament took place one week later than planned with the meeting having been postponed after news of the missing persons broke.
Gonsalves said that a "a pall hangs over the meeting, but life goes on.
"And we have paid our due regard to the circumstances and still we live in hope and we pray," he said.
He thanked all those who have been involved in the search so far, adding that while the search has been suspended, it does not mean that the police and Coast Guard are not on the lookout.