The Priscilla James Foundation Inc., operated by a Rillan Hill family, is this year continuing with its efforts to make it more affordable for children across St. Vincent to get the necessary supplies for the new school year.
This year, the charity will distribute 400 backpacks with school supplies and toiletries to students in Questelles, Sandy Bay, Lowmans and Barrouallie.
Students from the communities who passed this year's Caribbean Primary Exit Assessment will each be given a flash drive, while others would get the opportunity to receive one via a draw.
The distributions began on Sunday at the Questelles Evangelical Church.
Tomorrow, Thursday, the foundation will distribute 75 packages at the Sandy Bay Baptist Church and a similar number will be given out on Saturday at the Lowmans Hill Apostolic Faith Church. The distributions climax at the Barrouallie Evangelical Church on Sunday, when 75 children will be given backpacks.
"The main objectives are to help disadvantaged students achieve academic excellence and community leadership and to prepare them for the next level of educational achievement and giving back to their communities," U.S.-based Vincentian Sim Peters-Lasisi, a member of the foundation told iWitness News.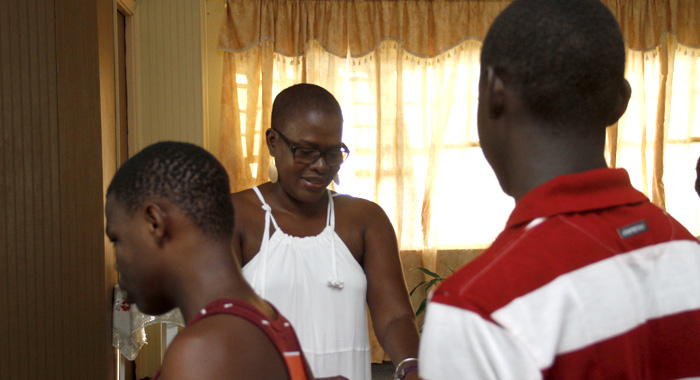 She said that the foundation is dedicated to empowering students and to inspire immediate and lasting change in their lives.
The foundation also aims to assist students with book stipends and transpiration costs.
Through the foundation, the Peters family of Rillan Hill has been giving back to communities for the past six years, Peters-Lasisi told iWitness News.
To date, under the direction of the board members, the foundation has given approximately 2,000 backpacks, several thousand pieces of school supplies and toiletries to children who are less fortunate.
The family officially formed The Priscilla James Foundation Inc. in 2015 in the United States to establish an organization.
This year, children from pre-school through college will be gifted with these much needed school supplies.
The Foundation is financed by the Peters family and friends in the United States.
Also, this year the Evangelical church partnered with the foundation and donated EC$500 to offset some of the cost of purchasing supplies for children in Questelles and surrounding areas.
As a result, 150 children in that community were gifted with back packs and school supplies.
In addition, donors such as Allan's Bakery, General & Maritime Agency, C.K. Greaves & Co. Ltd, through its supermarket, donated snacks and juices to the children.
Over the past six years, the foundation has donated 2,000 backpacks in total and hopes to distribute 1,000 backpacks annually by 2020.