The operators of a new restaurant, bar and nightclub that was launched in St. Vincent Saturday night says that they are hoping that it will be the first place persons will think of when wanting to experience something "hot and happening and fresh".
VOGUE Restaurant, Bar & Nightclub at Diamond Estate was showcased to a modest gathering at the venue, formally "Octagon".
Laverne Gibson-Velox, manager and part owner of the venture, told iWitness News that it will offer food and bar services from Mondays to Saturdays and will transform into a nightclub on Saturday nights.
"Honestly speaking, I've been cooking all my life, and, based on people's reviews, I think I am pretty OK at it. This has always been a dream of mine to have an establishment like this that is mine, where I can put my own stamp on it," Gibson-Velox said.
She said that the other shareholders in the business are Davon Cato of Xtreme FM and overseas-based Vincentians, Sheffield "Shef" Allick and Brian "Crazy" Samuel.
Persons who might have known the venue during its previous iterations should prepare to be wowed by its transformation.
"I think we just injected some class in it. We make it into a proper venue. Before, when you looked up, you only saw the galvanise [sheeting]. As you can see, we sealed everything off. We have added aesthetic value to it and aesthetic value is what encourages people to come," Gibson-Velox told iWitness News.
She said that they were at the venue Friday night making final preparations for Saturday's event.
"You wouldn't believe the number of people who just came in wanting to know if we are open. They wanted to buy a drink, they wanted to do this, they wanted to do that. They wanted to know when we are opening," she said.
"I think that our establishment could attract more mature people," she told iWitness News, but said that the venue is catering to everybody.
"We are not discriminating at all," she said, adding that clients will find great food and great service.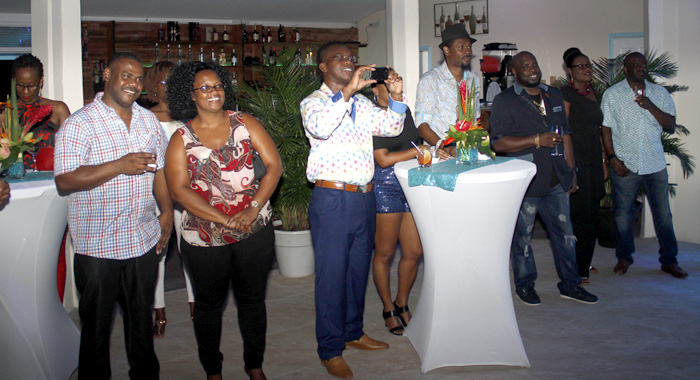 Gibson-Velox told iWitness News that on Saturdays during the day, local food will be served.
"And when I say local, I mean local: crayfish and callaloo and that kind of thing. Not saltfish, not smoked herring. Those don't come from St. Vincent.  We will try and get some corned fish from the Grenadines, too."
But Gibson-Velox also said that the venue will also be available for private events, such as wedding receptions and parties.
"When Mother's Day comes around, we will be very open to having something special for mothers, because I am a mother too and I understand that we need to have some appreciation sometimes," she said, as an example.
Regarding the name, Gibson-Velox told iWitness News that there were several suggestions.
"When I think of 'VOGUE', I think of hot and happening and fresh; that kind of thing. And it is difference. So I think that will be more attractive to people — they will just think 'VOGUE' and think that is somewhere they should go."
Gibson-Velox and her business partners are coming into an industry in St. Vincent and the Grenadines that is volatile and directly linked to disposable income.
However, she is not deterred.
"People always want to let off steam. The problem is that they have not had a viable outlet to let off that steam. Welcome to Vogue," she told iWitness News.