By Kenton X. Chance
Morning is expected to tell the full story, but Prime Minister of Dominica, Roosevelt Skerrit, said in a post on his official Facebook page Monday night that there are initial reports of "widespread devastation" after Hurricane Maria made landfall in his country.
"So far we have lost all what money can buy and replace," he said as his island was battered by the category 4 storm — the second of that magnitude to hit a Caribbean nation this month.
"My greatest fear for the morning is that we will wake to news of serious physical injury and possible deaths as a result of likely landslides triggered by persistent rains," Skerrit said.
His post came as the extremely dangerous hurricane churned across his country two years after Tropical Storm Erika, which, when it struck in August 2015 was the deadliest natural disaster in Dominica since Hurricane David in 1979, claimed 30 lives.
In the Facebook post, made around 2 a.m. local time, Skerrit said that wind had swept away the roofs "of almost every person I have spoken to or otherwise made contact with.
"The roof to my own official residence was among the first to go and this apparently triggered an avalanche of torn away roofs in the city and the countryside," he said.
"Come tomorrow morning we will hit the road, as soon as the all clear is given, in search of the injured and those trapped in the rubble.
"I am honestly not preoccupied with physical damage at this time, because it is devastating…indeed, mind boggling. My focus now is in rescuing the trapped and securing medical assistance for the injured," the post said.
(Note to iWN's WhatsApp subscribers: We regret that at this time we are unable to send out updates via WhatsApp because the device was, inadvertently, left in another Caribbean island recently. We crave your patience as we hope to retrieve or replace it soon.)
Skerrit's post came just over a week after Skerrit and his St. Lucian counterpart, Allen Chastanet, toured Leeward Islands, including the British Virgin Islands, which were devastated on Sept. 6 by Hurricane Irma, a category 5 storm.
"We will need help, my friend, we will need help of all kinds.
"It is too early to speak of the condition of the air and seaports, but I suspect both will be inoperable for a few days. That is why I am eager now to solicit the support of friendly nations and organisations with helicopter services, for I personally am eager to get up and get around the country to see and determine what's needed," Skerrit said.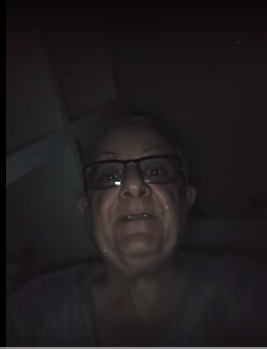 Among the persons who have so far posted on the internet about their experience in the storm is senior Counsel Anthony Astaphan who said in a video post that the roof and upper story of his home was severely damaged.
"Well, brother, sister, comrade, and friend, the wind was savage. We lost the roof. I have my total upstairs — the roof and everything collapsed on it," Astaphan said in the video in which his face was illuminated intermittently.
"The roof is gone. I have two inches of water downstairs; my upstairs is completely leaking, all of my electrical features have water coming through them. It's been a horrible night. The strong winds have just stopped, I don't know what's in store for us but I can only feel the pain of those who don't have a house like I have. It was terrible and I just hope that people didn't die," the prominent lawyer said.
He said that his household is safe, naming among them his mother, brother, cousin and his daughter.
Astaphan said his own wife and son are safe in Florida, adding, "Just don't have a home to come to now".
In its advisory at 2 a.m. Tuesday, the Miami-based National Hurricane Center said the center of Hurricane Maria was located near latitude 15.7 north, longitude 61.9 west.
Maria was moving toward the west-northwest near 9 mph (15 km/h), and this general motion is expected to continue through Wednesday. On the forecast track, the eye of Maria will move over the northeastern Caribbean Sea today, and approach the Virgin Islands and Puerto Rico tonight and Wednesday.
Reports from an Air Force Reserve Hurricane Hunter aircraft indicate that the maximum sustained winds have decreased only slightly, to near 155 mph (250 km/h) with higher gusts.
Maria is a category 4 hurricane on the Saffir-Simpson Hurricane Wind Scale.
Some fluctuations in intensity are likely during the next day or two, but Maria is forecast to remain an extremely dangerous category 4 or 5 hurricane while it approaches the Virgin Islands and Puerto Rico. Hurricane-force winds extend outward up to 30 miles (45 km) from the center and tropical-storm-force winds extend outward up to 125 miles (205 km). The minimum central pressure estimated from reconnaissance data is 942 mb (27.82 inches).
SUMMARY OF WATCHES AND WARNINGS IN EFFECT:
A Hurricane Warning is in effect for…
* Guadeloupe
* Dominica
* St. Kitts, Nevis, and Montserrat
* U.S. Virgin Islands
* British Virgin Islands
* Puerto Rico, Culebra, and Vieques
A Tropical Storm Warning is in effect for…
* Antigua and Barbuda
* Saba and St. Eustatius
* St. Maarten
* Anguilla
* St. Lucia
* Martinique
A Hurricane Watch is in effect for…
* Saba and St. Eustatius
* St. Maarten
* St. Martin and St. Barthelemy
* Anguilla
* Isla Saona to Puerto Plata
A Tropical Storm Watch is in effect for…
* St. Vincent and the Grenadines
* West of Puerto Plata to the northern Dominican Republic-Haiti
border