Taiwan will, this year, increase its contribution to two projects that benefit students in St. Vincent and the Grenadines.
Speaking at a cocktail party on Monday in celebration of Taiwan's 106th National Day Taiwan's Ambassador to St. Vincent and the Grenadines (SVG), Bau Shuan Ger, said that in response to the need of those who are financially challenged, his government has decided to double the annual bursaries to the primary, secondary and college students,
This will see the figure moving to US$200,000.
"In other words, our back-to-school bursaries this year will be doubled to EC$537,000 and that will benefit 800 or more students in the country," Ger said at the event in Kingstown.
He also announced an additional contribution to the Support for Education and Training (SET) and the Youth Empowerment Service (YES) programmes.
"Every year, we contribute EC$2.8 million to assist about 500 young people in participating in YES programme. This year, an extra EC$1.34 million will be instilled into the project to enrol 167 more young people in the 2017-2018 SET and YES programmes," Ger said.
In the field of public infrastructure, Taiwan has also pledged an extra EC$5.37 million to assist the road and bridge rehabilitation projects.
In the area of public health, aside from the regular medical missions and training programmes, Taiwan, in September, dispatched an anaesthesiologist to assist the Milton Cato Memorial Hospital for six weeks. Another anaesthesiologist will come as a replacement in late October for another four weeks, Ger said.
The dispatch of the anaesthesiologist was in response to a situation that developed earlier this year in which two of the three anaesthesiologists at the Milton Cato Memorial Hospital were on leave, resulting in the postponement of a number of critical and elective surgeries.
Ger further said that this year, Taiwan will contribute US$7.6 million  — EC$20 million  — in grants, to bilateral cooperation projects.
"As we celebrate the 106th birthday of the Republic of China (Taiwan), I'd like to take this opportunity today to express once again our sincerest appreciation to the Government and people of St. Vincent and the Grenadines for this wonderful friendship we have both long cherished. And I assure you that we will continue to further strengthen this relationship for years to come," he said.
Ger praised Taipei-Kingstown ties, saying that since they were established in 1981, both nations have been "reliable and firm partners in the fields of infrastructure, agriculture, information technology, health, education, and human resources development.
"I will be forthright and say that Taiwan is a valuable partner. Just look at the way we implement our bilateral projects. We have always worked closely together with our Vincentian counterparts," he told the gathering, one of the largest at the event in recent years.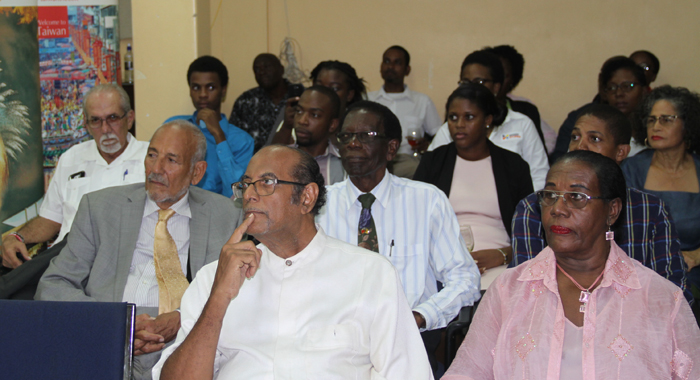 Ger also praised SVG's contribution to the Taiwan's efforts to gain membership of or observer status at a number of international bodies, including the United Nations and the World Health Assembly.
Monday's event was attended by a number of government officials, public servants, farmers and other guests.
For the second consecutive year, Members of Parliament from the main opposition New Democratic Party stayed away from the event in keeping with their policy to switch diplomatic relations from Taiwan to China if elected to office.
One observer, however, noted that while the Unity Labour Party administration has pledged its support for Taiwan, both Prime Minister Ralph Gonsalves and his Minister of Foreign Affairs, Sir Louis Straker were absent from the event.
Further, while a number of senior members of Cabinet were present, including Minister of Agriculture, Saboto Caesar, Minister of Economic Planning, Camillo Gonsalves, a former foreign secretary, and Minister of Education, Jimmy Prince, Sen. Luke Browne, an unelected and one of the lowest-ranking Members of Parliament on the government spoke on behalf of the government at the event.
Browne noted Taiwan's progress in a number of spheres and said that the nation has not been selfish amidst its achievements.
"And it's not that this civilisation has made this progress and kept it unto itself. It has shared from its experience, it has shared from its resources — financial resources, human resources, and other resources – with other countries around the world. And one of those countries, fortunately, is St. Vincent and the Grenadines.
"And, in celebrating this national day, we should also celebrate the relationship that St. Vincent and the Grenadines has with the Republic of China," Browne said.
He said many of the persons in the room are but a small sample of the number of persons who have studied in or benefitted from Taiwan and further noted Taiwan's contribution to SVG's economic development.
"The grants that St. Vincent and the Grenadines has received from Taiwan over the period 2001 to date are second only to the grants that we have received from the European Union and grants from Taiwan amount to around EC$100 million. And I am not talking about other forms of development assistance; I'm not talking about loans. I am simply here talking about grants… This reflects an extraordinary degree of generosity," Browne said.