The first two Vincentians to study medicine in Taiwan have completed their degrees and have returned home, where they are undergoing their internship.
Physicians Raphique Pope and Andre Williams are serving at the Milton Cato Memorial Hospital in Kingstown.
They began studying medicine in Taiwan in 2013, when Taiwan began offering the scholarships with a view to enhancing the medical service in St. Vincent and the Grenadines (SVG) and cooperation between both countries.
It was the first time that Taiwan was providing Vincentians with scholarships to pursue a four-year postgraduate medical degree in Taiwan, since the inception of its scholarship programme in 2004.
Awardees of the scholarships, upon completion of their studies, are obliged to return to provide medical service in SVG.
The medical degree programmes are being offered in English by I-Shou University, located in Tawian's largest city, Kaohsiung in the south of the island.
Speaking on Monday at an event in Kingstown to celebrate Taiwan's 106th National Day, Pope described his time in Taiwan as "an epic adventure".
In 2013, Pope, then a registered nurse also with Williams, a graduate teacher, pursued medical degrees in Taiwan.
"For me, only one work can describe my experience in Taiwan: awesome; it was awesome," Pope said and spoke about being surprised by the summer heat of Taiwan when he first arrived to now considering the island his second home.
"My experiences, my friendships, my memories from Taiwan are some that will last for a lifetime. Taiwan is an amazing place. The people, the food, the culture, the healthcare system, the infrastructure, the transportation system, and the list goes on," Pope said.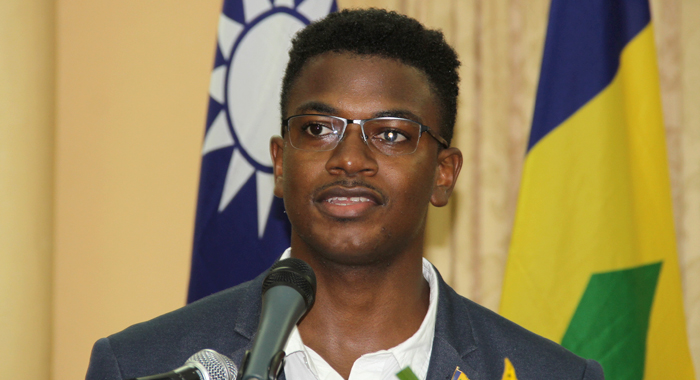 He admitted that when he first got to Taiwan it was "a bit strange, mainly due to the fact that I was in a country which speaks a different language with a different culture, but, however, the warm and friendly people of Taiwan, they facilitated my adaption to their culture. It was easier to adapt".
He said he was also "wowed" by the friendliness of Taiwanese.
"The second thing that wowed me about Taiwan were the people. Wow! These people are really friendly. I think sometimes too friendly. But, being there, I could feel the hospitality and the friendship and the willingness to help from everyone who I encountered."
He said Taiwan's healthcare system also "wowed" him.
"To see how organised and advanced and professional the healthcare system there was, and, indeed, this really impressed me.
"There are other things that wowed me and there are so many things I can talk about, but one thing I admire about the Taiwan people is their word ethic. The Taiwan people, uhm, these people can work. And I think as Vincentian people we need to adopt this sort of spirit and this drive," Pope said.
Pope thanked Taiwan International Cooperation Development Fund and its Ministry of Foreign Affairs for giving him and Williams the opportunity to study medicine in Taiwan, "where we can be trained and come back here so that we can help our people of St. Vincent and the Grenadines".
He also thanked the government of SVG for proving the opportunity.
"I can say it has really been a wonderful journey and I don't have any regrets. So I encourage those of you who are interested, whether it be medicine, whether it be in agriculture, tourism, whatever field it may be, if you get this opportunity, you take it," Pope said.