Having sprained his right angle while playing soccer one week earlier, 21-year-old Diamond resident Jolanni Wales used a cane Saturday night to go to Road Side Bar, a popular hang-out spot in the village.
He and a number of other persons were sitting under a shed adjoining the main business place, where villagers gather on weekends to play cards and pool, drink, and socialise.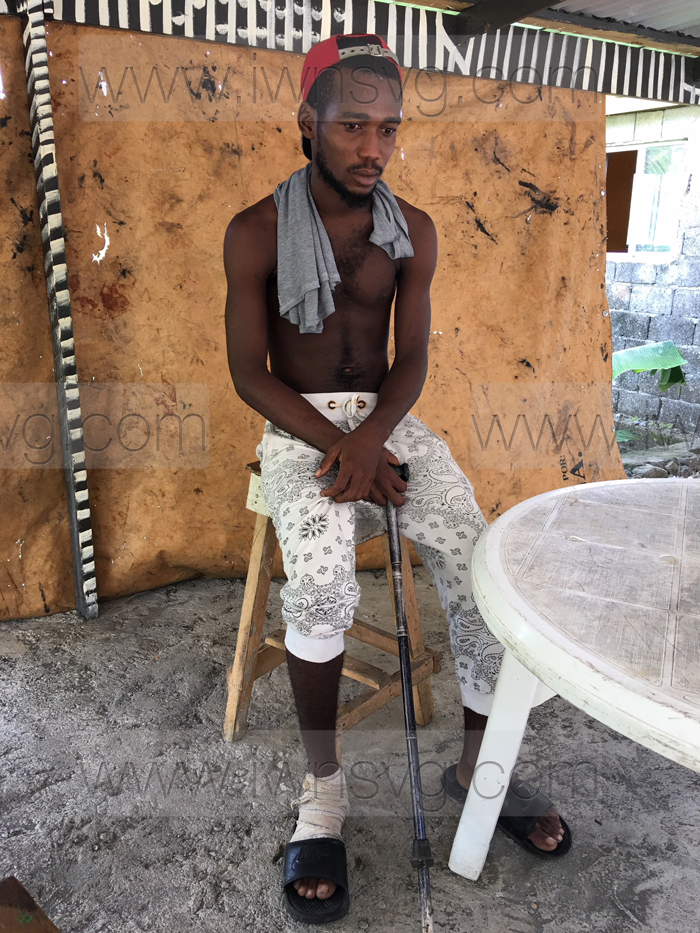 While sitting under the shed, Wales saw a white car drive passed the shop, towards a gap where vehicles usually turn when they intend to drive back to the main road.
Wales did not take it for much that the vehicle had stopped at the turning area for some time.
However, about 8:58 p.m., the car, which he later realised did not have any licence plates, drove back up the road and stopped just outside the shop and a masked gunman exited.
Three other gunmen also exited immediately after.
And as one of the men who were hanging out outside the shop shouted "Gunman!", he was immediately shot.
"I have to just do so, skate over tha' wall dey with my one foot," Wales said, referring to the 10-foot wall that he and other persons jumped over to escape the gunfire.
"Man had to fly through that window all thing. You see that small window dey? Man fly through that window. I wonder how they ain't sprain they foot," he said, pointing to a 3'x3' sash window, some 15 feet above ground.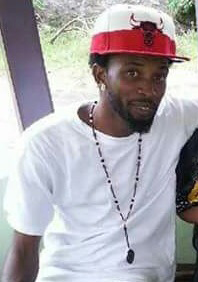 By the time the attack was over, eight persons had been shot and two sustained injuries as they tried to escape their attackers, who were wearing V for Vendetta masks.
Police recovered some 40 spent shells at the scene of the worst mass shooting in St. Vincent and the Grenadines, which has so far claimed one life.
Gregory "Woody" Abraham, also known as "Pecker, 33, died at the Milton Cato Memorial Hospital in Kingstown on Monday.
"St. Vincent going come like Trinidad just now… Man could just come and kill yo' just so, because me ain't know nothing 'bout nothing," Wales reasoned.
"Soon as the man them hit the shop, a bare gunshot… When the man them go back in their vehicle, a bare shot going up the road," Wales further recounted.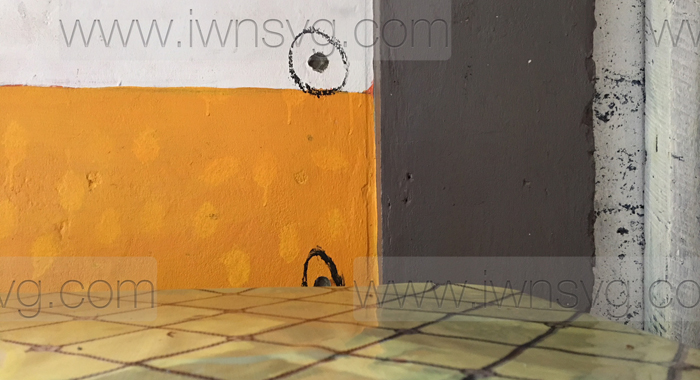 The shop is a popular entertainment spot in the South Windward community and began operating about two months ago, one patron told iWitness News on Monday.
For the persons who hang out there, 9 p.m. was relatively early, and more persons could have been there had it been somewhat later.
In addition to the persons who suffered gunshot injuries, two persons were injured as they tried to escape the gunfire.
Among them was Oslin Thomas, 46, also of Diamond who was inside the shop watching other patrons play card when the gunfire began.
"I was there standing up and just my feelings tell me to move. When I move and I come by the door to come outside, I saw this car there parked up — a white Sprinter with no number plate. The guy come out and start to buss shot from outside. He pushed me down and I so glad that I get pushed instead I get a bullet, Thomas told iWitness NEWs at Milton Cato Memorial Hospital on Monday.
Thomas was standing at a table inside the shop where the impact of the gunshot, circled in black by police officers, gives an idea of how indiscriminate the shooting was.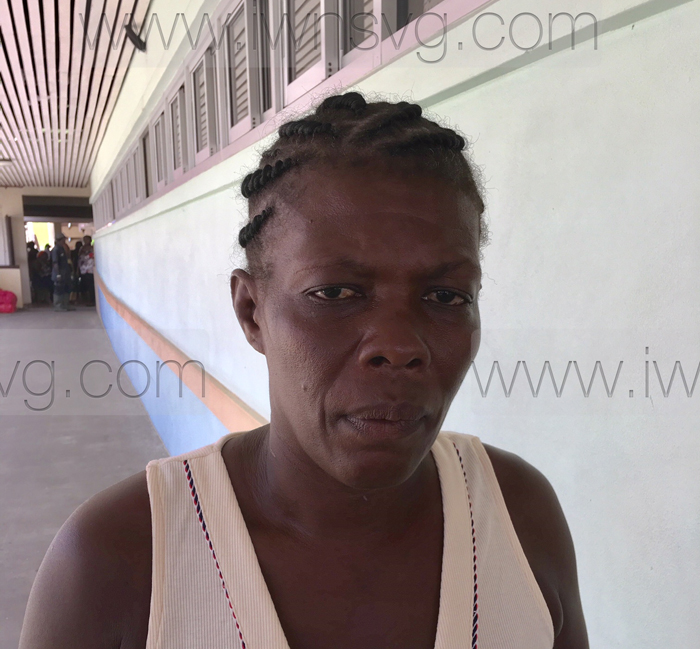 Persons at the shop also pointed out to iWitness News on Monday bullet marks outside the front of the building and towards the left side, where persons escaped through a window.
Thomas said that as she heard the shots being fired in quick succession, she was abele to run and hide under a vehicle.
She said that she saw when Abraham was shot.
"When they (shooters) gone, I take off with one speed and I start to bawl for murder," the woman said, adding that she ran and told Abraham's mother that he had been shot and needed help.
Abraham was shot mere minutes after entering the shop, where he had gone after being dropped on by the driver of the van on which he was conductor.
He had gone to the business place to treat someone to a drink.
For her part, Thomas was also planning to take advantage of the special on beers.
"I was relaxing. I does go and get a little three for 10 and relax," she told iWitness News and pointed to another woman, saying that she also hangs out at the shop but wasn't there on Saturday.
Thomas told iWitness News that the incident has made her really sad.
"Bare (only) innocent people gone down there. Bare innocent people. Not like they are bad boys and looking for war and violence and thing. Them man nah dey pon them things dey, so I feel real sad about it. I don't feel pleased at all," Thomas told iWitness News.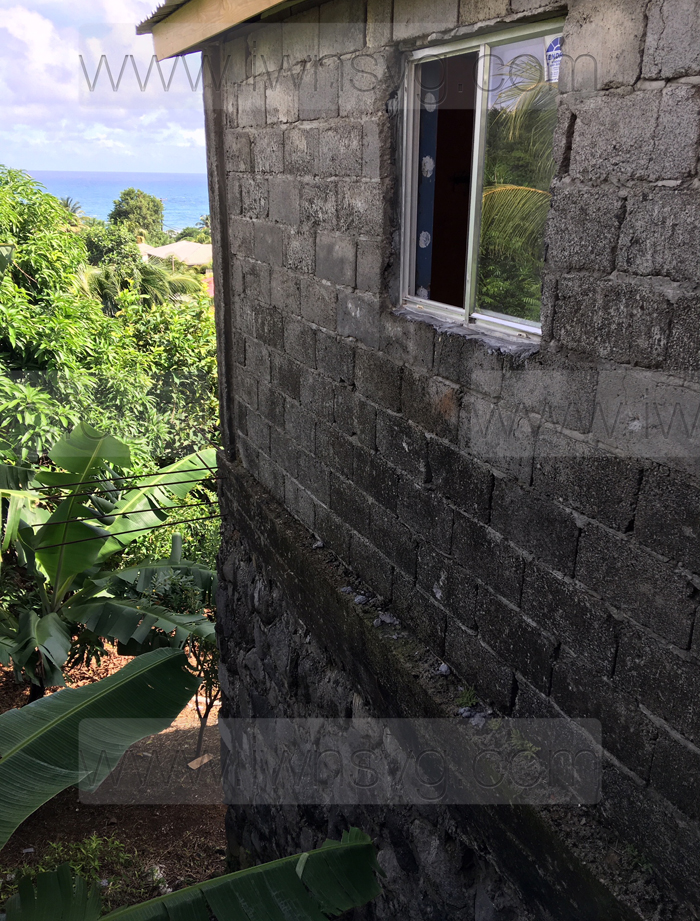 Most of the shooting victims declined to comment on the incident, and those who did, have asked not to be named.
They have said that the actions of the shooters suggested that they did not know who their target was.
Apparently, the shooters fired indiscriminately, in the hope that they would get the person(s) for whom their bullets were intended.
Law enforcement sources have theorised that the intended target was a man who was recently released from prison.
He was not among those taken to hospital, and it is not clear if he was in any way injured in the incident.
Speaking at a press conference on Tuesday, Prime Minister Ralph Gonsalves, who is also Minister of National Security, said that police have "a working hypothesis with enough indications as to who were involved in this matter".
What remains unanswered, though, is whether investigators have admissible evidence that would substantiate a charge, a point that Gonsalves also noted.
"And right now as I speak, I know they are talking to somebody," the prime minister said, adding, "Nothing may come of it. But these are not simple, straightforward matters. If they were, they would've been resolved already."
He, however, said that the police consider Sunday's shooting "to be of sufficient seriousness and … brazen to offer a reward of $20,000 for credible admissible evidence which would lead to the arrest or conviction of [the] person or persons [responsible]".