Governor of the Eastern Caribbean Central Bank, Timothy Antoine, says that while he understands why some commercial banks have introduced money fees on savings accounts, he does not agree with all of them.
Antoine said while the ECCB does not regulate fees and charges, it can review them.
"We can ask for reasonableness but we cannot say no to fees and charges," Antoine told the media in Kingstown in late October.
Antoine said the charges that he does not agree with are specific and he would not go into them bank by bank.
"I certainly believe that people should be encouraged to save and, therefore, charges that put people out of the banking system concern me. You don't want people to be going back to putting money under mattresses. But, having said that, we also have to adjust."
A number of commercial banks in St. Vincent and the Grenadines and across the region have introduced monthly fees on saving accounts.
Some depositors have complained about the fees and have moved their savings elsewhere.
But even an indigenous bank, the St. Vincent Co-operative Bank, has introduced a monthly fee, charging most depositors EC$20 monthly to maintain their account.
"What we can do in the short term is to publish on our website by the end the year, beginning of next year, the core fees and charges of all the banks operating in the currency union. And that is to give further transparency, and, obviously, create further competitive pressure around pricing of fees and charges," Antoine said when asked about the ECCB's response.
"But, beyond that, we are planning to issue some strong prudential guidelines around fees and charges. So we will not dictate but we will offer some additional guidelines and guidance."
He said they are looking at several models, including how Canada is addressing the issue.
"Can we have low cost and no-cost services, a limited number and then, of course, other services you obviously would have to pay for? What are the options? How do we deal with senior citizens?"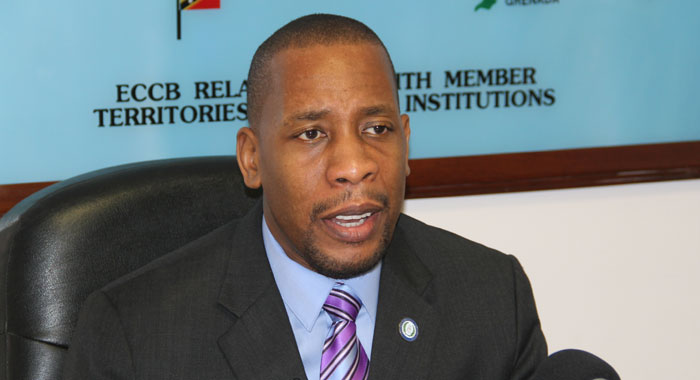 Antoine said that that he believes it is the responsibility of the banks to explain these fees to customers.
"There are some real pressures that the banks are under," he said, mentioning among them   high non-performing loans, which he said means lower interest income so the banks are trying to find other ways to make up income.
Higher compliance cost means that with the fight against money laundering and terrorist financing, banks have had to put in additional systems, know your customers (KYC) portals to be able to satisfy correspondent banks, Antoine said.
A third consideration is that the fees for correspondent banks have increased because correspondent banks feel that they have to spend more money on their own compliance because they are worried about fines from their U.S. regulators.
"So with those additional costs, which mean software and people, they are passing on these costs to our banks. And what do our banks do? They pass them on to us."
Antoine said that customers have to accept the reality that small banks are stretched in terms of their capacity to implement all of these things and absorb all of these costs.
"In other words, whereas an international bank has one group that does all their risks and compliance, the back office in one of the countries that does all the risk and compliance for AML/CFT (Anti-Money Laundering/Countering Financing of Terrorism), all of our indigenous and national banks have to have these in their own little countries. It is costly; prohibitively costly and, again, that is driving up the costs of the bank."
Antoine said that banking is not a cheap service and people expect the latest services, including mobile banking even as banks' profit margins are getting smaller.
"And the banks are looking for a way to survive and make a profit. And let's be clear. Banks must make a profit.  I mean, you might make a loss now and then, but if a bank does not make a profit consistently, it is gonna go out of business. It is going to put deposits at risk.
"So because of that, banks have been bringing in these additional charges. Now, I do not agree with all of the charges. Let me be clear, but I recognise the pressures that they are under for the reasons I have just outlined."
He said banks have done research and concluded that mobile banking is cheaper than ATM or tellers.
"So part of how we have to adapt or adjust is also our own shifting preferences," Antoine said, noting that it's easier for younger persons to adapt.
He said that cooperatives, such as credit unions have been picking up the slack but they themselves are part of the financial systems and ultimately many credit unions bank with a commercial bank.
"Therefore, they are not immune, cannot be immune, will not be immune from some of these compliance pressures. The fact of the matter is that if the credit unions do not implement AML/CFT, the banks are going to de-risk them, just as correspondent banks had threatened to de-risk our banks and therefore they had to put in their Anti-Money Laundering/Countering Financing of Terrorism, similarly, the credit unions have to take the initiative. If not, the banks are going to say, 'I don't want to do business with you because I am not sure where this money is coming from.'
"So, the credit unions have to pay attention. So, I realise and recognise the very special role that credit unions play in our region," he said, adding that SVG, Dominica and Grenada have particularly strong credit union movements.
"And long may that continue," Antoine said.