A young businessman has told the President of the main opposition New Democratic Party (NDP), Godwin Friday, that the party feels as if it is waiting to exhale and must be more attractive to young people.
"I want to tell you also personally that I do not feel that the NDP has branded itself as a party that will be loved and embraced by young people," Maurice John, an information technology professional and real estate agent told Friday at the NDP's National Youth Dialogue in Kingstown on Thursday.
"You have a bunch of old people who represent us and they're not cool… The NDP needs to have some sort of mechanism behind it that attracts young people," John further said at the forum where his brother, Jemalie, a young lawyer, was the moderator.
John told Friday that he is an Adventist and for a long time his philosophy was to go to church and just trust God and live.
"But it seems that we have to trust God and put a vote," John said.
He has met Friday — who became opposition leader and NDP president one year ago –several times.
"And I will be the person that would tell you that I am not like the generation that came before, where we have blind loyalty, where no matter what a party does, we jump and skip behind them. And I hope every young person here don't have blind loyalty. If you don't do well, you don't stay long," John said.
John said that to him, the NDP feels like a party that has been "waiting to exhale for an umpteen amount of years."
Friday interjected: "I feel that the country feels that way itself."
John said that when he came out of university, he came back to SVG and started a business almost immediately.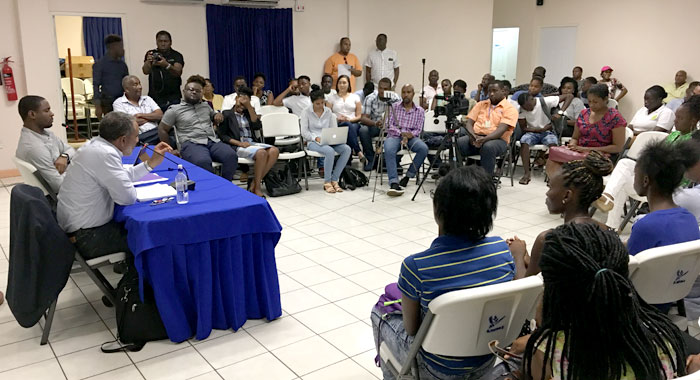 "I do not believe that the NDP has to get in power to do things. I do not believe that the NDP has to be in power to go to farmers and help them. I do not want to hear from Dr. Friday 'when we get into power'.
"I want to hear that Monday morning, Tuesday morning, something is being done."
The young businessman said the last two elections show that half of the country supports the NDP.
The NDP came to power in 1984 and was booted out of office in 2001, when it lost 12-3 to the Unity Labour Party.
But in the 2010 and 2015 polls, the party lost to the ULP seven seats to eight.
"So if it is that the NDP has all of this support, we must feel it. It almost feels as if the NDP is longing [for] 15-0 every time. You must be able to feel the NDP's presence and we must be able to see that the NDP is a party that is strong and also appealing to young people," John
Friday said that what John is saying is that appearance is as important as the substance.
"Because I think that in terms of the programmes and our record that we have had in government and in opposition in terms of assistance to young people that that is there. But, obviously, you are saying that the appearance is not there that you are attractive in the sense that you are not appearing to be appealing to young people," Friday said.
The opposition leader said that ultimately, what matters is "delivering the goods".
"But you are quite right that is we are not appealing in that way, I hope that today's engagement will help to change that image that if we are not appealing in that way to young people then we have to do better and I will ask for your support in helping us to do it and all of the young people here who are willing to do so because it is not all about NDP. We want to see the things that we talk about that are substantive implemented, then we have to break through the barriers of appearances as well," Friday said.