The captain of a ferry that travels between Kingstown and Southern Grenadines has declined to comment on an incident onboard the vessel around 4:35 p.m. Saturday, in which a fuel tanker overturned and destroyed two vehicles.
The incident on board MV Guidance occurred near Petite Canouan, located about three nautical miles north of Canouan.
After the tanker overturned, the ferry listed to one side and sailed into Canouan in that condition, a passenger told iWitness News on Monday — Christmas Day.
iWitness News understands that the damage was assessed in Canouan and the tanker up-righted before the vessel continued on to Union Island, its final destination.
"No comment," Captain Maxwell Burke told iWitness News on Tuesday — Boxing Day — when contacted via telephone.
The captain refused to comment on the incident even as photographs being circulated on social media show a white SUV — registration number PW958 — having been flattened while another vehicle, a car, is significantly damaged by the fallen fuel tanker.
One passenger on the vessel, Esther Ollivierre, of Old Montrose, who has been living in Canouan for five years, told iWitness News on Monday that the incident raises a number of issues of serious concern about the operations of ferries travelling between Kingstown and the Grenadines.
"My concern is that the Port Authority need to look into this and let the boats stop overloading because when they overload the boats, it is putting the passengers' lives at risk," she told iWitness
"It was very terrifying on the boat because we had babies on the boat, there were little children on the boat," said Ollivierre, who was travelling with three children, ages 1, 12, and 13 years old.
"The boat was packed because it had people downstairs and it had people upstairs on the top. It was a lot of people because there were people from Canouan, people from Mayreau and people from Union [Island].
"I am giving you my story because I have a great concern about the Port Authority looking into this," Ollivierre said, adding that there was no announcement on board the vessel amidst widespread panic after the tanker overturned.
"No one made any announcement. A lady called Canouan Police Station and the Police asked why they didn't call the Coast Guard…
"We were there all the time, we didn't know what was happening upstairs. It's downstairs we were. All we know we heard an impact like something buck up underneath the boat. And somebody run from upstairs and said the diesel container with diesel in it just fall on two other vehicles," Ollivierre told iWitness News.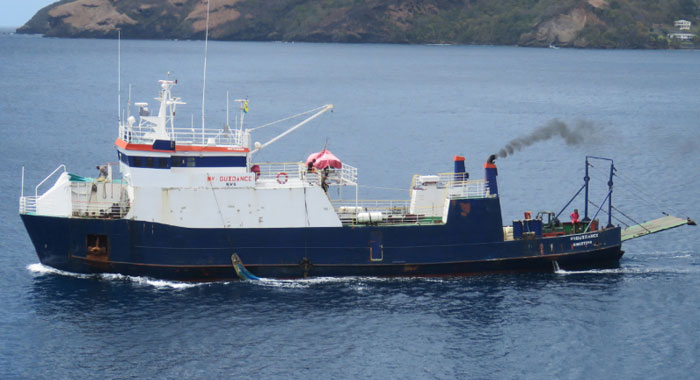 She told iWitness News that after the incident, the vessel listed and a passenger opened a container in which life jackets are stored and began to distribute them to other passengers.
Ollivierre, however, said that a crew member wrestled with the woman and took away the life jackets.
"We don't know what would have happened out there so we put on the life jackets," said Ollivierre who was travelling with three children, ages 1, 12, and 13 years old.
"He (the crew member) is wrestling with her to take off the life jackets. The boat came into Canouan on its side. And let me explain, coming into Patay, it has a part there that is extremely rough at Christmas time," the woman said, referring to Petite Canouan by its colloquial name.
She opined that the boat was travelling too quickly in the area and speculated that this might have contributed to the tanker overturning on the vessel.
Ollivierre told iWitness News that the sea was rough for the entire journey, but people started to panic after the tanker overturned.
"And then everybody calmed down and started to pray. We didn't know what was going to happen. Everybody could have lost their lives out there… If anything had happened downstairs (on the passenger deck) we couldn't have gone upstairs (cargo deck) to try to rescue ourselves because up there [was] in a mess too. There were vehicles up there, more than one diesel tanker up there," she said.
Ollivierre said she travels between Kingstown and the Grenadines about once a month but has never had any such experience on a ferry.