The mother of a 15-year-old youth on a burglary charge last Friday, Dec. 29, 2017, begged the court to allow her to surrender his bail, saying that she did not want him to cause her to end up in prison again.
The mother, Marva Prince had, seven years ago, spent 17 days on remand on a charge of grievous bodily harm resulting from she having burnt the boy, Kewan Prince.
However, Justice Frederick Bruce-Lyle decided to give the woman a second chance after the court found out that she had acted out of frustration.
Last week, the woman told the Serious Offences Court that she also wants her son to have a second chance but that she can no longer tolerate his rude and violent behaviour.
"I don't want to go back to jail again for him," Ms Prince told Chief Magistrate Rechanne Browne-Matthias at the Serious Offences Court.
She said she decided to surrender her son's bail after he attacked his 23-year-old sister while holding a cutlass, destroyed the vegetable garden, destroyed their rabbit pens and threw away his sister's clothes that were hanging on the clothes line the previous day.
Shortly after the magistrate granted the woman's request, the youth displayed some of the behaviour that he might have been displaying at home and threatened to box a police officer in the face and called them "b****r man", a derogatory term meaning gay.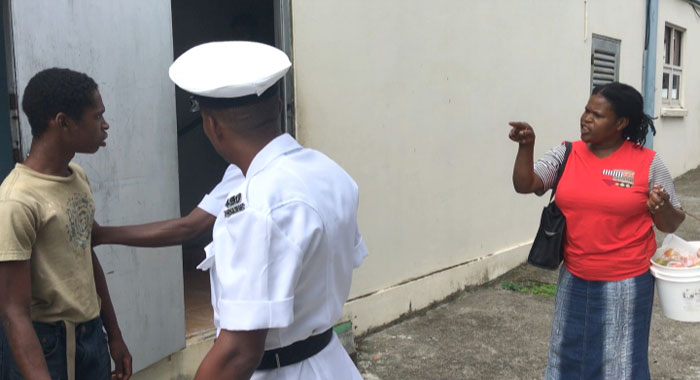 After hearing the mother's plea, the chief magistrate asked the youth what was wrong with him.
"Nothing ain't wrong with me," the youth told the court.
He said that last Thursday, he asked his sister for the cake that she had offered him and he had rejected three days earlier — Christmas Day.
He said when he went back on Thursday to ask for the cake, his sister was ignoring him so he pound down the door– because he was hungry.
He told the court that he lives in the yard in a small house by himself.
"So you feel you are a man?" the magistrate told the youth who had earlier told the court that he couldn't tell when last he went to school.
He said he "didn't reach to the fullest in school" after passing Common Entrance Examination and reaching only Form 1 (Grade 7) before he was expelled for fighting.
He said the principal had sent a letter for his mother to come to the school and she didn't go but rather his mother burnt his school uniform, books, and laptop.
https://www.youtube.com/watch?v=xGJeR1uCeus&feature=youtu.be
The magistrate noted to the youth that the woman had said that she wanted him to have a second chance, like she had and noted that she had responded when he was arrested.
"She was present and basic manners and respect you cannot apply just for a few months 'til the matter is disposed of? Basic common courtesy? Simple training?" the magistrate said.
The magistrate noted that the youth's family had considered it was the Christmas season and had offered him some cake.
"I can just imagine the way in which he rejected the offer and three days later they should be at his disposal to give him the cake," she said.
In retaliation for not getting the cake three days after he rejected it, the youth had also kicked down a water tank at the family's home.
He told the court that he had thrown away his sister's clothes because she had burnt his clothes.
"But for a while me ain't been washing them," he said of the clothes that he said his sister had burnt.
He told the court that he does not depend on his mother for food because she has told him that since he is acting like a man he shouldn't ask her for anything.
Ms Prince told the court that she normally feeds her son but he is "very disrespectful".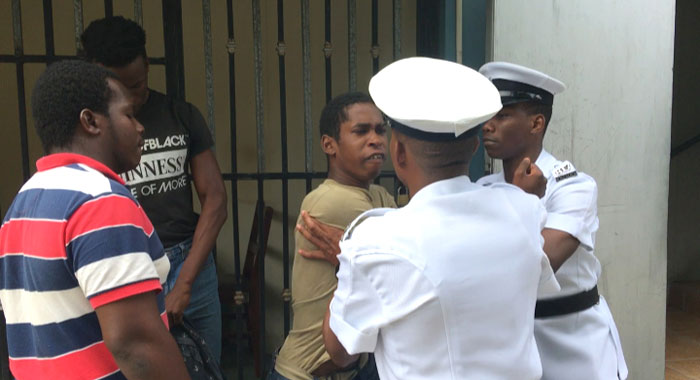 She said she had summoned the police the previous day because her son had broken a lot of bottles in her yard
"And, ma'am, his charge sheet is long from here to Owia. The amount of charges that this youngster has as a 15-year-old is a love."
The mother said that when she was pregnant with her 2-year-old child, the youth, then 13, pushed her down.
She said that whenever he gets in trouble with the law she responds.
The youth said that he did not push her down, but that his mother had held on to his jersey and he pulled away.
"Yeah. I love she but like she doh (doesn't) love me. She break down my shanty all kinda thing," he said when the magistrate asked him if he loves his mother.
The magistrate, however, told him that he is not supposed to have a shanty.
Asked if he loves himself, the youth said yes.
The chief magistrate told the mother that she would allow her to surrender her son's bail "because we would have two people in trouble.
"Initially, I wasn't going to allow you," the magistrate said, commenting:
"And these things grieve parents. You all don't know how much you make parents [grieve]."