Headliner, King Bubba out of Barbados gave his fans a musical experience to remember, last Saturday night at De Reef, for the Bequia Mount Gay Music Festival 2018.
His FM Band, performing with St. Lucia's Teddyson John, gave the frenzied crowd their soca fix, singing favorites like "Calling in Sick", "Whole Night", "Allez", " Mile High" and much more. SVG's Luta, the pan boss Rodney Small, and over 100 talented musicians performed for the four-day, five-event festival, which is held in Bequia every January and was "a truly fabulous weekend of music," according to sone visitor.
The Bequia Mount Gay Music Fest, run by the Bequia Tourism Association and its Musicfest Committee, features a wide variety of music genres, and attracts visitors from across the world, filling Admiralty Bay with yachts, and every hotel room and guesthouse on the island, for its famous grassroots festival.
The event opened at the renowned Frangipani Hotel to a packed house on Thursday, as the 14-piece Elite Steel Orchestra and bandleader Kesslon Wilson mesmerized the crowd with sweet pan music until 1 a.m.
This vibe continued for the rest of the weekend on Friday night for blues and jazz night under the stars at the beautiful Plantation Hotel.
Barbados Blues Guitarist, Toby Armstrong rocked the place with his skilled guitar playing. Friday night also saw the young vocalist Deanna of X Factor fame; perform with keyboardist Andy Cruickshank and the Impac Jazz Band of St. Vincent.
She charmed everyone with her big smile and melodious voice. Blues lovers got their fix, with extra-ordinary unaccompanied solo performance by American bass guitarist Shaun Munday, who had a stunning presence on stage, and a fantastic gravelly voice. Equally impressive was American Jazz guitar virtuoso Sean Harkness playing the acoustic guitar.
Saturday afternoon's open air jam by the beach brought a unique blend of musical genres for music lovers, and despite the light drizzle, patrons packed the venue under the palm trees for this open air concert. The versatile Barracuda Band, and vocalist Nico Bresciani out of Grenada started the afternoon swinging, with a reggae and pop mix, and even included some classical.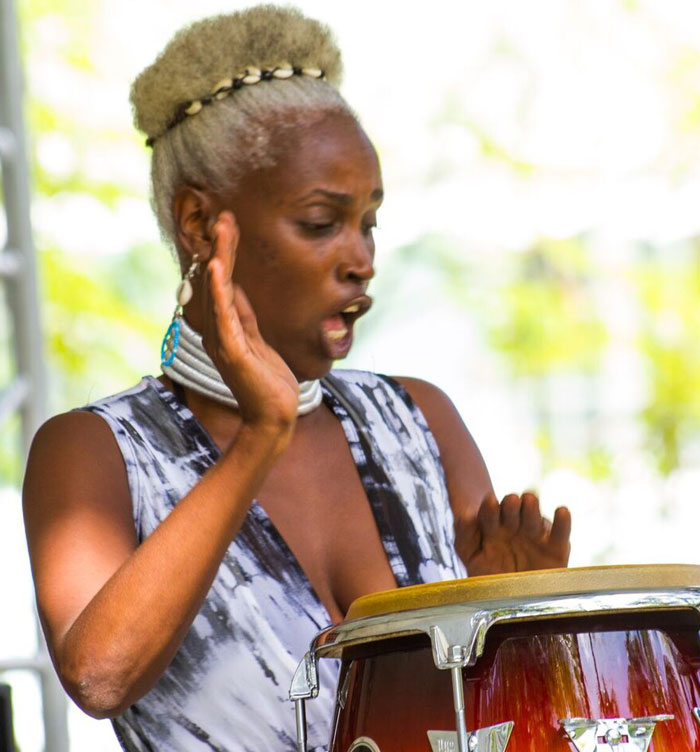 Bongo Drum Queen of the Drums, Onika Best of Barbados beat her drums to some serious rhythm. The five-piece Bequia Blues Band with Bob Berlinghof, Uthan McIntosh, Jerry Simpson, Mikey Wilke and sexy guitarist Nicola Cornwell were awesome, bringing the patrons to their feet with their blues, pop and rock and roll renditions. The afternoon also included Flamenco acoustic guitarist Stefan Roach of Trinidad, Rodney Small, the skilled Vincentian pannist, with headliner St. Lucia's veteran Saxophonist Rob Zii paired with vocalist Phyness, and all added to the reverberating positive energy.
Saturday night was the fete night for patrons, where the soca King of Barbados, King Bubba, ensured a memorable evening of high-energy vibes. De Reef in Lower Bay was packed to capacity, with fans jumping and waving as he and Teddyson John and the FM Band gave the crowd what they wanted.
Rodney Small, the pan boss gave an impressive performance, showing his exceptional and versatile pan skills and wowing the packed venue with his cool and charm.
Dominica's Mr. Gwada Benz also performed on Saturday night, with bouyon soca at its best in true Musicfest style. The magical evening started off with Bequia's own Rockstone Reggae Band and lead vocalist Colin Peters, who brought his best effort, with classics as well as his own original music, proving that he can hold his own with the best in the region.
Sunday afternoon was the "highlight of the weekend", said many patrons, as De Reef was once again packed to capacity, with patrons spilling off on to the beach. SVG's Luta outdid himself with a fantastic high-energy show, proving why he one of our best, and a real crowd pleaser.
Backed by vocalist Keido Foster and the fabulous K-Netik band, Luta sung his soca classics going back over 10 years, connected with the audience in fine form, and proved why he is so well loved in Bequia.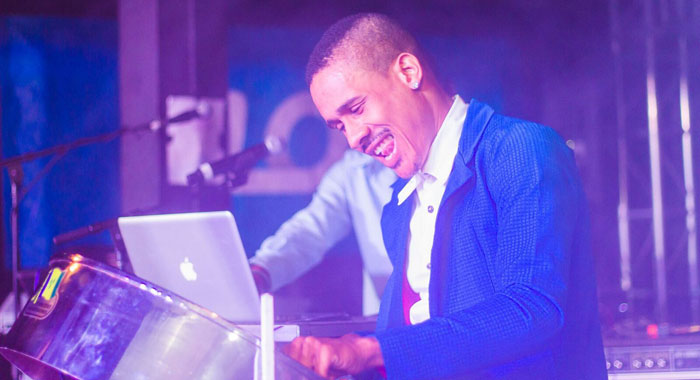 Sunday afternoon also saw violinist, St. Vincent's internationally renowned Darron Andrews perform very well, moving through the crowd with his instruments and rocking the place. The real surprise for Sunday was the young group Lennox from Barbados whose energy and talent really impressed. The Bequia Kids on Pan opened the show, exhibiting the incredible, young talented Bequia musicians, who have a wonderful future in music. The Denzil Bacchus Band, also of St. Vincent, gave a great performance and had the audience calling for more. Bequia's DJ Shatta closed out a fantastic weekend of entertainment for all who attended.
Director of the Bequia Music Festival, Sabrina Mitchell, expressed her thanks to the loyal sponsors, especially title sponsor Mount Gay Rum who has invested in the Bequia Music Fest for over 10 years, and who have a commitment to ensuring a quality event. She also expressed her sincere gratitude to Hairoun Beer and Flow, who have also been loyal partners for many years. She welcomed BMI Records, Cocoa Cola and Dasani Water, who all came on board as sponsors for the first time in 2018.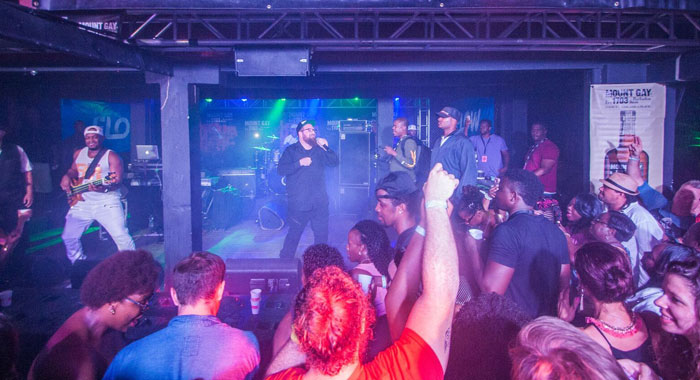 Mitchell recognized the SVG Tourism Authority, and CEO Glen Beache for their commitment to the Festival, and to ensuring that Bequia continues to be a destination of choice, bringing visitors to our shores again and again every year. Minister of Tourism, Sport and Culture, Cecil McKie gave his opening remarks on Friday night, welcoming our visitors and pledging the government's commitment to the event.
He thanked Mitchell for her hard work. He reminded all that SVG is a country full of many festivals, and encouraged visitors to come back next year.
The Bequia Plantation Hotel, SVG Sotheby's International Realty, One Caribbean Airlines, Going Places Travel, De Reef, Frangipani Hotel, Compass Publishing, Action Bequia, Quik Print, Outhouse Graphics and CRS Music also generously support the Bequia Music Fest.
Patrons expressed their enjoyment for a great weekend. Musicians who took part acknowledged the high level of professionalism, and exceptional hospitality offered by the Bequia Music Fest Committee, for which MusicFest is famous. This year was no exception, with a smooth running event, staffed completely by volunteers and producing one of the best events in the region and, certainly, in the national calendar, organisers say.
Next year's festival is slated for Jan. 31 to Feb. 3.