The new Minister of Finance Camillo Gonsalves, on Monday, presented to Parliament his first Estimates of Income and Expenditure, which includes the nation's first surplus on the current account in years.
Parliament is expected to conclude, on Wednesday, debate on the 2018 EC$993,535,449 Estimates, which represents a 1.7 per cent increase over the approved budget for 2017.
The debate is taking place in the absence of the Parliamentary opposition, which walked out of the House on Monday consequent upon the finance minister's continued silence on an ongoing sex scandal.
The 2018 budget is comprised of recurrent expenditure, inclusive of Amortisation and Sinking Fund Contributions of EC$776,879,739 and capital expenditure of EC$216,655,710.
The government is anticipating that the 2018 budget will be financed by current revenue of EC$620,658,138, and capital receipts of EC$371,877,312.
Gonsalves, who took over the finance ministry from his father, Prime Minister Ralph Gonsalves, last November — after 16 years — said that the 2018 current expenditure, exclusive of Amortisation and Sinking Fund Contribution amounts to EC$617,421,847.
Current revenue of EC$621,658,138 is expected to be collected in 2018.
"As a consequence, there is a modest current account surplus of EC$4.2 million in these estimates. I believe it's been a little while since we could report to the people of St. Vincent and the Grenadines a current account surplus."
He said the EC$621 million in current revenue is 5.2 per cent or EC$30 million more than in 2017.
Inflows from tax sources are projected to generate EC$532 million for the Consolidated Fund, while non-tax revenue is expected to yield EC$89.7 million.
"The improvement in the revenue performance in 2018 is reflective of the modest real economic growth projected for the year and the planned improvements in administration at the main revenue collecting agencies," he said.
The finance minister noted that the International Monetary Fund has predicted growth of 2.1 per cent this year.
"That estimate[of predicted growth] may be somewhat conservative. But even going with that and going with what we plan to do in terms of revenue collection at the Port, at Inland Revenue Department, and at other agencies, we anticipate a little more money in our hand in 2018.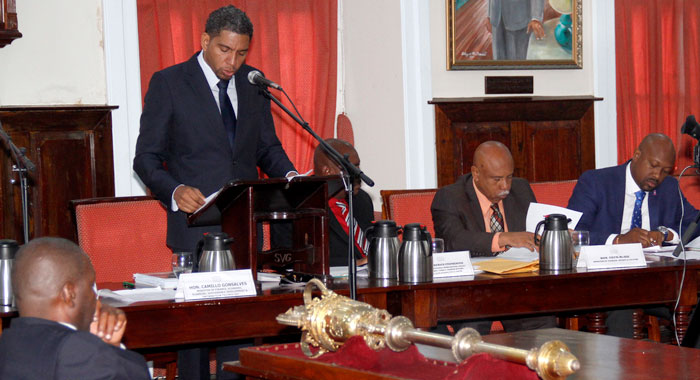 The finance minister said that tax revenue is projected to grow by 5.2 per cent.
"All the major tax types are expected to contribute to this performance as follows: taxes on incomes and profits are estimated to increase by EC$10.8 million or 7.4 per cent, taxes on property are projected to rise by 16.4 per cent or EC$7.1 million; taxes on goods and services are expected to go up by EC$4.8 million or 2.9 per cent and taxes on international trade and transactions by 1.5 per cent or EC$2.2 million."
The finance minister said that non-tax revenue collection is budgeted at EC$89.6 million for 2018, a year-on-year budgeted increase of 5.2 per cent.
He said that 88 per cent of the total revenue would be generated from four principal sources.
"These are: taxes on goods and services, are expected to yield 170.1 million; taxes on international trade and transaction, EC$159.1 million; taxes on income and profits, EC$155.8 million and sales of goods and services, amounting to EC$67 million."
The EC$776.9 million estimated recurrent expenditure is 3.9 per cent or EC$29.5 million over the amount budgeted in 2017.
The finance minister said the recurrent expenditure for 2018 is made up of current expenditure of 617.4 million, amortisation 137.5 million, and sinking fund contribution, 22 million.
He said two components of the recurrent expenditure are budgeted to increase in 2018, compared to 2017.  These are current expenditure, increasing by EC$15.7 million or 2.6 per cent, and amortisation, up by EC$15.8 million or 13 per cent.
He said all five major categories of this component of recurrent spending are projected to increase this year.
Compensation of employees and pensions, taken together, account for 56.4 per cent of EC$8.8 million of the increase in 2018; interest payments and loan charges, which amount to EC$62.2 million are expected to rise by 7.6 per cent, while purchase of goods and services will increase moderately by 3.1 per cent or EC$2 million.
"Mr. Speaker, Honourable Members, I hope that this rather dry summary of what we plan to spend, how we plan to collect it, gives Honourable Members, gives the general public a general sense as to how this government plans to proceed in the coming year," the minister said.
"The story behind this budget, the story behind these numbers that is a story that I look forward to on the 5th [of February] and look forward to hearing my colleagues tell us a story of optimism," he said.
"We are not out of the woods from the global financial crisis," the finance minister said, repeating a phrase often used by his predecessor.
"But we are certainly seeing light. And we have positioned ourselves as a country and as a people far better than many of our neighbours to take advantage of the opportunities that will arise in this post-crisis decade.
"And we have, from tourism to agriculture, to infrastructure, to housing, to education, to health, placed ourselves on a solid footing going forward for the development and growth of St. Vincent and the Grenadines.
"The stories behind these numbers will tell you that we plan to collect more money, we plan to be prudent in the way that we spend money but that we will target it, as always, to the growth and development of St. Vincent and the Grenadines, placing Vincentian people at the centre of all our objectives, of all our considerations and deliberation and of all our priorities. That story is a story that will be told in a week's time," he said.
Ahead of the commencement of the debate, Opposition Leader Godwin Friday led opposition lawmakers in a walk out of Parliament after he failed to get the permission of House Speaker, Jomo Thomas to allow him to speak on the sex scandal.
The opposition leader wanted to use parliament to bring further pressure on the 44-year-old finance minister to tell the nation what he knows amidst the allegation by 23-year-old former model, Yugge Farrell, that she and the finance minister had a sexual relationship that ended in 2016.
The debated is expected to conclude on Wednesday.
However, it is not clear if the opposition will attend Parliament on that day, when debate on a motion of no confidence in the Ralph Gonsalves' government is expected to begin, two days after it was tabled.
Camillo became Finance Minister last November, replacing the older Gonsalves, who had held the position since his Unity Labour Party administration came to office in March 2001.