Come March 1, all U.S. dollar payments from St. Vincent and the Grenadines to Trinidad and Tobago will require the prior approval of the Director of Finance and Planning.
This is "in order to ensure that our farmers and other exporters receive timely payments for their sales to and from Trinidad and Tobago," Minister of Finance Camillo Gonsalves said in his Budget Address on Monday.
Approval for U.S. dollar transactions would become necessary as the Ministry of Finance in Kingstown enforces the relevant provisions of the Exchange Control Act amidst the protracted impasse in which Vincentian itinerant traders are unable to convert their earnings in Trinidad and Tobago to Eastern Caribbean dollars.
"The Ministry of Finance will, of course, be happy to revisit this decision in the future if all parties can arrive at a less bureaucratically cumbersome solution. It is wrong and unfair for St. Vincent and the Grenadines to be so disadvantaged in this matter," Gonsalves said.
He said the foreign exchange issue with Trinidad and Tobago is one for urgent analysis and attention.
Gonsalves pointed out that Trinidad and Tobago, over the last five years, has enjoyed a visible trade surplus, on average, of $149.9 million annually.
"Over the last five years, St. Vincent and the Grenadines imported $167.1 million annually from Trinidad and Tobago while exporting an average of $17.2 million to this neighbouring Republic each year," he said.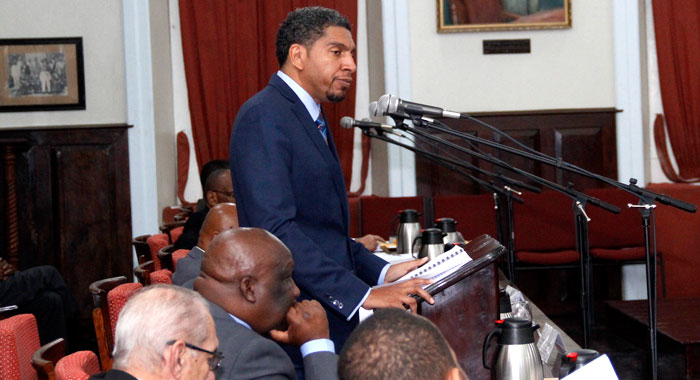 He further said that Kingstown pays Port-of-Spain for its imports in hard currency.
However, at the same time, Vincentian exporters are experiencing tremendous difficulties in repatriating income earned in Trinidad and Tobago.
"This is negatively impacting our farming community in St. Vincent and the Grenadines. So, it is not only the traders who suffer, but also their suppliers, the small farmers of St. Vincent and the Grenadines," Gonsalves said.
He said Kingstown and the Bank of Saint Vincent and the Grenadines have cooperated in devising a short-term foreign exchange solution for these agricultural traders, but a more lasting solution is required.
"The Government has held several discussions with the Eastern Caribbean Central Bank (ECCB), the commercial banks in St. Vincent and the Grenadines and other stakeholders, but unfortunately we have been unable to arrive at a satisfactory lasting solution with the Central Bank of Trinidad and Tobago.
"At a recent meeting with local commercial banks, a proposal was made that payments to Trinidad and Tobago will be conducted in TT$. Once implemented, this measure will bring relief to the situation. The banks have indicated that they will need to discuss the proposal with their head offices."
The minister, however, said that the fate of Vincentian farmers and traders "cannot wait indefinitely on corporate consensus in far-flung bankers' boardrooms".