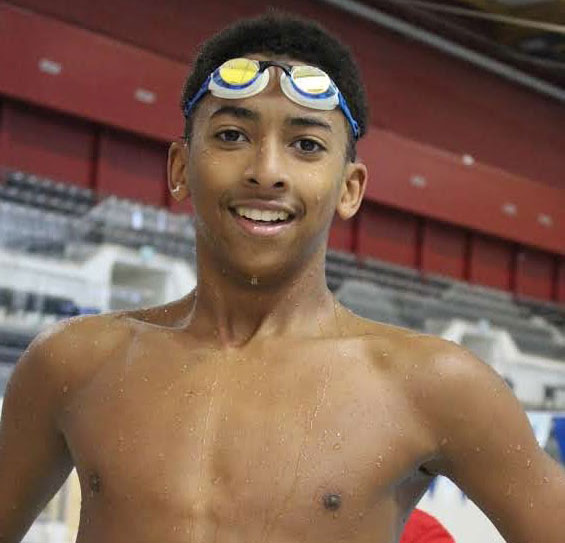 St Vincent and the Grenadines swimmer, 14-year-old Alexander Joachim competed at the 2018 Central Region "A" Swimming Championships held in Toronto, Canada, Feb. 1 to 4.The Central Region championships featured swimmers from more than 25 clubs across central Ontario including Toronto.
Joachim swims for Black Sands Swim squad in SVG and represents Oakville Aquatic swim club (OAK) in Canada where he is at high school. At the central Regional Champs, where he swam as a 14-year-old and represented OAK, his medal-winning results were:
Gold in the 100-metre butterfly in a time of 1 minute, 2.3 seconds. This was the 5th fastest time in Canada for a 14-year-old boy for the 2017-18 season.
Gold in the 200-metre freestyle relay as part of the OAK team in a time of 1 minute 46.65 seconds.
Gold in the 200-metre medley relay as part of the OAK team in a time of 1 minute 59.79 seconds.
Silver in the 100-metre breaststroke in a time of 1 minute 13.64 seconds.
Joachim now has four official qualifying times for the Ontario provincial championships in Canada, which will be held March 1 to 4 2. He also has qualified to swim at the Eastern Canadian Junior championships in April.
Black Sands Swim Squad and SVG National swim coach Kyle Dougan said: "Alex continues to develop and its great to see his continued progress in the sport. I am not surprised by Alex success given his hard work, dedication and discipline. Alex has been winning since he was 8 years old at the OECS level and now he shows he can be competitive with the best swimmers in the world at his age."
Joachim will return to SVG to compete at the CGM Invitational Swimming Feb. 16 to 18. He will also represent SVG at the upcoming Carifta Swimming Championships to be held in Jamaica March 31 to April 3.