That's the question former Prime Minister James Mitchell is asking regarding the advice that Prime Minister Ralph Gonsalves has given his son, Camillo Gonsalves, amidst the ongoing Yugge Farrell sex scandal.
Farrell, a 23-year-old model half the finance minister's age, has claimed that he cheated on his wife with her in a years-long relationship that ended in 2016.
But Camillo is yet to comment on the allegation, which came to light after Farrell was charged on Jan. 4, with using abusive language to his wife.
While the prime minister has been commenting on the scandal, he has said that he has advised his son to maintain "a dignified silence" and not comment as yet.
"Well, I hope if he calls an election, his son will also be silent then because he don't want to talk to the people now," Sir James said Wednesday on Boom FM.
"Is he going to be talking on the rostrum? And I mean to say the prime minister could well call election and pre-empt the whole thing; pre-empt the whole exercise and really give people something else to study. But I will warn the prime minster, you know. March is a dangerous time. March brought down Caesar… Careful, don't rush it," said Sir James, who retired from electoral politics in October 2000.
He was speaking about the prime minister pre-empting the outcome of a vote on the motion of no confidence, which was scheduled to be debated in Parliament on Jan. 31.
However, the government succeeded in converting the no confidence motion into a motion of confidence, which they then passed in the absence of opposition lawmakers, who stayed away in protest.
The younger Gonsalves was selected Member of Parliament for East St. George in 2015 after two years as a senator.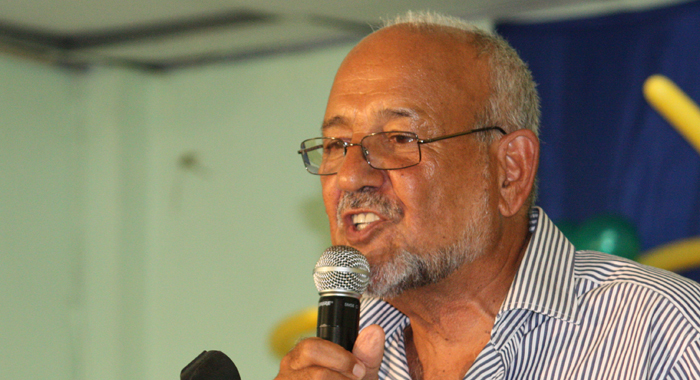 Asked if he thinks that the scandal would affect Camillo's chances of becoming leader of the ruling Unity Labour Party — as many persons think he is being positioned to become, Sir James said:
"I am not in the ULP, I'm not an advisor, I'm not a prophet. I wish them all well. What I want to see is democracy in this country thrive; I want to see democracy functioning in our Parliament; I want to see our people have freedom of choice and not be fearful if you think or act in a certain way.
"Why is Camillo silent? Why is Camillo not having a press conference? This is a man who has spoken before the United Nations," he said of the former ambassador to the United Nations.
"This man has spoken in the Far East. As a government minister, you should respond to allegations… because you have a responsibility to justify the morality of your position.
"I'm not talking about your rights about having a child or having an affair," said Sir James who has a child with a woman with whom he had an extramarital affair.
"And it is not a question of infidelity. It is a question of what has become of this girl (Farrell) and why. What are the circumstances of this matter? This is rumour about abortion. All of that kind of thing should be explained," he said.
The former prime minister said he is not the only one talking about the scandal.
"Everybody in St. Vincent talking about it; The foreigners talking about it. … it is on the internet and it is there going around the world and we have got to address it here in St. Vincent. It is not going away.
"There is an emotional feeling in the people about the Yugge affair. … You cannot explain away emotion and it is the feeling of people in respect of intimidation, … that if you're with us, you get rewarded, if you are not, you don't get rewarded; if you behave yourself we will reward you. The people are saying 'We are Yugge! We are Yugge! We are Yugge!' Get that straight. That is the emotion that Parliament can't deal with or dispose of," he said.