Prime Minister Ralph Gonsalves says he was not taken aback or embarrassed by the protest at the University of the West Indies in Barbados that disrupted for about 15 minutes a lecture he was delivering Thursday night.
"I was not surprised nor embarrassed by it because if you notice the people who are here were disgusted with the two or three persons who were protesting. I understand that one of them is a lecturer and they obviously could not get any students to follow them," the Prime Minister told Barbados TODAY after completing the lecture.
"If you notice, I dealt with them very politely and I am prepared to discuss whatever they think they have as an issue. At any time they can come to St Vincent and I will let them speak to all the people who know about women's issues," Gonsalves said.
Three women's rights activists, including a lecturer at the university, disrupted the lecture, shouting chanting, "Justice for all! Justice for all!" before police escorted them from the lecture hall.
Gonsalves delivered a lecture on the topic, "Helping Hands or Damaging Hands — the Effect of International Relief on CARICOM Small Island Developing States."
The women were protesting the handing of the Yugge Farrell saga in which the former model spent three weeks on court-ordered psychiatric evaluation after she allegedly used abusive language to Karen Duncan-Gonsalves, wife of the prime minister's son, Finance Minister Camillo Gonsalves in Kingstown on Jan. 4.
Farrell, 23, later claimed she was in a years-long extramarital relationship with the younger Gonsalves, 45, which ended in 2016.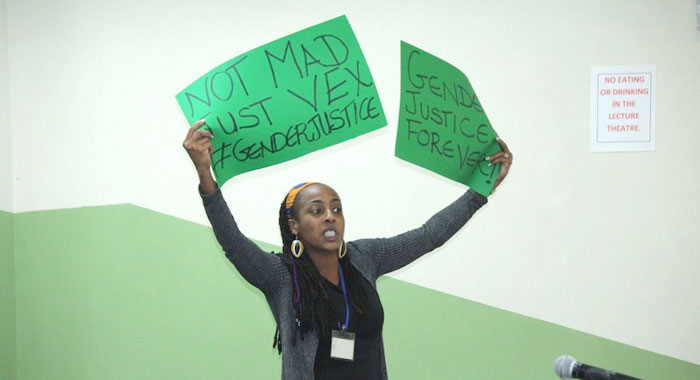 Parts of the women's protest were captured on a mobile device video and circulated via social media.
"It is uncomfortable, I know," Kristina Hinds, a lecturer in political science at the Cave Hill Campus, who was the main voice among the protesters, told Gonsalves during the demonstration.
"Uncomfortable for whom? Me?" the prime minister responded, to the lecturer.
Hinds was joined in the protest by Public Relations Officer of the National Organisation for Women (NOW), Marsha Hinds, and Luci Hammans, a member of the Life in Leggings Movement.
Hinds told Barbados TODAY she was offended that the university had invited the prime minister to speak to students, despite the shadow hanging over his son, as well as the prime minister's own alleged indiscretions.
"I am disgusted because I do not agree with encouraging people with years of allegations to come and sit in a room and talk as though there aren't things that need to be addressed. Yes, they are only allegations, but there are other persons who have had allegations brought against them and they have become persona non-grata but that does not seem to work for politicians in this region; and enough is enough. Those who want to sit down and clap for the Honourable Ralph Gonsalves are free to do so, but we are also free to say that we have had enough," the lecturer told Barbados TODAY.
Gonsalves, as he has done at home, blamed the development on hysteria generated by what he deemed as one-sided reporting by a media outlet in St. Vincent.
Barbados TODAY did not name the media outlet, but said Gonsalves urged within the region to get all of the facts before coming to a conclusion on such sensitive issues.
"The fact of the matter is that jaundiced journalist's report created a certain firestorm. The truth is that the report is factually incorrect," Barbados TODAY quoted Gonsalves as saying of the Jan. 5 genesis of the public scandal after Farrell appeared in court and was sent for psychiatric evaluation without the prosecution offering any reasons to support their application.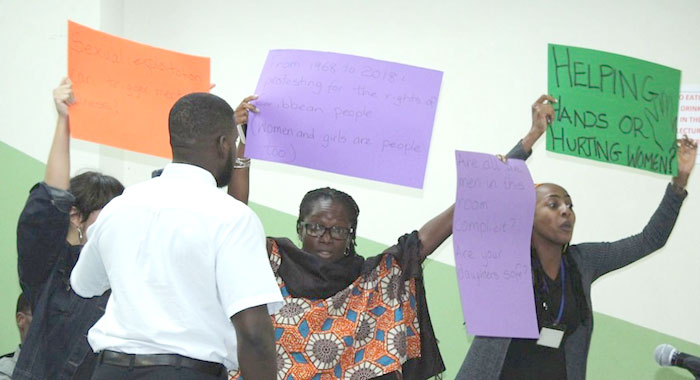 iWitness News — which was one of only two media entities in court that day — broke the news of Farrell's arrest, arraignment and court-ordered hospitalisation.
The prime minister, his youngest son, Storm Gonsalves, and spokespersons for his government have criticised iWitness News' reportage on the court proceedings, but none of them have provided any evidence that our reportage was not a factual representation of what transpired in court.
While it became public days after Farrell's arraignment that she had been treated in the past for mental health issues, none of this was revealed to the court during her arraignment.
Gonsalves told Barbados TODAY that there was no conspiracy.
"To believe what this university lecturer said is to believe in a giant conspiracy that Ralph [Gonsalves] conspired with two magistrates and I conspired with three medical doctors and I conspired with a psychiatrist who is in fact is the cousin of the lady concerned. This simply did not take place.
"There is a lack of understanding of the facts and as I have said, persons are entitled to their own opinion but not their own facts. In this case the facts show that the person . . . wronged is Karen. What has she done wrong? What has Camillo done wrong? Absolutely nothing!" he told Barbados TODAY.