House Speaker Jomo Thomas has defended his decision not to go onto the platform at the Unity Labour Party's (ULP) rally Sunday night to celebrate its 17th anniversary in office.
Thomas said that his decision was part of the principled stance he has taken since becoming Speaker of the House of Assembly on Dec. 29, 2015.
He told iWitness News on Monday that ULP general secretary, Sen. Julian Francis, could have done more to educate Sunday's audience about his decision.
There were questions in some circles as to whether Thomas — who some observers say has a tumultuous relationship with his party — had attended the event, which was held at the Calliaqua Playing Field.
"I was there for the entire event.  I don't miss those events," Thomas told iWitness on Monday.
He, however, said that his decision not to sit on the platform is part of a principled stance he has taken as Speaker of the national assembly in December 2015.
"… as the speaker of the House of Assembly, which is a constitutionally provided position, I don't see the need to make partisan public appearances because I think that flies in the face of my position as the Speaker."
He said that as a member of the ULP, he would attend national conventions, national council meetings, and national committee meetings of which he is a member.
"I don't take a place on a platform on a public event like the celebration last evening. But I was there in the audience, I talked to members, I support the planning and preparations and everything else but I didn't see the need to go onto the platform," he said.
Thomas was a senator for the ULP from August 2013 to December 2015, when he carried the party's banner in South leeward and failed to unseat Nigel Stephenson of the main opposition New Democratic Party.
Thomas told iWitness News that in keeping with his principled stance, very early after he became the speaker, he decided to no longer appear on the "ULP Speaks" programme, which is broadcast on the party's radio station, Star FM.
"… I had talked to people about this at a national executive committee meeting and I thought there was an understanding that as the speaker it would not be done or I had expressed that I didn't want to do it.
"If I were an elected parliamentarian who was named the speaker, as happened in the past, I would have gone to all of these public events, whatever they are."
Thomas said he hasn't got a sense from the ULP leadership that they disagree with his position.
"But people who are close to the leadership have made issues about it and so on and so forth," he told iWitness News.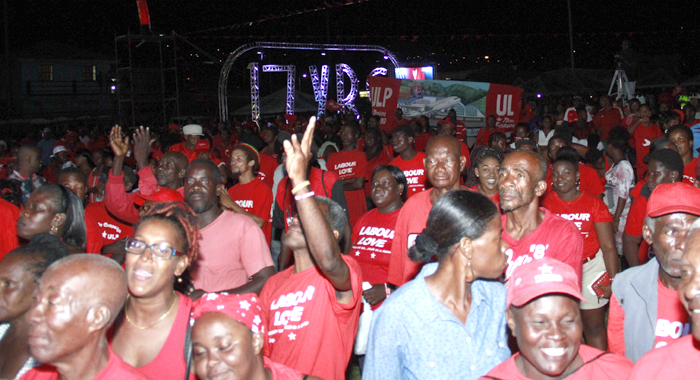 He said a woman accused him at Sunday's rally of not being "diligent" about the ULP because he was not on the stage and he explained his position to her.
He said that after a while, the stage was empty because all of the persons who were sitting there walked off and mingled with the audience.
"To say that I should be on the stage so when my name is called as the person who contested last time to stand up and put up both of my hands, wave, I didn't' think that means anything substantive or critically important."
Thomas, who is the ULP's caretaker for South Leeward, said that does not mean that he does not do political work.
"I talk to people in the constituency, I make representation for people who come to me all the time. They may ask me to assist them to get a job and I have assisted a number of people in South Leeward in getting a job. If somebody comes to me and raises a particular problem, a particular issue having to do with housing, having to do with material to assist them, wherever I can, I make that assistance."
He said he has also assisted people in writing letters, or to make appointments for them to see the prime minister or other state officials, or address particular issues in the constituency.
"But I don't think I have to wave a red flag on every activity that I engage in in order to be an effective caretaker or an effective member of the party. That may be what is expected but the political parties and the leadership know better and what they ought to do is to lead from in front but they conveniently don't lead from in front.
"… I have done that and I have done that quite effectively. I have made representation on behalf of the people of South Leeward to the highest powers in the country and that goes way beyond wearing a shirt. When it's the time for me to wear a shirt, I wear a shirt. I don't think I have not carried my responsibility out."
But he also hinted at what some say is a strain in the relationship between him and some elements within the ULP.
Thomas said he has seen emails that were not sent to him but were sent around, "in which people are literally egged on to do or say certain things that you hear them say in the public domain…"
He said that unlike "the rabblerousing base or the echo chamber", "the more thoughtful and independent-minded people in society" would conclude that he has done a fair job as speaker.
"If you talk to them, I think that as a general rule you may hear people say that they think I am fair and I am even-handed, which I think is what the Constitution demands for someone who is a Speaker of the House of Assembly. So I am not so much concerned with what people may say.
"… I believe in the rule of law over the rule of men. I believe that that is what the constitution is for; I believe that is what the laws we make are for…"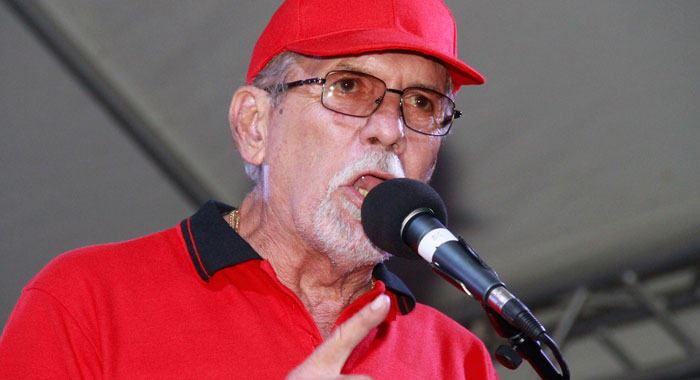 Thomas said he saw no need to remind the ULP ahead of Sunday's rally about his position.
"I think that anybody who understands the Constitution doesn't need any reminder of that. The Constitution says that I am the Speaker. The Constitution says that I am the principal individual in the legislative branch of the government and I think that that is how I should function."
Asked if he thinks that an explanation to the crowd by Francis about his principled position might have helped, Thomas said:
"That's why I told you the role of leadership is to lead. He simply said that [former Member of Parliament for South Leeward] Dougie Slater spawned David Browne and Jomo Thomas. When he talked about Sir Louis or Jerrol Thompson, he said that they were out of the country on government business [hence their absence]. He had seen me in the audience but I don't think that he felt the need to speak to what the Constitution provides for."
Thomas said that such a comment from Francis "evidently" would have helped.
"And that's why I said to you the role of leadership is to lead… Where it may appear that there is a failure of leadership that may not be a failure of leadership at all. It may be a conscious decision to do a particular thing. But I cannot speak to why the general secretary would not have explained what the Constitution demands."
Thomas' position is at stark variance to that of his predecessor, Hendrick Alexander who was a platform regular at ULP rallies during his stint as speaker from 2001 to 2015.
'not a bad rally'
Thomas said that he thinks the rally was a good one, saying it came about 28 months after the last election and was "somewhat of a midterm check on the ULP", which is into its fourth consecutive term in office.
"You had probably as much as 4 to 5,000 people there. I don't think that was a bad turnout."
He said there were "fairly good" presentations from the Prime Minister Ralph Gonsalves, Member of Parliament for South Central Windward Saboto Caesar, Francis, and Member of Parliament for East St. George, Camillo Gonsalves.
"Clearly, the party has been making efforts at renewing its ranks. You have good young parliamentarians who I think would make good contributions," he said, saying he is particularly impressed with Sen. Luke Browne's progress since he became a Member of Parliament and described Camillo as "one of the brightest lights in the ULP government", adding that "Saboto is good — he is still very young".
"The rally itself, I thought, was not a bad rally."