National Under-19 cricketer Dillon Douglas has been named as St. Vincent and the Grenadines' Junior Sportsman of the Year 2017.
His female counterpart is Shné Joachim, who was named Junior Sports Woman of the Year, at the National Sports Awards on the weekend.
Locally, as a member of Team Rivals club, which competes in the National Lotteries Authority Premier Division, Douglas was a consistent performer.
He made inputs as a wicketkeeper, a batsman and as a bowler in the two-day format as well as the Neil Williams Twenty/20 competition.
Douglas' all-round form saw him being named as the St. Vincent and the Grenadines Under-19 team's vice-captain to the Windward Islands tournament in St. Lucia.
His highlight performance in that tournament was against St. Lucia, when he stroked 205 not out from 245 balls, in which he counted 19 fours and 11 sixes.
Representing the Windwards Under-19 team that played in the regional tournament in St. Kitts, Douglas' all round performances, with both bat and ball, made him a key member of the unit.
As a member of the St. Vincent and the Grenadines Community College outfit in the Sir Garfield Sobers Cricket Festival in Barbados, Douglas notched up two centuries: 132 versus Presentation College of Trinidad and Tobago and 107 versus Harrison College of Barbados.
Douglas' 94 versus St. Leonard's of Barbados was another of his innings of note.
His contributions saw the St. Vincent and the Grenadines Community College reaching the semi-finals of the competition and an eventual third place.
The other nominees were volleyballer- Ronaldo Franklyn, swimmer Alex Joachim, and squash player Kai Bentick.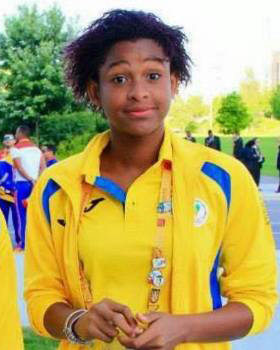 Junior Sportswoman of the Year, Shné Joachim, won a bronze medal in females 15 to 17, 50 metres breaststroke at the 32nd staging of the Carifta Swim Championships at the Betty Kelly-Kenning Aquatic Centre in the Bahamas.
She won the girls' 15 and over and also captured the 13 and over girls' sprint champion title at the FLOW Invitational Championships held in August.
At her base in Canada, Joachim, swimming in her favourite, 50 metre breaststroke, won gold in a cracking 33.33 seconds.
This time was the second fastest in Canada for a 16-year-old.
This was achieved for her Canadian swim club, Oakville Aquatics, at the Prairie Winter International (PWI) Swimming Championships in Winnipeg.
The other nominees were soccer goalkeeper, Altica Benn, table tennis player, Leah Cumberbatch, and track and field athlete, Ulanda Lewis.