Senior magistrate Rickie Burnett, on Friday, said he wished he had an alternative than to jail a man who has pleaded guilty to stealing two bunches of bananas from a farm.
He said at the Kingstown Magistrate Court that some persons have floated the idea that the convicted thieves can be ordered to work on the farms from which they had stolen.
Burnett, however, asked rhetorically who would want a known thief working on their farms.
The magistrate's agonising came as he presided over the case of Alwin Westfield, a Rose Place man, who had pleaded guilty to stealing two bunches of bananas from a woman's farm in Edinboro on Dec. 12, 2017.
The court heard that the virtual complainant knows Westfield quite well.
She had some lands on which bananas are planted and that had two bunches of the fruit on them.
The virtual complainant was in her shop when she saw Westfield in a neighbour's yard picking breadfruits.
She attempted to call the police, but Westfield left before she was able to do so.
Later that same day, she saw Westfield on her property with a white sack.
When she made checks, the woman found out that the bananas were missing.
Sometime later, she again saw Westfield with the white sack and the bananas.
The police were called in and Westfield was arrested and charged.
After hearing the guilty plea, the magistrate asked the man his age and occupation.
Westfield said he was 43 and unemployed.
"Well, we can't go further than this," the magistrate said.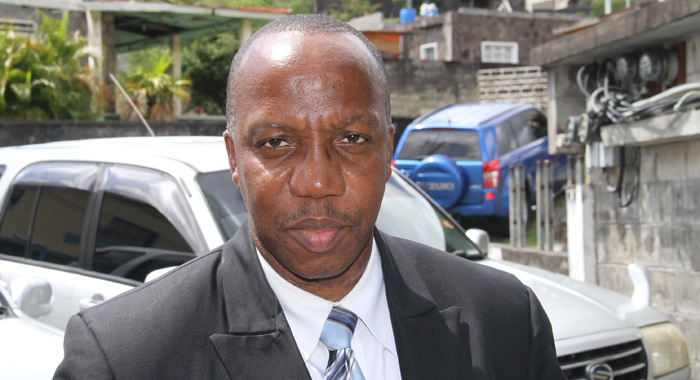 Burnett asked if Westfield had previous convictions and he said he had one for stealing five fingers fruit (carambola or starfruit).
The magistrate however said that the man's criminal record did not include such a conviction.
"What about mangoes from Imani [Pre-School]?" Burnett asked, and Westfield said that that was indeed the case.
The magistrate noted that in 2016 Westfield was fined for stealing the fruits.
Asked what punishment he thought he should receive, he asked the court to allow him to pay for the fruit.
"Well that is not going to happen today," the magistrate said, adding that he has been saying for a while that jail is his starting point for persons pleading guilty or convicted of theft of agricultural produce.
He said that there was at the bar table, the son of a part-time farmer, lawyer Ronald "Ronnie" Marks, and would like to hear his view.
Marks, who was not involved in the matter, told the court that his father was now a full time farmer.
He said that when many persons come to court charged with the theft of agricultural produce, they look at the value of the produce and not the impact on the farmer.
The lawyer said that theft of agricultural produce discourages persons from getting involved in farming.
"It is serious," he said, adding that he knows persons who have had to ask for help to pay for their children's education because thieves had reaped the agricultural produce that the farmer had planned to sell to do so.
Marks, who, like Burnett, is from Marriaqua, one of the two main agricultural districts in St. Vincent, said that thieves sometimes strike on the eve of when the famer plans to harvest.
He said that sometimes a farmer plants a particular crop and plans to make renovations or additions to their homes with the money the crop is expected to generate.
All their efforts go to nought and their dreams are shattered when thieves strike, the lawyer said.
It was at this point that Burnett said he wished he had other sentencing options.
"Mr Westfield, the court ordered you to compensate a farmer in 2016. In 2018, you have to go to prison for three months," the magistrate said.