The Flow "Get Pump'd" Carnival Monday band was launch on Saturday at Victoria Park, on the heels of the Carnival Development's Corporation's (CDC) official launch of Vincy Mas 2018 at the same venue.
The event showcased a number of sections and further heightened potential patron's expectations of what they could look forward to in the coming weeks and months.
Head of Island Network's Inc., Herric Horne expressed satisfaction with the attendance at Saturday's event.
Horne said he was pleased to see that the 2018 production, designed by Vincentian designer Peta Odini, was well received by the band's many patrons.
He said that the decision to patrons a variety in the section proved to be a wise one.
Speaking about the inspiration behind this year's Monday band, Horne said it was a team decision to "shake things up", adding that while many persons have grown accustomed to blue as the band's colour, there was a need to offer something different to patrons.
He said that in 2018, Island Network's patrons can expect an affordable Flow/Island Network Get Pump'd Monday Band package, adding that it is the most affordable Monday band package of such high quality.
He further said that the main focus of his team will be to pay close attention to their entertainment package, and further hinted that patrons can look forward to a few surprises.
Noting that his team is prepared to accommodate an even larger band this year, Horne said preparations are in place to cater to all of the bands patrons, as they strive to provide an ultra Monday band carnival experience.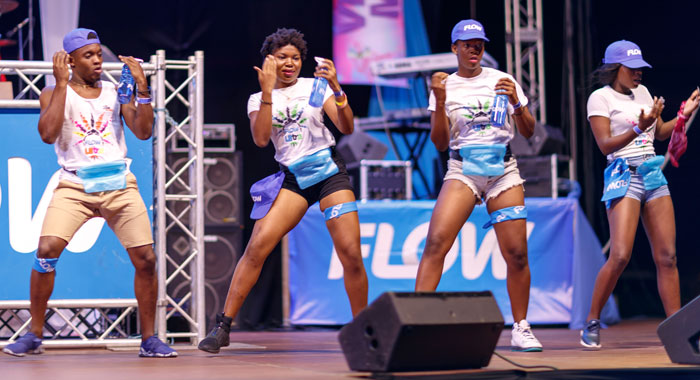 Meanwhile, echoing high praises to the efforts of the CDC for what he deemed to be one of the better launch events over the years, country manager of Flow, Wayne Hull said the showpiece of Saturday night was the presentation of the Flow Get Pump'd Carnival Monday Band.
He said that while the band offers a variety of a high-end and premium packages, the essence of the Carnival Monday Band is traditionally about the t-shirt aspect, and further noted that it is important for the company to maintain tradition.
Meantime, the launching celebrations continued with a corporate and media launch at Flow's main office in Kingstown. Hull expressed satisfaction with the positive feedback from members of the corporate entities.
Stating that it is all-hands-on-deck for the 2018 carnival season, Hull said that the carnival promotion has been structured specifically to cater to all sectors of the business line up.
He said it not only caters to new customers but also much is in store for the company's existing customers.
Carnival Monday is July 9.