But just not in person.
The 23-year-old former model, who was the focus of much public attention earlier this year after she was charged with calling Karen Duncan-Gonsalves, wife of Finance Minister Camillo Gonsalves a "dirty b**ch", has not been in St. Vincent and the Grenadines for months.
Yugge Farrel's appearance at the launch of Vincy Mas 2018 at Victoria Park last Saturday came in the form of a song by calypsonian Michael "Lord have Mercy" Olliverre.
In the rendition, "Evaluate Them Too", Ollivierre called on the relevant authorities to evaluate other persons as had been done to Farrell after she was charged.
Farrell spent almost a month in court-ordered psychiatric evaluation after the charge on Jan. 4.
The fact that the prosecution had given no evidence to support their application angered many across St. Vincent and the Grenadines and the region.
After her charge, Farrell claimed that she had been in a years-long relationship with Camillo, which she ended in 2016.
Amidst this claim, the opposition New Democratic Party called on the finance minister to explain himself or resign.
At least on this issue, however, the finance minister seems to be following the advise of his father, Prime Minister Ralph Gonsalves to maintain "a dignified silence".
https://www.youtube.com/watch?v=Ruy2DAagyzs
In his song, Ollivierre said that some persons were lucky in the past, so he was asking for retroactive evaluation for them.
Among them, he mentioned the Morgans — the pastor his wife and daughter, who were last week Monday, April 30, jailed for four years for dousing a man with hot water two years earlier.
The calypsonian, who seemed to have encountered some challenges remembering some lines of the song, called for an evaluation of the politicians with two families, the woman who prayed for a tsunami, and "the consulate man with the passport issue"
"That married MP with the new outside baby," Ollivierre said, should undergo evaluation too.
"Please help that lady, she needs care and therapy; plenty people out there just like she," Ollivierre sang of Farrell.
He, however, did not deliver the entire song, telling patrons to come to the tent show to hear the full version.
Farrell is to return to court on Dec. 17 to answer the charge against her, for which she had initially pleaded not guilty.
Two of her close relatives told iWitness News recently that the former top model is doing well overseas.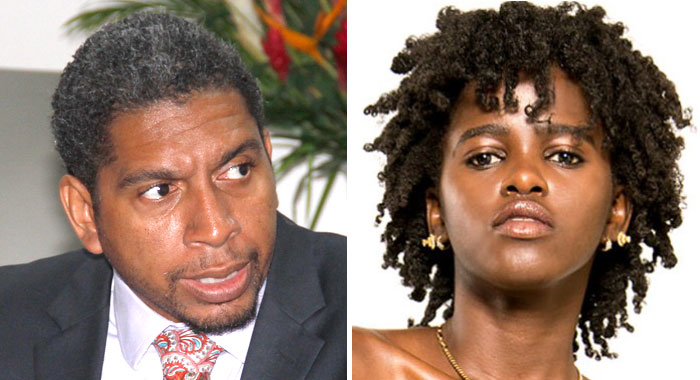 Saturday's launch of Vincy Mas included speeches from chair of the Carnival Development Corporation, Rickie Admas, and Minister of Tourism Cecil "Ces" McKie, who promised patrons an even better festival this year.
The event included the first official public appearance of the contestants in the Miss SVG 2018 pageants, slated for June 2.
https://www.youtube.com/watch?v=ODYKGBx5oTU&t=2s
Patrons were also treated to samples of sections from 13 mas bands.
https://www.youtube.com/watch?v=mMEeTac0cfQ
There were also steel pan music and samples of soca renditions for this year's festival.
https://www.youtube.com/watch?v=IQb7Ll0QoDc