Murder victim Brenda Layne was buried in her adopted hometown, Chauncey, on Sunday, after a funeral in her birth village, Rillan Hill, in which two women called for an end to violence.
Layne, a 48-year-old mother of six who was a security guard, died after being stabbed in the neck in Kingstown around 7 a.m. on Aug. 20 as she made her way home after a night shift.
The fatal stabbing of Layne was caught on surveillance footage and the recording suggests an unprovoked attack in which a man attacked her from behind and inflicted what would be a single fatal stab to the neck before immediately running away from the scene.
Kesean Cain, a 19-year-old resident of Diamond, has been charged with murder in connection with Layne's death.
He was remanded in custody after his initial court appearance last week and is scheduled to appear at the Serious Offences Court in Kingstown today, Monday, to hear the date for a preliminary inquiry.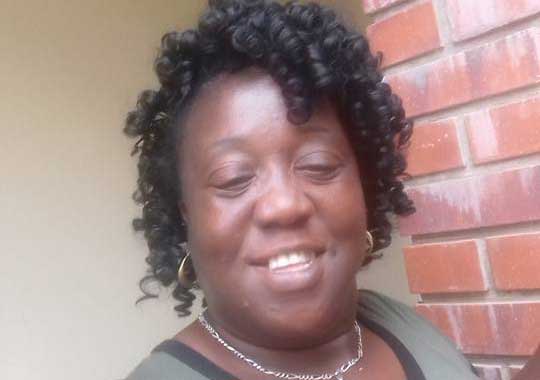 Speaking at the funeral at the Rillan Hill Church of the Nazarene, Loren Dabreo, a health worker at the Campden Park Clinic, said that she was familiar with Layne's face for some time, but got to know her when she attended the health care facility about three weeks before her death.
"And I looked at her and that smile. I can remember that smile," said Dabreo, who went on to speak about her shock at the woman's death.
"When it happened, I said, 'No. That can't be. Another one? And this time, a woman," she said of Layne, a mother of six, who became the 21st of SVG's 22 homicide victims for 2018.
"And you know, sometimes we, as women, we will hear these things happen to other women and we would just take it that it's just another one. We get so accustomed to what is happening," Dabreo said.
"But, I am here to remind us that we are living in the last days and the Bible says that the enemy is here to kill, to steal and to destroy. But what must we do? Should we allow him? We should not allow him.
"And, you know, in our country, I think, as a woman — the book of Joel said that mothers will be crying for their children. And this afternoon, we have children crying for their mothers.
"And my slogan here, as I stand here looking at this coffin for Brenda, and I hope it will be the slogan for all of us as we leave this place that it is time that we end violence now. And let us not sit back as women anymore but let us get up and go out and rally with our placards and say let's end violence now," Dabreo said.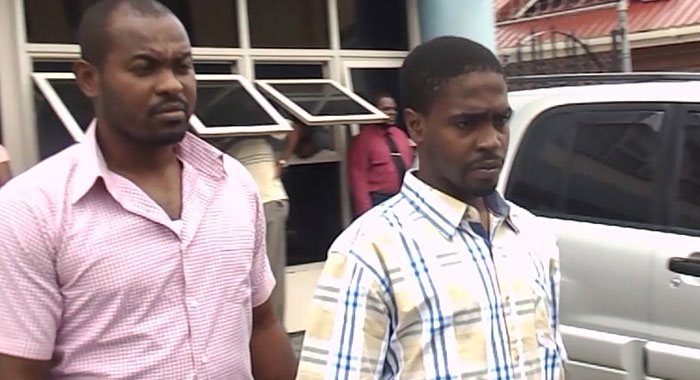 A detective escorts Kesean Cain, left, after his court appearance last week Monday. He has been charged with Layne's murder.Dabreo's call was supported by foreign service worker Doris Charles, who, speaking separately, extended condolences on behalf of the Ministry of Foreign Affairs, Trade and Commerce.
"This was really a shock, but I want to joint with Sister Leddie when she says end violence now," she said, referring to Dabreo by the name by which she is commonly referred.
"It begins with us, it begins with how we begin to control our children, how we begin to sit with and deal with conflict — conflict resolution within our family setting and pray God that we continue to heal. I know I am speaking to the converted here, but there are elements on the outside who trouble us sometimes. Let's continue to hold each other up in prayer. God is a god of justice as well and one day, he will come and we must watch and be ready."
At the funeral, Joseph Layne remembered his sister as "a hard-working woman, always smiling no matter what she is going through.
"This afternoon, everybody here is still asking themselves why, including me.  Once more, God knows why."
He said his sister did not have an easy life and had to struggle and worked hard.
"Even to the last minute that she was alive, she was coming from work, tired. So, you all know the night shift, how it goes. You work all night, you are tired, you want to go home and rest. That's what she was doing. But only God knows why."
Layne said that his sister's death should be a reminder that there is a God "and there is a place that we ought to live for: eternal life.
"We ought to be ready for when he comes, because he comes like a thief in the night and we ought to be ready… That's why we ought to live for God," the grieving sibling said.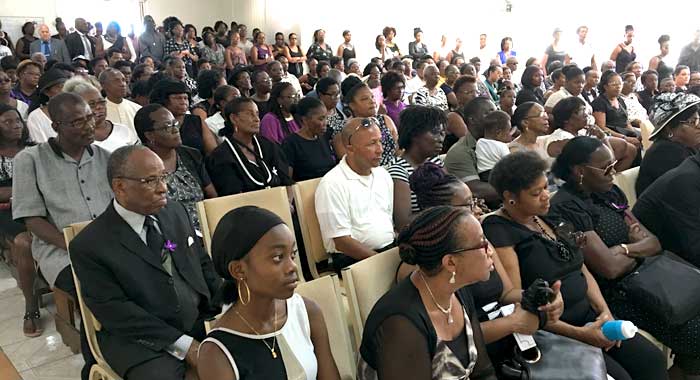 Meanwhile, Member of Parliament for Central Leeward, Sir Louis Straker noted his relationship to the deceased, saying they are great grandchildren of two sisters.
"I want to encourage us in the words of the Psalms: 'God is our refuge and strength, a very present help in trouble'," said Straker, who is also deputy prime minister.
"I know this is a grievous burden you have to carry. If Brenda was sick, you might have conditioned your minds that she would go one day, but to be snatched away so suddenly for no reasonable excuse, it is a tough one to bear.
"We can only say, like Paul, 'What shall we then say to these things? If God be for us, who can be against us and no one can separate us from the love of God?'" Straker said.
Meanwhile, one of Layne's former co-workers who attended the funeral in the uniform of Humble Security Services, where she worked, used the opportunity to make a confession.
"I know Brenda since in the 80s… Brenda was always a quiet girl; very quiet. I am going to say something here this afternoon. I did love Brenda but I never said anything," he said to raucous laughter.
He said that he believed that he would have been successful if he had wooed the woman.
"I believe I didn't have any problem because the three brothers would have given me a thumbs up, her mother, she knows me by the name of Danny, but she affectionately called me Dano…," he said, noting that he used to have lunch at Layne's mother's cook shop.
Grace Layne-Joseph, the oldest of the deceased woman's children, told mourners that since her mother's death she has seen how great God is.
She said the death of her mother has provided an opportunity for her and her siblings to draw closer to each other and to God.
"I see my mother's death as a wake-up call. Most of us claim that we know him (God), but, beneath it all, do you really, really know him?" she said.
And, in his sermon, Reverend Kelron Harry, superintendent of the Windward Islands District of the Church of the Nazarene, said that while death is certain, it can also be unexpected.
"And in this case, I can tell you I did not know that Miss Layne was my family. But when I heard about the circumstances surrounding the death, it hurt me to the core.
"When I heard about what happened, I listened and I said, 'This is almost impossible. This should not happen any place anywhere at any time. No one should suffer such a fate.' But, if we are dwelling in a perfect world, then that would be the case."
The pastor said the world is one in which bad things continue to happen to good people and where people are hurt undeservingly.
Harry said that even though death is certain, he offers the consolation that the resurrection is also certain, noting that the bible says that after death there is a judgement.
"So, it means that when we pass from this life, through death, there is a life that comes after, where you are conscious and you know what is happening, where you will give an account for what you have done….
"Death has lost its sting when we come to know Christ because we boldly know that we are saved. We know we know. So, you don't have to know a lot of things, I submit to you, but you need to know Jesus Christ as lord and saviour…
"I am telling you, if you try to work out now why our sister Layne died in such a way, you will never get the answer. You have to take by faith that song that says, farther along you will know all about it. Farther along, you'd understand why. So right now, cheer up, live in the sunshine, because if you focus on those things you don't understand, you will forever be confused, you will forever be tormented.
"For now, know this, that God is still in control, and he has a plan for us all in this," Harry said.