A man was shot and killed in Diamond Thursday night, one day after police made a major gun and ammunition bust in the area.
Police are said to be investigating whether there is a link between the death of the man, Shaldon Bynoe, 37, of Victoria Village, and the arsenal they unearthed one day earlier.
Initial reports are that Bynoe was shot and killed close to the area where police netted five firearms and scores of rounds of ammunition in what they told the media on Thursday was an intelligence-driven operation.
Bynoe's death brings to 34, the homicide count in St. Vincent and the Grenadines for 2018.
At Thursday's press briefing, police said they had five males in connection with the find of guns and ammunition.
However, Deputy Commissioner of Police, Frankie Joseph, told the media that police were yet to charge anyone in connection with the bust.
Chief detective, Assistant Superintendent of Police, Hezran Ballantyne, speaking at the same press conference, said that investigations were ongoing.
"Presently, we have five persons on inquiries in respect of the operation that was done yesterday. And the age group ranges from 20 to 40. Just males," Ballantyne said, adding that they are all Vincentians.
Joseph said that there are times when operations are conducted but it is not possible to charge anyone because of where the findings are made.
"And one of the things that we do not practice is illegal charging. We are only going to be charging anyone for an offence if we have the evidence to charge them. One of the things that we have never practiced is to pad any charge just to get someone to go before the court," the deputy police chief said.
"We are very glad that we got these five weapons and all this ammunition off the street. We would have loved to have two, three or even one person charged at this moment and going to court. But that is not the case. We are still conducting investigations and if we have enough evidence to charge, then we are going to proffer the charge."
He said the weapons were found "in different locations.
"I am not going to say directly that they were found in a house or in a kitchen or whatever."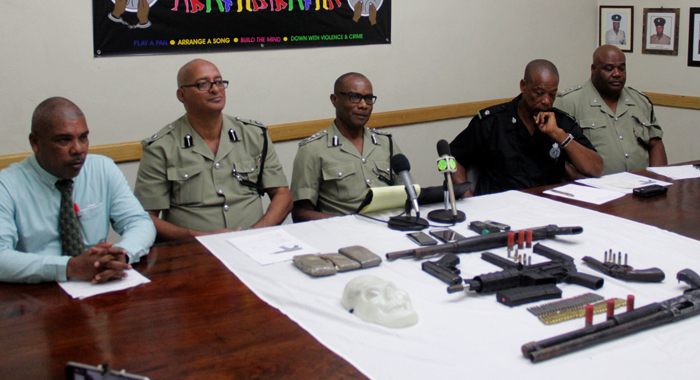 Joseph said that the operation that netted the firearms and ammunition was intelligence-driven.
Police recovered two 12 gauge shotguns, one MK1, one 357 Magnum pistol, and one Glock 23 pistol.
The police also recovered one white mask and 56 rounds of 5.6 ammunition, eight rounds of Glock ammunition, and 6 shotgun rounds.
The bust also includes two extended magazines, which is outside of the normal size that the Glock carries and is illegal for possession by civilians in St. Vincent and the Grenadines.
Joseph said: "Getting five firearms off the street and especially the calibre of firearms that we have here …, it has to be a big bust. Because these are five firearms less on the street, whether to threaten, maim or take the lives of citizens of St. Vincent and the Grenadines or foreigners, along with this ammunition. So it must be a big bust. If we get one firearm off the street, it is a big thing. And think about that: we got five.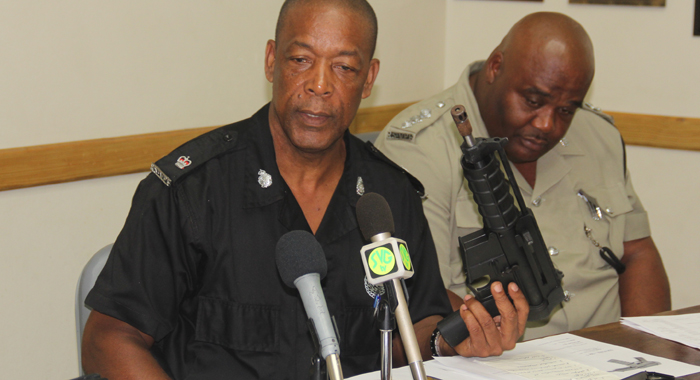 Superintendent of Police, Timothy Hazelwood, head of the Rapid Response Unit, said one of the main weapons of interest in the bust is the MK1.
He said that the maximum range of the weapon is 550 metres (1804 feet) and the effective range is 100 metres (328 feet).
"This weapon can also fire just like a pistol. You can actually told it and fire it, just like a pistol," he said, holding the firearm with one hand.
"On automatic, like we see on television; they just spray," he said.
Hazelwood said that the weapon uses 5.6 ammunition, just like the M16 and M4 rifles.
"This is built for many different conditions," he said, adding that the round on display can also be used in salty conditions, such as in the sea.
Meanwhile, Assistant Commissioner of Police in Charge of Crime, Richard Browne said that the Mk1 firearm carries a magazine that has a capacity of 30 rounds, just as the M16 or M4 rifle.
The find includes a white mask, and some taped packages containing paper, which police believe are used by criminals to deceive each other.