Hot FM continues to dominate radio in St. Vincent and the Grenadines (SVG), according to the latest survey by Systematic Marketing and Research Services Inc.
The latest poll, conducted between Nov. 2 and 19, 2018, found that for daytime broadcast up to 6 p.m., Hot FM led in 15 of the time slots, while NICE Radio led in three.
Regarding overall share for daytime radio, Hot FM was also on top, with 37 per cent, followed by NBC Radio (16 per cent).
NICE Radio was third, with 15 per cent, followed by Xtreme FM (11 per cent), WE FM (8 per cent), Praise FM (4 per cent), Star FM (4 per cent), Boom FM (3 per cent), Hot FM (2 per cent) and Magic FM (2 per cent).
Manager of Hot 97, Luke Boyea, told iWitness News on Wednesday that the station has been on top since 2004, about three years after it came on air.
He said Hot 97 performed better during the last review than the previous one which was done about three years ago.
"We went up a little bit. There were a couple of new entrants in the market. They were actually there during the previous survey but now they have a full three years or four years in one case and despite what they say, despite what they think, they haven't really made an impact on the market," Boyea said.
He said there is a lot of "evidence on the ground" showing clearly that events promoted via Hot 97 have always done better than those promoted elsewhere.
Over the research period, 500 interviews were conducted and accepted with a selected individual from a selected sample of households.
The fieldwork was conducted in each parish according to the proportionate population distribution within the parish, the research agency said.
Of those interviews, 482 or 96 per cent said they have listened to radio (87 per cent) or watched television (84 per cent) during the conduct of the survey.
This sub-sample was defined as the active media audience.
Hot 97 dominated the important morning segment between 5:30 a.m. and 9 a.m., attracting 38 per cent.
They came out ahead of NBC Radio (15 per cent), which was followed by Xtreme FM (11 per cent), NICE Radio (10 per cent), cable television and WE FM (6 per cent), Praise FM (4 per cent), Star FM (3 per cent) and, Hitz FM (2 per cent).
Boyea said that 2 Cool Kris, one of the hosts of AM Mayhem — SVG's favourite radio programme, according to the survey — "is one of the big advantages.
"He is just popular. A wildly popular fella," Boyea told iWitness News.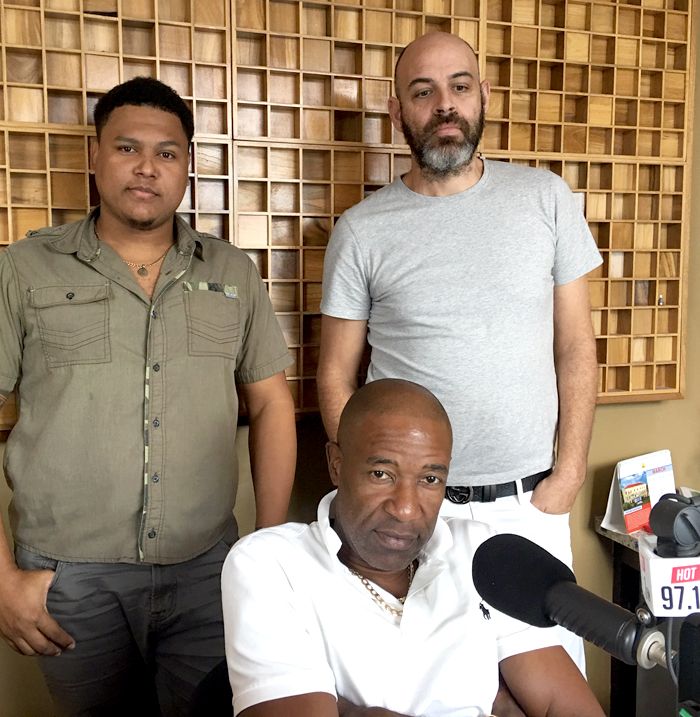 When asked what is their favourite radio station, 42 per cent of respondents said Hot FM, while NBC and NICE Radio tied with 13 per cent.
Xtreme FM had 10 per cent, WE FM 7 per cent, Praise FM 4 per cent, Boom FM 3 per cent, and Hitz FM 2 per cent.
Boyea told iWitness News:
"Ultimately, we are a populist station in terms of what the narrative of the country is, what drives our programming. We have stayed focused on the core market, the under 35s, always been up to date with the music, have always been cutting edge on the music; have always been the station that breaks new artistes locally as well; always been driving those youngsters."
Boyea said that the station has always tried to do the biggest shows but have also always tried to lead the country in terms of "a progressive agenda".
"What I mean by that is that there is a movement in the country on certain issues and I think we tend to recognise it before everybody else and give voice to it.
"They are not always the most popular views," he said, adding that the station has always promoted tolerance, including on marijuana, entitlement to and respect for all religious beliefs.
"We believe in a society that is tolerant, has comprise in it and we have tried to give voice to that, and I think people appreciate that."
Last year, the station came in for some criticism when it did a live broadcast with a group of cross-dressing men, said to be gays.
"They live in our society. Why do we pretend otherwise? And, again, it is not to tell people they have to believe in it or they have to agree with it, but you have to accept that it's a reality. It's there. Why pretend otherwise?"
The station also dominates drive time programmes in the afternoon, and Boyea gave credit for this to Pit Bull.
"People don't see it but we have a very stable team. The core of 97 has always been stable. We don't make any crazy, drastic changes. We have always had a core stable team, backed up with the youngest, hottest DJs in St. Vincent."
He said that DJ Blaise joined the station a year ago "and has really done wonders".
However, residents of SVG switch from radio to television from 5 p.m. to midnight, with cable television (supplied by FLOW) having 33 per cent of the audience between 5 p.m. and 7 p.m.
This is followed by Hot FM (10 per cent), NICE Radio (5 per cent), Xtreme FM (5 per cent) and other stations each with less than 2 per cent of the listenership.
Television also dominates the 7 p.m. to 10 p.m. time slot, with FLOW having 36 per cent of the listeners, ahead of SVG TV (28 per cent), Hot FM (5 per cent), NBC Radio (4 per cent) Nice Radio and Xtreme FM (3 per cent).