Prime Minister Ralph Gonsalves has made it clear that is wrong to discriminate against someone on the basis of his or her hair.
His comments on Xtreme FM on Tuesday came as he was asked his view on the ongoing situation at the St. Mary's Roman Catholic Primary School, where a 6-year-old non-Rastafari girl has been told that she must cover or cut her dreadlock or seek education elsewhere.
The child, who is in Grade 1, is into her second year at the school, which has a policy that Rastafari students must cover their hair while attending classes.
The child's mother, who asked that neither she nor the child be identified by iWitness News, said that she locked up the child's hair in response to her eczema, which, she said, was being aggravated by frequent combing.
The mother said that she tried to comply with the policy at the beginning of the term, but heat from the headwear was aggravating the child's skin condition.
Gonsalves, who is also Roman Catholic, said:
"I am not going to talk about the actual situation. What I am going to talk about generally, we have long established, you can't discriminate against somebody on the basis of their hair. A child is going to a school, once the locks are kept clean, that's the important thing. So it's a matter, as far as I am concerned, of hygiene. Simple. Simple. That's all."
He said that in relation to a prisoner, a security element arises "because you can fold up a razor blade inside your hair, inside of what, as they call it, your 'natty'.
"You can put some device of some kind in it. Those are different considerations. But you can't — in this case, I understand that the child is not Rastafari and there is a particular health reason why they are growing it in this particular manner," said Gonsalves, who also has ministerial responsibilities for national security and legal affairs.
The prime minister said he does not want to talk about the particular case of the child — who is into her second week away from classes because of her hairstyle.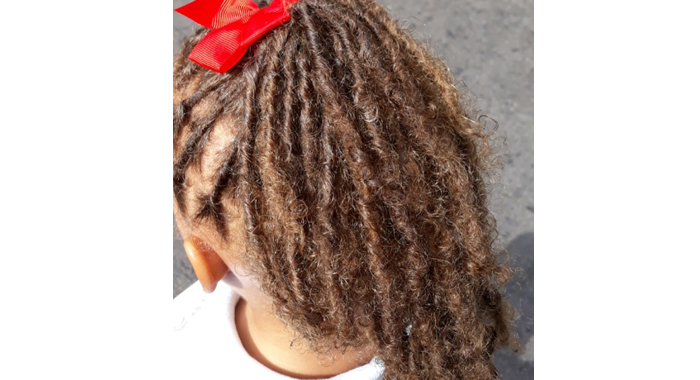 "All I could talk about [is] the general case. And always in these matters and when it involves children, they must always be handled with the utmost sensitivity because you can affect a child adversely if the matter is not handled with sensitivity. So, I think from the way I have spoken, you know where I am on the issue, but I can't speak on the issue. Or you get an idea as to where my judgment would fall on the issue," Gonsalves said.
The child's mother told iWitness News on Monday that she did not wish to comment further on the issue at this time.
She had said last week that she would have taken a medical certificate to the school proving the child's skin condition and the impact that covering her dreadlocks is having on them.
The school has declined iWitness News' request for a comment on the issue.
When iWitness News visited the school last Wednesday, a female teacher was wearing a hairstyle in which a synthetic material was woven into her hair to look like dreadlocks.
The school, apparently, had no objection to the fake dreadlock hairstyle being openly displayed, but is firmly against genuine dreadlocks being displayed on its premises.
One past student of the school told iWitness News that when he attended 30 years ago, his schoolmates included members of a Rastafari family, who did not have to cover their dreadlocks while at school.
The past student felt that the policy was retrogressive for a school that had pioneered the way in giving teen mothers a second chance at a secondary education at a time when they were expelled from state-owned schools because of their pregnancy.