The highly anticipated Guinness Pool competition in St. Vincent and the Grenadines begins tonight (Friday) at West Side Bar at Cemetery Hill, Kingstown.
Speaking at the launch at the St. Vincent Brewery, Kelvin Franklyn said his company is excited about the competition, which is dubbed the "Guinness Rack It Up Pool Tournament 2019".
He said Guinness is the premium stout in SVG and every year, it has its own platform where the brand is positioned to ensure that consumers enjoy the brand.
"And pool is one of the way in which we position Guinness every year," Franklyn said, adding that there are very attractive prizes.
The preliminary round will be conducted at eight outlets across St. Vincent and in Bequia and the winner of each preliminary round would win EC$600.
"Of course, the winner of the preliminary rounds will climax in a final round where they will vie to win a $6,000 cash prize. Added to that, we will have lots of giveaways, lots of interaction by the Guinness promotional ambassadors so these games again this year are going to be very exciting and made of more, as per usual," Franklyn said.
Meanwhile, Seon Ballah, speaking at the same launch said that the company continues each Friday as follows: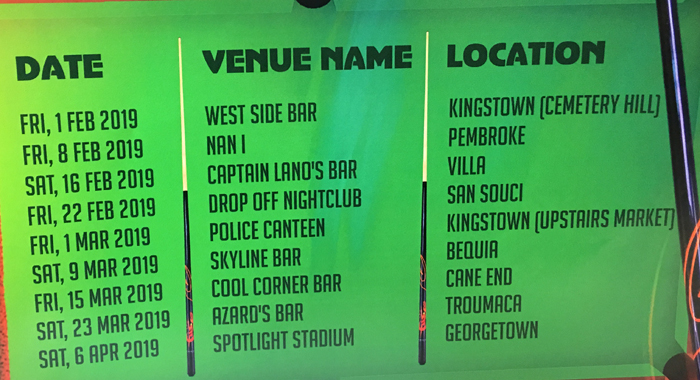 He said that organiser is focusing on an on time start this year.
"We are asking players to come out at 6 p.m. on the competition night to register and it (registration) closes at 7 p.m.
"Any player who comes after 7 will not be registered and that's why we are asking persons to come out between 6 and 7 to register," Ballah said.
He said players register by purchasing three bottles of Guinness at the cost of $12.
The best of three games move on to the next round until the overall winner is decided.
Ballah said there is a supermarket aspect of the competition, where consumers can purchase a six-pack of Guinness at a reduced price.
The consumer then writes their identifying information on the receipt and drops it in the box provided, to be entered into a draw.
The winner will get a Guinness branded fridge filled with Guinness.
"And last year it was a very big hit and this year it is going to be even bigger with the winner of this promotion."
Ballah said that the organisers were asking patrons to come out early as they want to have the game finish "in a reasonable time" so patrons can party and enjoy themselves after.
He said that Guinness would be on special at all nine games and there will be giveaways and consumer prizes of Guinness.
"This competition is a very big hit among the pool players of St. Vincent. They are looking forward to it. They are already asking when is pool going to be launched," he said.