Minister of Health Senator Luke Browne, on Sunday, denied that a healthcare worker contracted tuberculosis as a result of caring for a patient at the Mental Health Rehabilitation Centre (MHRC).
His statement is in contrast to one by opposition legislator, Daniel Cummings, who presented to the media last week, information that appears to contradict the claim by the Ministry of Health that there are no active cases of tuberculosis (TB) at the MHRC.
"The healthcare worker who was the subject of the memo from the DMO to the CMO did not have active tuberculosis," Browne told iWitness News via email on Sunday, in response to a request for comment.
"The facts on this score were well ventilated. The Prime Minister, during his contribution to the debate on the budget, made a statement signed by the Medical Officer of Health, the Senior Nursing Officer with responsibility for the Mental Health Rehabilitation Centre and the Infectious Disease Specialist on this subject," Browne said.
The Feb. 7 statement said "one patient with history at the institution recently died from complications of tuberculosis and other medical conditions at the Milton Cato Memorial Hospital.
"As with all infectious diseases of this nature, contract tracing was initiated, and this [led] to patients and staff at the Mental Health Rehabilitation Centre being screened," the statement said.
"The screening showed no cases of active tuberculosis," said the statement, which was signed by Medical Officer of Health, Dr. Roger Duncan, Senior Nursing Officer with responsibility for the MHRC, Elizabeth Medford, and the Infectious Disease Specialist at the MCMH, Dr. José Davy.
At a press conference on Wednesday, Cummings read from a Jan. 30, 2019 note that a district medical officer sent to the chief medical officer supporting a health care worker's application for leave as a result of a positive tuberculosis test.
"And, again, my intention here, is the protection of people's privacy," said Cummings as he decided to read an excerpt of the communication after being repeatedly challenged by the media to provide evidence of his claim.
"On the 27th of January, the mother of two in question consulted me with her reported remarkable Mantoux test," Cummings quoted the memo as saying, adding that he had left out the name of the patient, that the test is for TB, and "remarkable simply means that the test was positive.
"They were both anxious and very concerned about the occurrences detailed. [The lady] stated that she was duty-bound to be constantly in close contact with a tested positive active TB/other infection male patient recently deceased. This, understandably, further compounded their anxieties," Cummings further quoted the report as saying.
He explained: "This is the doctor writing to the chief medical officer who apparently was challenged for requesting leave of an employee of the mental health institution who was traumatised on learning that a patient, that this patient used to bathe and take care of died of active TB. And she was not told and she was not given any protection."
Cummings said that the health worker's motive for requesting leave was challenged and the doctor resorted to providing the chief medical officer with additional information, which justified his action in offering leave to the patient.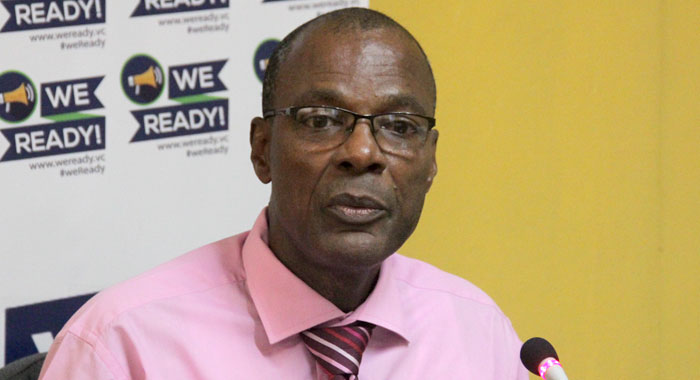 Cummings's revelation comes in the face of a Ministry of Health report that there is no outbreak of active tuberculosis at MHRC, but some persons have been found to have latent tuberculosis.
Cummings said there was a male patient at MHRC who was disposed to be susceptible to the disease because of other ailments.
"And I am carefully choosing my words without exposing any individual. This is one case, mind you. One case I am dealing with. There are other cases, but this individual, demonstrated for two straight weeks all of the clear signs and symptoms of somebody with active TB.
"Continuous coughing and discharging blood, and known, as I said to be in the vulnerable group, yet nothing was done: nothing given to those who had to care for him to protect themselves, no information passed to the public, to visitors, or to the staff of the institution, those people were allowed to be exposed. Those workers were allowed to go back to their families after having been exposed. And the nation was not told that there was a problem of TB at the mental health institution.
"You understand my anger at this when there comes denial and denial in no less a place than in the House and challenging me," the opposition lawmaker said.
The health minister Browne denied, in Parliament, Cummings's claim that there were active cases of TB at the Mental Health Rehabilitation Centre.
But Cummings told the media:
"I can give you the name of that patient. I can tell you of how workers at that hospital were traumatised and went to their own doctors to find relief and treatment and counsel.
"Yet only when that patient died and the mandatory test was done that shows that he had active TB then they tried to do something. Not coming to the public and admitting that there was a problem so that those who are going to the institution would know the cautions they have to take. No, that can't happen. Everybody must be coerced into stating that all is well, quite literally, when it comes to TB In this country, when everyone of them ought to know that that is not correct."
Cummings said that the ministry's denial comes at a time "when so many other doctors in this country have been treating active TB cases but are constrained by their professional ethics from going public.
"It is against that background that I find this behaviour by Senator Luke Browne to be so reprehensible. This is not a matter for stigmatism [sic]. This is a matter for effective management."
The ministry's statement saying there were no active cases of TB at the MHRC came after iWitness News told a Ministry of Health official on Jan. 25 that we had received information about a TB outbreak at the psychiatric hospital.
Sources in the know had told iWitness News that over 200 patients and staff had been tested for TB and over 80 of them tested positive.
The source, however, had not said whether the positive tests were active or latent TB.
Latent TB shows no symptoms and cannot be passed from one person to another.
At the press conference, Cummings said there are several categories of people who are always at higher risk with respect to TB.
Among these, he mentioned the young, the elderly and people whose immune systems are compromised due to illnesses such as HIV/AIDS or a medication administered that, in fighting a condition, lowers one's immunity.
He said that TB is also more problematic for people who live in a closed-in environment, including persons in prisons.
He said the conditions at the Mental Health Rehabilitation Centre are well-known, adding that they allow for the easy spread of the disease.
"Because you are literally in the face of your neighbour 24-7," he said adding that there are people who move between the prison and mental health institution regularly.
"There are people who move in an out of the mental health institution from being on the street. Nurses and medics have to work in the mental health institution. Family members of patients have to visit the institution from time to time."
Cummings said he was saying all of this to show how possible it is for TB to become effusive in the community once there are active cases.
"I hasten to add, the evidence is that once you have been diagnosed and you start the prescribed course of treatment, which you ought to take continuously over a period of time within a reasonable time, the chance of your spreading this disease could be reduced to almost zero.
"In other words, my dear Vincentians, this is a disease if properly and effectively managed should not spread fear in the country," he said, but added that there is a certain protocol to be used whenever there is evidence of active tuberculosis.