A 20-year-old man who three years ago struck his 49-year-old neighbour in the head with a stone over a response to a gay taunt has been given an opportunity to turn his life around.
Justice Brian Cottle on Friday handed down a sentence of one year and six and a half months on Kishroy "Orchard" John, but suspended the sentence for two years.
As John walked out of the court, he was greeted by his high school principal, John Renton, who had told the court that the youth was able to graduate Thomas Saunders Secondary School with passes in four subjects, notwithstanding his 27 per cent attendance.
Outside the courtroom, John, whose mother was murdered when he was just 10 years old, was greeted by a bubbly woman, who seemed on the verge of tears as she held him in a tight embrace.
The woman, in turn, took into her bear hug, Renton, and John's lawyer, Patina Knights.
John was initially charged with the Sept. 28, 2016 murder of 49-year-old Winston Sinel "Bono" Williams of Campden Park.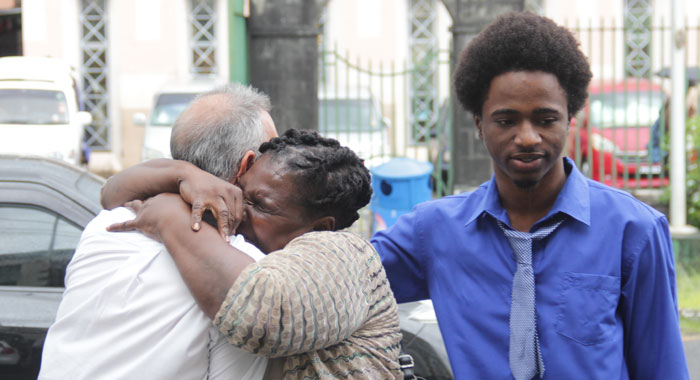 However, on Feb. 18, 2019, he pleaded guilty to the lesser charge of manslaughter.
According to the fact as agreed by Crown Counsel Tammika Da Silva-Mc Kenzie and Knights, Williams lived near John, who, at the time of the offence, lived at Campden Park with his father and two brothers.
John and Williams got along well and Williams assisted John during his secondary school years with uniform, books and other materials and, occasionally, even shelter.
Sometime during the morning of Sept. 25, 2016, Williams and John were at their respective homes when an argument broke out between them wherein, John called Williams a "b*llerman".
During Friday's sentencing hearing, Justice Cottle noted that this is a particularly pejorative term used in St. Vincent and the Grenadines to denote people who are gay.
"It must be noted that, unfortunately, some members of our society's attitudes, in St. Vincent and the Grenadines, towards homosexuality, especially in men, are still widely homophobic. And with that in mind, the response of the deceased man to that taunt by the prisoner caused the prisoner to lose his self control, because the deceased replied: 'If me is a b*llerman, me b*ll you already and the t*ne burn your bottom'.
The persons who were in the vicinity heard the exchange and were laughing.
This appears to have aggravated John, who immediately took up an oval stone approximately 3 inches in length, from the ground and pelted it at Williams, who was at the time in his porch heading into his house.
The stone struck Williams to the back of his head and he fell face forward into the doorway of the house.
John went home, spent about a minute and then ran off the scene.
Neighbours went to Williams' assistance and met him lying face down with blood coming from his ear, mouth and nose.
Police at Questelles were summoned and they took Williams to the Milton Cato Memorial Hospital, where he was warded at the Intensive Care Unit until he died on Oct. 1, 2016.
John turned himself into the Questelles Police Station and told detectives:  "Officer, the man say he b*ll me and I get vex and pelt the stone after him and I don't know if the stone catch him, but I see he fall.  I am sorry it happen so, I regret."
In an electronic interview with police on Sept. 27, 2017, before Williams died, John told the court that he and Williams had a good relationship and the older man assisted him in going to school and other things.
He however, said that when Williams, who he also called "Skin-head" and "Bodoo", would drink, the deceased would curse and ask back for the things he gave to him.
John told detectives that on Sept. 24, 2016, Williams was drinking and cursing and even threatened to stab him.
John said he was going to the Questelles Police Station to report the threat, but met a friend along the way and went to the poolroom and played pool instead.
He did not go to the station to report the matter.
The morning, John got up sometime around midday and Williams was cursing and asking for his things. This led to the argument that resulted in Williams being struck in the head with the stone and his subsequent death.
A post mortem concluded that Williams died of "blunt trauma to head with severe brain injury"
In his sentencing, Justice Cottle noted that John has had a difficult upbringing and at one point, both of his parents were in prison.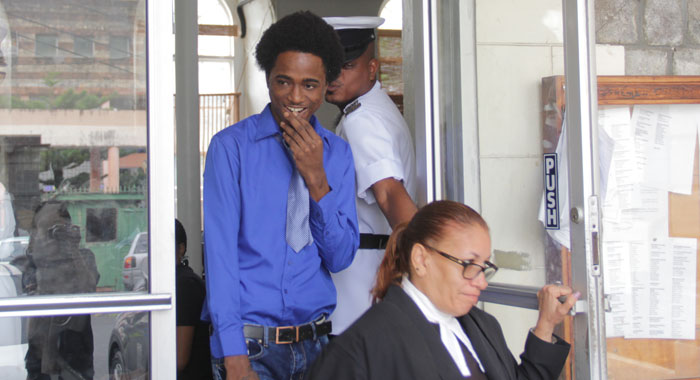 When his mother was released, he went back to live with her, but when he was 10, she was murdered at their home.
His father was an alcoholic who paid little attention to the children, who survived on the goodwill of relatives and friends, including Williams.
John has two young brothers, the judge said, noted that he was able to complete his secondary education, passing four subjects, notwithstanding his poor attendance.
John had also opened a shop to help support his younger brothers, the judge noted.
Justice Cottle said that the objectives of sentencing are well known, namely, retribution, deterrence, prevention, and rehabilitation.
He said that the court of manslaughter is serious because a life has been lost, and the laws provide for a sentence of life imprisonment, with the Court of Appeal setting a benchmark of 15 years.
He said that the law in the United Kingdom offers some sentencing guidelines in cases of manslaughter by provocation, and takes into account the level of manslaughter.
The judge said that in cases such as John's, where there was a high degree of provocation over a short period of time, the UK court sets the starting point at three years.
He said that John was not yet an adult at the time of the offence and had had a hard and traumatic childhood.
He was also faced with his neighbours laughing at him at the thought that he had been the victim of a previous homosexual act.
"It was then that he lost his self control and used a stone to cause the death of the man who had helped him in his earlier life. It was only a single blow to the deceased that caused his death," the judge said, adding that John cooperated fully with the police and had expressed remorse for his action.
John has no previous conviction and pleaded guilty at the first opportunity at which he had the benefit of counsel.
The judge said that all those are matters that go toward mitigation and the only aggravating feature is implicit in the offence itself: a life having been lost.
He said he did not think the starting point of 15 years set by the Supreme Court was applicable in John's case, as he was sentencing a juvenile.
Cottle started with a sentence of 10 years from which he deducted four years for the mitigating features.
He also deducted the one-third applicable for the guilty plea and then the 2 years, 5 months, 12 days that John had spent on remand.
John was left with a term of one year and six and a half months' imprisonment, which the judge suspended for two years.