St. Vincent and the Grenadines' top performer in the 2019 Caribbean Primary Exit Assessment (CPEA) says she was able to achieve her goal of acing the exam by finding a healthy balance between studying and relaxing.
"When I came home, instead of going straight to the books, I had an hour or so on my device and then after that hour, I went to study," 11-year-old Seanté Zelika Sade Marshall told iWitness News at her school on Monday.
The Kingstown Preparatory School student took the top spot with an average of 96.8 per cent.
Kate-Lynn Meeliah Bobb of the Stubbs Government School took the second position with an average of 95.6 per cent.
There is a three-way tie for the third position.
Jada Jamelia Ruth Durrant, of the Kingstown Government School, Lazaro Lopez Lynch of the Kingstown Preparatory School and Aroma Sweet Toria David of the Richland Park Government School each with an average of 95.20 per cent
The young genius said she did not really expect to become the top performer, adding that there were a lot of smart children who were writing the exam as well.
She said she believes she emerged the top student because she worked hard and kept in mind her goal "to do my best".
Marshall intends to enrol at Girls High School and told iWitness News that while she is "not completely sure" what she wants to be when she grows up, one of the major options is to become a marine biologist.
She said she is interested in marine biology because she likes marine animals and likes to learn about the ocean "because only five per cent of it has been explored".
Marshall is the daughter of Ikarmola Laborde, a chemistry teacher at Bethel High School and Sean Marshall, a biology teacher at the same school.
Asked if the fact that her parents are teachers contributed to her performance, Marshall told iWitness News,
"Whether or not they were teachers, I would have done well," triggering laughter from her mother and Prep School principal, Susan Abraham, who were present at the interview.
She said she thinks her parents' occupation contributed to how she prepared for the exam.
"… I did not get too overwhelmed. If I did not have the relaxation I might have been, like, overwhelmed and trying to cram things in my studies. So I think the relaxation helped me."
Marshall has some advice for students preparing for the exam.
"My advice is that you study hard and you always try to strive to be your best and you should never give up on your achievement and goals and you have to have a good relaxation and study balance."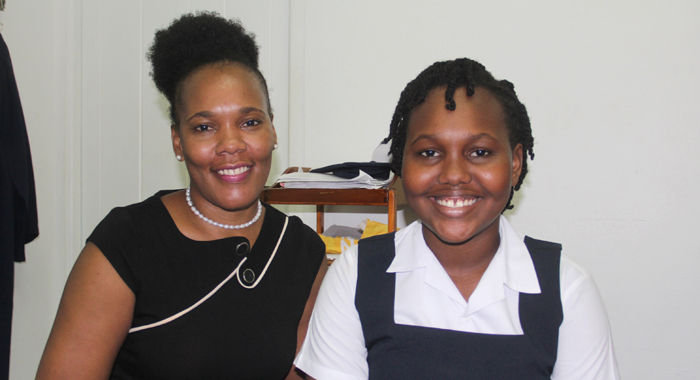 'she has always been very smart' — mom
Meanwhile, Laborde told iWitness News she feels excited about her daughter's performance.
"Since a child, she has always been very smart and I must thank her teachers at Prep School, they have always been behind her and pushing her and encouraging her.
"And we always try to strike a balance, so she had her swimming and she had to do her exercise and relax. We ensured that she relaxed. She did a lot of past papers and I think as teachers, they prepared her very well so I have to give a lot of props to her teachers as well at Prep."
While all Grade 6 students are guaranteed a place in the nation's high schools under the policy of universal access to secondary education, only a certain percentage get to list their top three choices of schools, while the others are assigned to a school in their residential district.
Therefore, many students, teachers and parents feel much pressure to ensure that their students perform well.
However, Laborde said:
"We never felt overwhelmed. We always felt they were there for us, they encouraged us — pushed her, yes, but at home, we always tried to ensure that she was relaxed, because as a teacher, I know what it is to strike a balance."
Laborde said she always encouraged her daughter to strike a balance and her daughter was also very disciplined in keeping to her own study plan.
"You never one day had to say, 'Seanté, go and pick up your book.' She just knew that this I have to do — 'If I watch TV, if I go and pick up my device; I have to study.'"
She said her daughter never complained and knew that she had to study because her school is very competitive.
Laborde said that while she and Marshall's father are science teachers, social studies and languages are her daughter's strong suits.
"I think that because she's very creative, it came across in the language," she said.
Marshall was among five students with the highest score in language: 98.67 per cent.
She shared that position with her schoolmate, Jaden Abigail Edwards-Barry, as well as the overall second place performer — Kate-Lynn Meeliah Bobb, one of the third place students — Aroma Sweet Toria David, of Richland Park Government, and Josea Alexander Thomas of Richland Park S.D.A.
Marshall was also one of four students to score 100 per cent in social studies.
The others were: Risten Tianna Bullock of Calder Government; Christi Reesa Williams, of Fancy Government; and Jabari Cyril Phillip Joseph of Georgetown Government.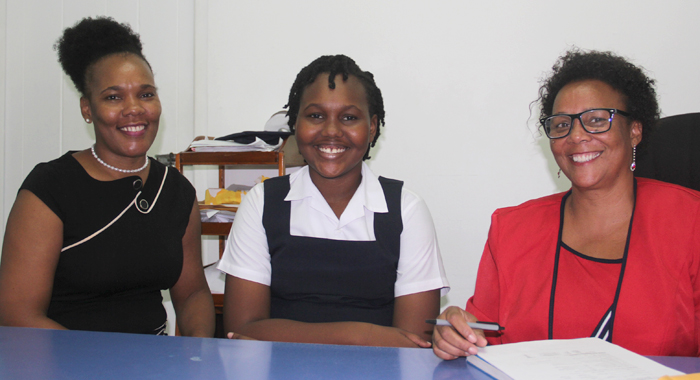 Principal thanks God, staff
Meanwhile, the Prep School principal said she was excited that her school had topped the examination.
"I am proud of our students and I really give God all the thanks and glory for that because we came out very strong this year, we have 100 per cent passes, and we have five in the top places. So we have done quite well," Abraham told iWitness News.
The said Prep School is distinguishable from other schools by very good parental and teacher support.
"The teachers, we work really hard," she told iWitness News. "We ensure that every aspect of the curriculum is being achieved…"
She said that some teachers would come to the school and start working from 7:30 a.m.
"So they are driven to work. They work extremely hard. We know that other schools around the country work very hard, but we build a very strong foundation from Kindergarten and strong parental involvement, as I say, really helps a lot."
Asked about added pressure on teachers, Abraham said that Prep School has always been a top performer in the examination, even when it was the Common Entrance.
"I think it's the school culture, where we excel in everything that we do.
"So, really and truly, I don't think so much so that it is pressure. It is a lot of pressure, it's a lot of work but because it's Kingstown prep school, we have to maintain that standard that was set before. It's coming together and working together; teachers collaborate and work very hard with parents there and that gives us that edge," Abraham told iWitness News.
The Ministry of Education said that of the 1,785 students registered, 1,780 — 925 males and 855 females — wrote the final examination on May 17.
The preliminary results indicate that the proportion of students who met the prescribed standard was 1,552 (87.19 per cent) a slight decrease over last year's 87.43 per cent. This number includes 749 (80.97 per cent) males and 803 (93.2 per cent) females.
Students' final scores were derived from the aggregate scores of both components of the CPEA. That is, the external assessment which consisted of multiple choice tests in mathematics, science, language arts and social studies and from the school-based assessment which comprised a project, a writing portfolio, a book report as well as teacher tests, pupil made tests and can-do-skills exercises in mathematics, science, language arts and social studies.
Of the 67 schools, 51 recorded a pass rate in excess of 80 per cent.